Enhance your traditional OU ecosystem service for Advanced News Gathering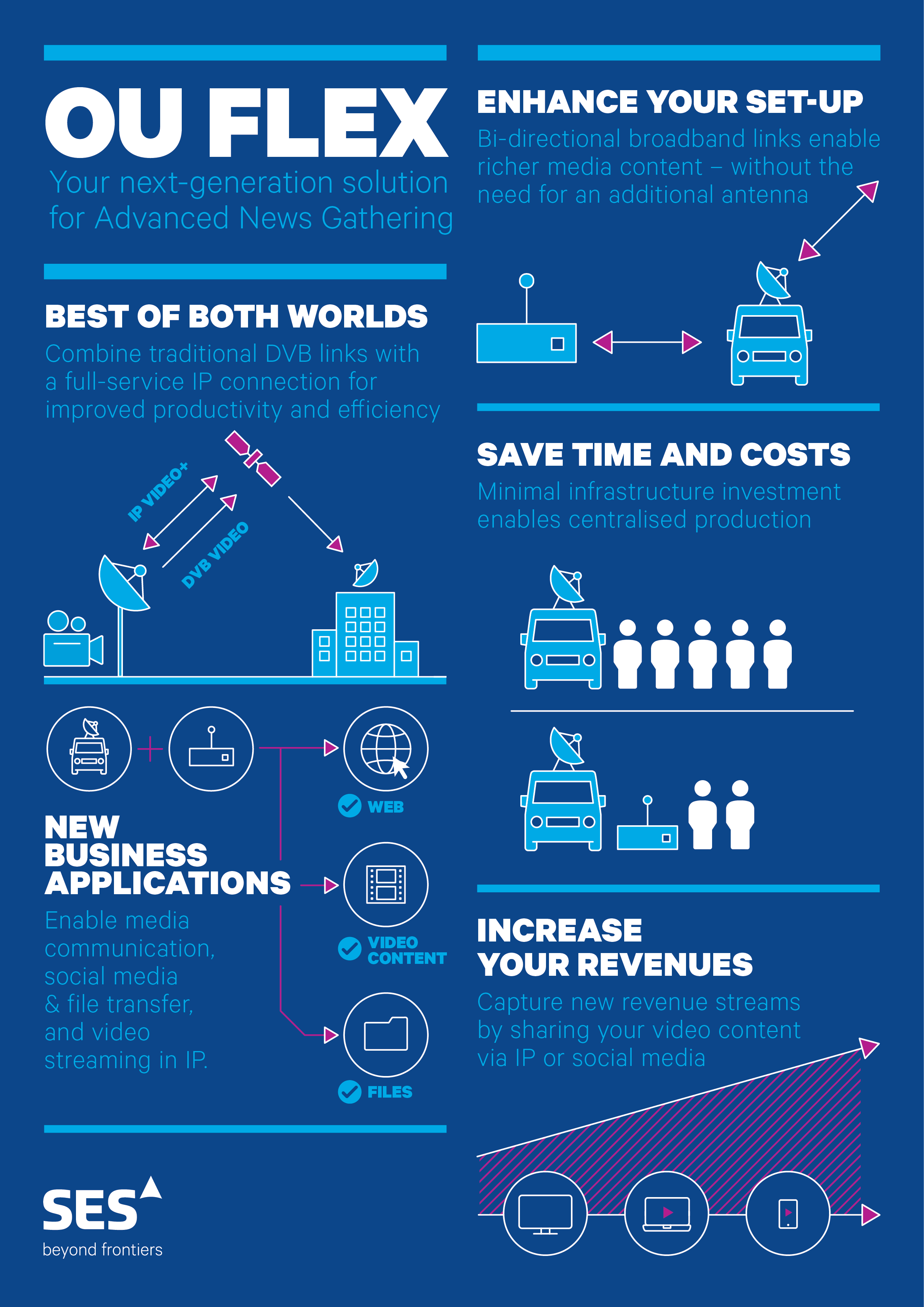 OU Flex provides high-quality IP connectivity to manage your entire video and data content contributions, with guaranteed quality of service in any conditions. Its bi-directional links, provide maximum flexibility, and with only minimal infrastructure investment – equipping your SNG vehicle with an OU Flex modem.
Service packages tailored for media communication services, social media & file transfer services, and IP video streaming enable you to instantly share your live video on social media, stream live video from a sporting event, or establish a broadband connection to your corporate network for file transfer or Studio Intercom. At the same time, you can save time and costs using centralised production – and re-invest in more profitable areas of your business, to further differentiate your live stream offer.
Services Overview
Media communication service packages provide:
Dedicated capacity for two bi-directional VoIP channels that provide intercom connectivity without the need to book temporary landlines
Broadband capacity that can be used to create a mobile WiFi hotspot for remote crews
With WiFi and broadband connectivity provided, support the use of a camera backpack system, with the reliability of satellite connectivity in the background
Social media and file transfer service packages provide:
High upload rates so you can feed content into social media platforms or exchange large files between locations
Content delivery in IP format enables direct contribution to Content Delivery Networks (CDNs)
Video IP streaming packages provide:
Dedicated capacity for high-quality video streaming in IP
Higher upload rates beyond what is currently available in the market
Professional broadcast standard service reliability, and secure contribution networks
Inherent redundancy, with the ability to operate a modem at the main studio to receive your content directly from the satellite, enhancing the existing terrestrial connectivity
Benefits
With OU Flex, you'll benefit from:
Guaranteed quality of service tailored to your specific needs
Maximum flexibility in service format and throughput
Low infrastructure investment and operating costs
Enhancing the use of your existing Ku-band antenna system
Scalability beyond solutions currently available
Online booking for connectivity anywhere
Global 24/7 customer support