When it comes to high-performance connectivity, there are four non-negotiable factors that only MEO can deliver. O3b mPOWER supports high throughput per terminal, predictable low latency, high network availability and flexibility. It is a set of guarantees that LEO simply cannot support.
Since 2014, our O3b MEO satellite constellation has delivered low latency, high network availability and incredible throughput.  O3b mPOWER builds on its success with industry firsts for scale, flexibility, and performance.
Understanding what's new on MEO with O3b mPOWER
O3b MEO
O3b mPOWER
Why you should care
20-satellite constellation
Constellation of 13 next-generation, software-based satellites
Fewer satellites means less network complexity, while software-defined satellites enable unprecedented flexibility.
10 mechanically steerable user beams per satellite
Thousands of electrically generated possible beams
Our services can grow anywhere, even where connections are constantly in motion.
2 gateway beams per satellite
Any beam can be used as a gateway beam
Any user terminal can upload huge amounts of data in the return path, perfect for industrial use and government surveillance.
Throughput scales from hundreds of Mbps to 1.5 Gbps
Throughput scales from tens of Mbps to multiple Gbps
Achieve previously impossible high throughput links with O3b mPOWER.
Start small and grow with us as your demand evolves.
9 fixed, SES-managed gateways
8 SES-managed gateways, plus customer-managed gateways in custom locations
Whether for regulatory compliance or the privacy, security and enhanced control of placing a MEO gateway within your own premises, customer-owned gateways unlock more opportunities.
Few user terminals per industry
Terminals available in many more sizes and form factors
More terminal choices open up even more use cases and reduce engineering complexities.
Why MEO?
A satellite sweet spot
8,000 km above Earth, MEO is high enough to reach 96% of the globe and low enough to guarantee low latency and high throughput up to multiple gigabits of uncontended capacity.
Tried and tested
Since 2014, SES has used MEO to connect countries, secure governments, and transform enterprises. O3b mPOWER is the next evolution.
Advanced technology
Advances in space, ground, and software technology mean Ob3 mPOWER delivers unprecedented flexibility, scale, and performance.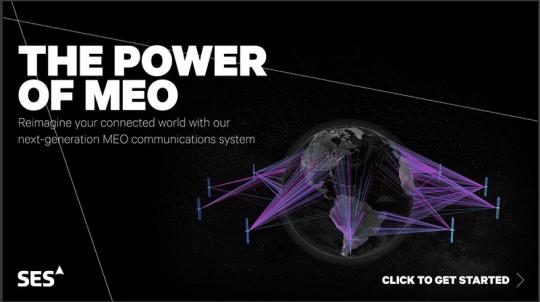 The Power of MEO e-Book
Discover the power of our current and next-generation MEO systems.
Set to transform the Telco, Government, Energy, Remote Enterprise, & Cruise industries.
Read the e-Book
Orbit depends on your needs and budget: do you need a quick response time, a wide reach, and/or to optimize costs?
Why Orbit Matters Insight Paper
Download this insight paper and know more about the most suited orbital position for your needs.
Download the Insight Paper
GEO
(36,000 km)
MEO
(5,000-20,000 km)
LEO
(500-1200 km)
Altitude latency
High
Low
Very Low
Earth Coverage
Very Large
Large
Small
Satellites Required for Global Service
Three
Six
Thousands
Data Gateways
Few, fixed
Regional, flexible locations
Local, many in fixed locations
Satellite Handovers
None
Once per hour
Every 10 minutes, may require gateways handover
Any Questions
Our expert team is here to help. Start a live chat or fill in a web form.