Boosting Airborne ISR Missions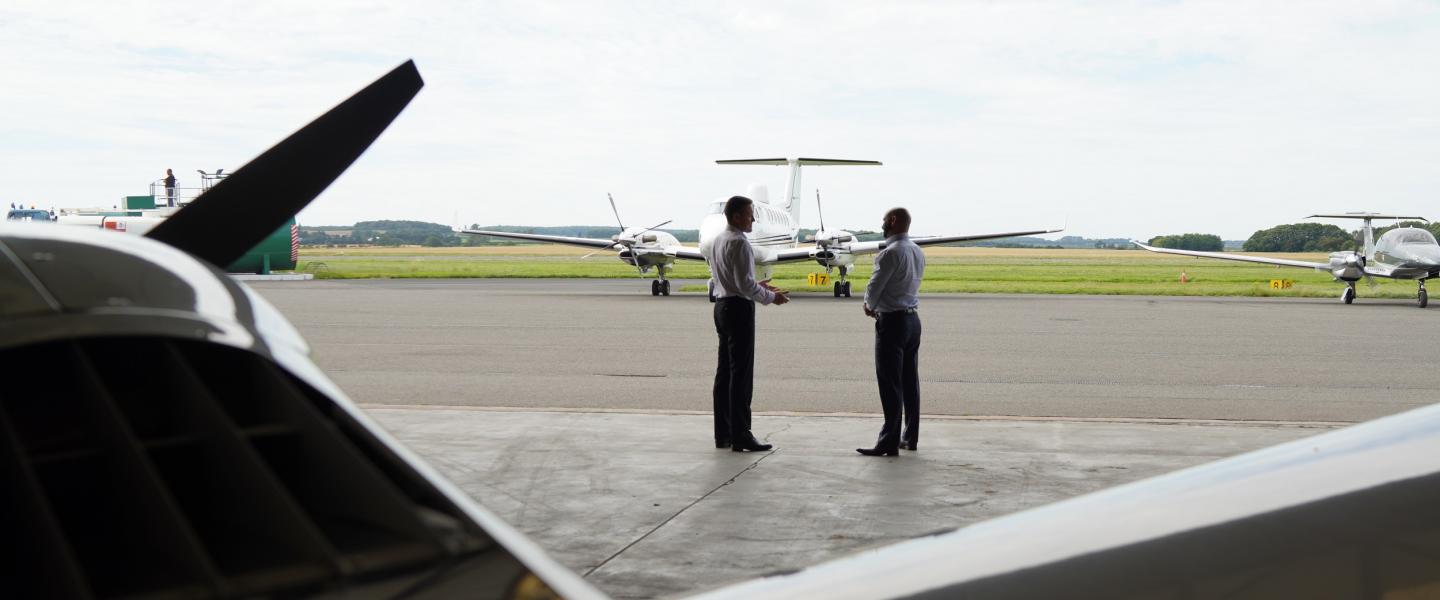 Intelligence, surveillance, and reconnaissance (ISR) is an increasingly important component of government-led operations. In environmental monitoring or border patrol and protection operations, real-time data paves the way for informed and timely decisions that help protect populations and control illegal activity. DEA Aviation—a U.K. based company specialising in manned airborne ISR services—leverages SES's connectivity solution to provide near real-time data to government agencies and organisations.
We spoke to André De Brito, Sales Manager for EMEA ISR at SES, about our partnership with DEA Aviation, and how we're helping them optimise operational efficiency during ISR missions.
What are some of the key challenges we're seeing in the airborne ISR industry today?
Currently, the biggest challenge in the airborne ISR industry is the need to keep up with an ever-increasing demand for data. Previously, ISR missions were solely run by government agencies. Today, as government organisations require more and more real-time data to make time-critical decisions, they're contracting out ISR missions to companies that can provide a specialised service.
Companies like DEA Aviation invest in a suite of high-fidelity sensors to ensure they can consistently meet the demand for data from their growing customer portfolio. Yet, as technology improves, sensors have an enhanced ability to capture large volumes of data—whether it's via maritime or terrestrial radars, or high-definition cameras. ISR service providers need to ensure that they can access the connectivity required to fully leverage sensor technology, so they can provide a superior service to their customers and maintain their competitive edge.
How did our partnership with DEA Aviation begin?
We were introduced to DEA Aviation by an industry partner in early 2019. Although DEA Aviation's aircraft were equipped with advanced ISR sensors, the company was unable to extend the best possible service to its customers due to connectivity limitations. We worked together with their team to understand what their real requirements were. Based on the mission requirements and sensors to be deployed, we were able to provide a robust and capable solution that aligned with their needs, and provided the right coverage within the desired price range.
One of the most important aspects of our partnership with DEA Aviation is our ability to respond to requests in a timely manner. Whether it's a requirement for new connectivity or resolving issues with the current connectivity, the team at DEA Aviation counts on us to find solutions quickly.
How does SES's solution enhance DEA Aviation's ISR missions?
The biggest challenge we're solving for DEA Aviation is coverage. ISR companies may have the right aircraft and the right equipment, but if they only have access to line of sight connectivity, the aircraft area of operations (AOR) is limited to the area around a particular country or coastline. It's imperative to have near real-time connectivity over a wide coverage area to unleash the true range these aircraft have. Using our satellite connectivity solution, DEA Aviation can carry out missions anywhere in the world, and provide data to its customers in near real-time, without interruptions.
Our solution also brings increased efficiency to DEA Aviation's flight to ground operations. During surveillance missions, aircraft are often a few thousand kilometres away from the operations centre. It's vital for the operations centre to be connected to the aircraft in near real-time, to enable them to respond to customer requests quickly, and re-task the asset if needed. Our satellite link ensures that the operations centre can maintain immediacy of communication with the crew performing the mission, as well as decision makers on the customer end.
What are some of the key trends predicted for the ISR industry?
In the future, new and advanced sensors will vastly enhance ISR mission capabilities. Whether it's Video Synthetic Aperture Radar (ViSAR) for high-resolution, full-motion video, or Reconfigurable Electronics for Multifunction Agile RF (REMAR) for integrated radar, communication, and Electronic Warfare in a single platform, it all points in the same direction—more data. Some extraordinary sensors like Wide Area Motion Imagery (WAMI), for example, will require connectivity that ranges between 90 to 100Mbps. The bandwidth requirements for ISR companies will continue to grow as sensor technology improves. The only path to successfully meeting these needs is through a resilient multi-orbit, multi-terabit solution that only SES can provide today.
ISR companies are also increasingly leveraging cloud applications and edge computing to improve operational efficiency. So, there is a growing need to be connected directly to cloud data centres and government-owned sovereign gateways.
How will SES support ISR companies in the future?
At SES, we continue to charge ahead with the technology needed to boost ISR missions in the future. O3b mPOWER, our next-generation satellite communications system, will allow ISR companies to access up to ten times the connectivity they're currently receiving—without a significant change in the bottom line.
O3b mPOWER is a multi-orbit solution that combines our Geostationary Earth Orbit (GEO) and Medium Earth Orbit (MEO) fleets. For our customers, this means being able to access a highly resilient system, where you can transmit large volumes of information via our high-throughput, low-latency MEO fleet, and switch to a link via our GEO high-throughput satellite fleet to ensure worldwide coverage. O3b mPOWER will also enable one hop connectivity to cloud data centres and government gateways, while delivering the scale and performance required to fully leverage cloud and edge compute applications.
With O3b mPOWER, companies like DEA Aviation will be able to reimagine their ISR operations, and continue to meet and exceed the demands of their customers. 
Related Content