Engineering freedom to deliver differentiated network services

As the number of connected devices and demand for bandwidth-intensive applications continues to soar, increasing quantities of data require high-performance connectivity. Yet, transmitting massive amounts of data is costly, infeasible in locations that lack reliable terrestrial communications infrastructure, and unsustainable with mainstay satellite services—driving the need for flexible high-bandwidth, low-latency connectivity at the edge of the global internet.
Building on the proven commercial success of our first-generation Medium Earth Orbit (MEO) constellation, O3b mPOWER provides unprecedented system flexibility, performance, and scale to extend new, bandwidth-intensive network services and applications—and exponentially more opportunities—to under-served markets. System-wide innovations provide multi-gigabit links for the delivery of high-bandwidth services anywhere, so you can offer differentiated services at cloud scale, optimise network performance, and lower the total cost of ownership per unit of capacity.
Download our O3b mPOWER insight paper.
Learn more about O3b mPOWER
Discover how system-wide innovations on O3b mPOWER engineer the freedom to create unforgettable user experiences for cruise and commercial maritime operators, energy and mining companies, telcos and mobile network operators, enterprises, and governments.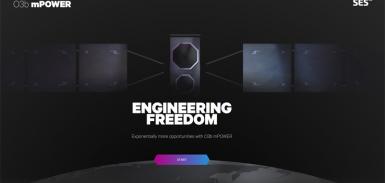 Visit the interactive platform
Introducing an empowered world
Launching an empowered world
Freedom to create and differentiate
With thousands of high-capacity beams per satellite, O3b mPOWER creates opportunities to introduce new, differentiated services that are scalable to multi-gigabit per second bandwidth rates to each dedicated connection. Now, network operators can extend bandwidth-intensive cloud and edge computing services with flexible commercial models to under-served markets anywhere on the globe. Even where fibre and other access technologies may be available, yet may require a more reliable primary connection, O3b mPOWER can provide scalable links for network resilience, or a diverse path for a higher-throughput connection. Freedom to create and differentiate animation
Freedom to integrate and optimise
Based on open standards—including ONAP and MEF certification—O3b mPOWER integrates seamlessly with existing network architectures, so you can create and deliver end-to-end managed network services that eliminate the capital expense and operational risk of integrating satellite connectivity with the network core. ARC optimises network performance so you can extend robust, differentiated service level agreements (SLAs) to end users covering throughput, latency, and availability. Freedom to integrate and optimise animation
Freedom to economise and scale
System-wide innovations—across the satellites, ground systems, and software technologies—enable O3b mPOWER customers to realise economies of scale, benefitting from a lower total cost of ownership per unit of capacity—even while they scale to multi-gigabit services. With the ability to shape and combine beams, O3b mPOWER helps network operators scale as bandwidth requirements grow—via highly granular capacity rates that avoid stranded spectrum. Freedom to economise and scale animation