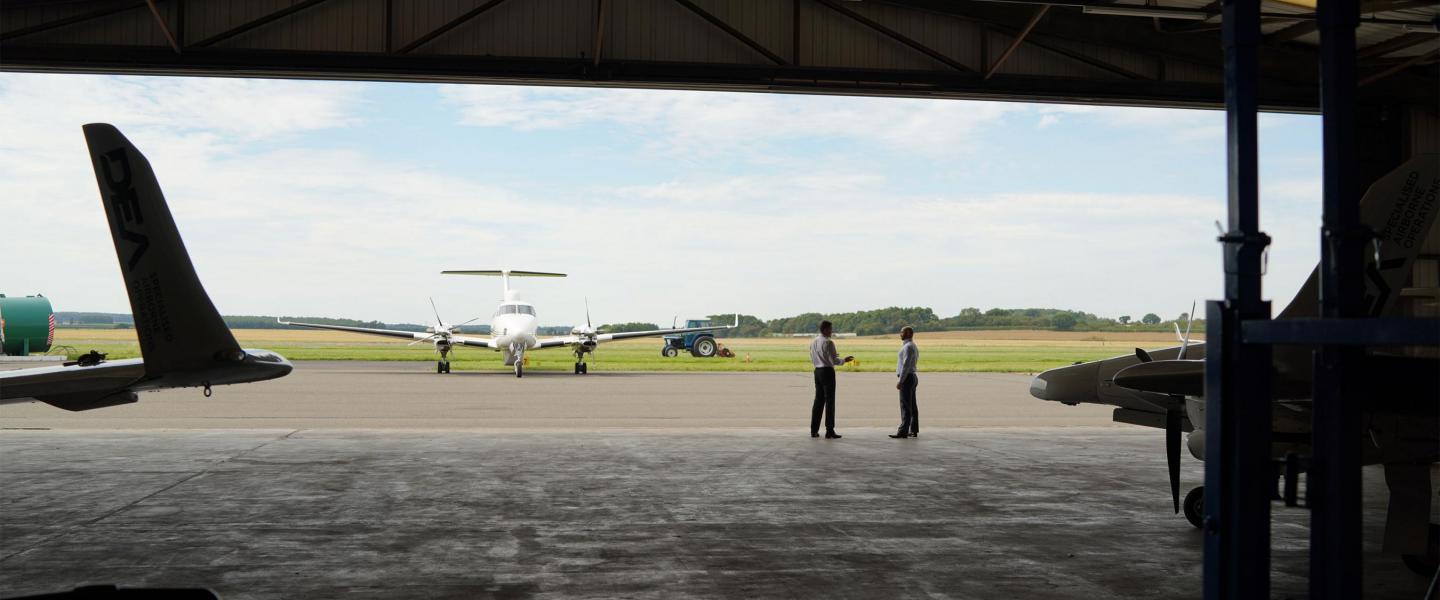 Delivering near real-time connectivity for mission critical ISR
DEA Aviation Ltd. and SES
Industry
Airborne ISR
Location
Europe
Globally, there is a growth in demand for intelligence, surveillance, and reconnaissance (ISR) solutions that enable timely and informed decision making during government missions. Assessed independently as the leading organisation in its sector, DEA Aviation is a UK-based company delivering manned airborne ISR solutions to global government organisations.
In early 2019, DEA Aviation was looking to improve its data and connectivity quality to help serve its customers better. As ISR missions are deployed around the world, it can be difficult to establish a reliable connectivity link with the right coverage while meeting the required data quality. The global coverage of our satellite fleet and our range of connectivity offerings allowed us to provide DEA Aviation with the right solution for the right price range and within the desired coverage area, which helped the organisation maintain its market edge.
Near real-time connectivity over a wide coverage area is key to beyond line of sight surveillance missions as it unleashes the range that aircraft have. The requirement to remain within line of sight connectivity limits aircraft area of operations (AOR). SES's satellite connectivity solutions play a major role in allowing airborne ISR providers like DEA Aviation to go global. Our connectivity solution ensures that the information DEA Aviation gathers can be beamed to exactly the right place, in near real-time, all of the time, and without interruption.
One of the key government agencies that DEA Aviation serves is Frontex—the European Border and Coast Guard Agency. Near real-time land and maritime surveillance provided by DEA Aviation allows Frontex to monitor and, if necessary, act upon life-critical situations or illegal activities that might be taking place. "We have a very close and mutually respectful working relationship with Frontex. In turn, we are supported ourselves by a very close and mutually respectful relationship with SES," says John Sullivan, Head of Operations at DEA Aviation.
At SES, we can effectively meet the connectivity requirements of customers like DEA Aviation when deploying a range of high-fidelity sensors. Through the flexibility of our multi-orbit offering, our customers can tailor exactly what they need in line with mission requirements. As we look forward, O3b mPOWER—our next-generation Medium Earth Orbit (MEO) satellite network communications system—will provide over ten times the connectivity that our customers currently see, and bring greater system flexibility, performance, and scale to enhance ISR missions in the future.
"There are many agencies or support organisations that don't share the level of commitment that we need. We're delighted to have a partner in SES that is willing to go the extra mile to help us, and has that commitment to finding solutions rather than providing a stock answer. That's the thing we greatly value. Our partnership with SES is very important to us."



John Sullivan, DEA Aviation Ltd., Head of Operations
Related Content