Flying 8,000km above the Earth's surface, the O3b MEO constellation delivers low-latency broadband to any area within 50° north or south of the equator. Our fibre-equivalent connectivity enables the delivery of carrier-grade, cloud-ready services, including MEF Carrier Ethernet certified services.
More about O3b MEO
This enables mobile network operators (MNOs), fixed-line service providers, and enterprises to expand their footprint into regions that are difficult or impossible to serve via terrestrial networks. For government and mobility customers, the O3b MEO constellation meets the growing demand for broadband connectivity to power high-capacity, low-latency applications.
Telemedicine in Colombia. Electronic banking in the Cook Islands. Virtual classrooms in American Samoa. These are just a few of the many economic opportunities and quality-of-life improvements that high-performance connectivity powered by O3b MEO brings to citizens in every corner of the world, from Chad to Brazil, and from Papua New Guinea to Timor-Leste.
What makes satellite connectivity so crucial for these regions?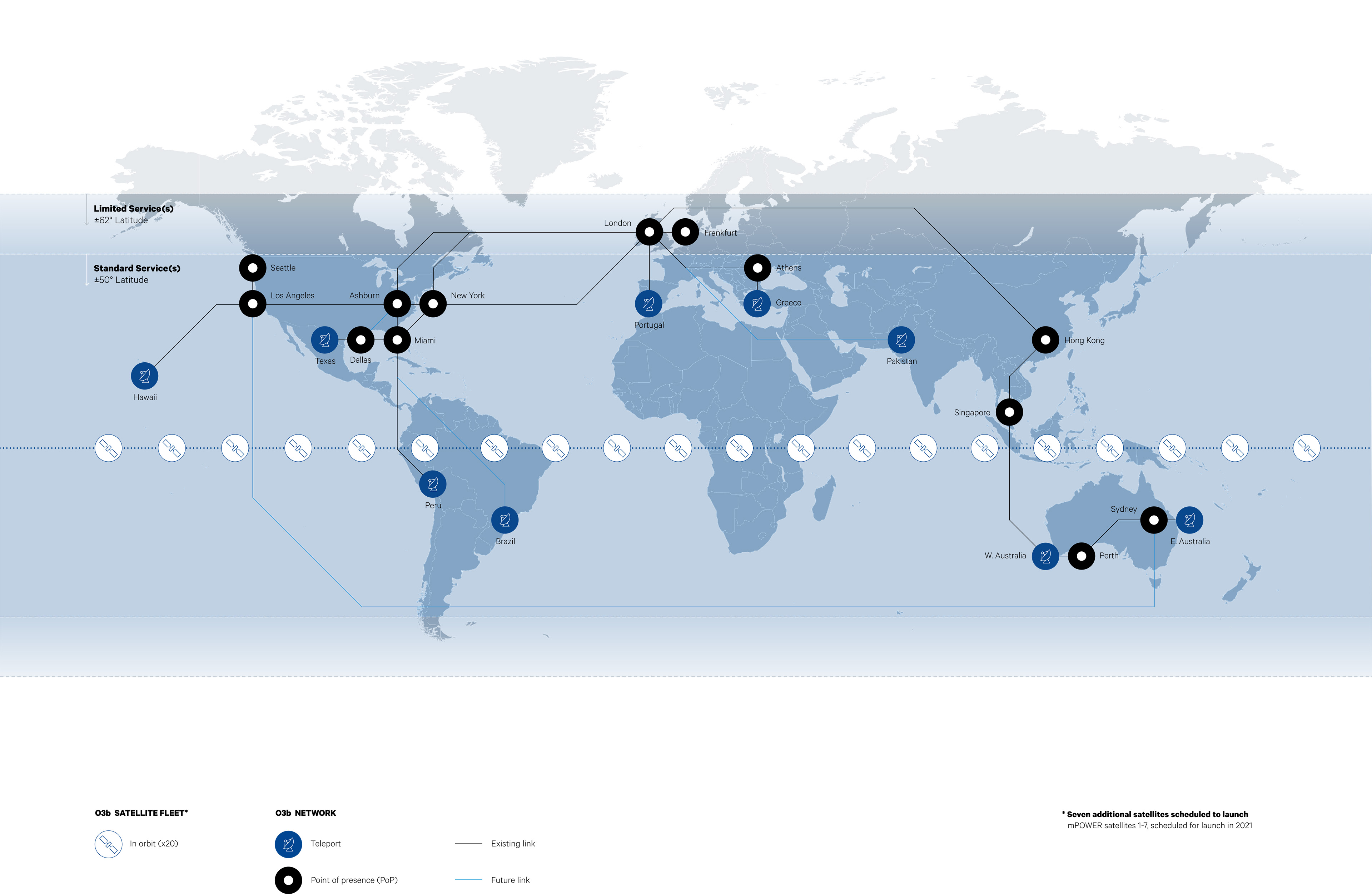 Providing proper education across the globe is essential to creating opportunities and improving the economy. Sadly, there are still regions lacking access to connectivity, resulting in poor economic progress and limited education opportunities. In many regions that do have connection, it can be difficult and time-consuming to gain access. We live in a world where information is based online, yet so many of the world's population are unable to reach this information. SES' O3b MEO is a binding solution between society, evolution and a stable economy that will ensure proper education is provided for pupils around the world. The progress of the educational system is not only creating economic benefits, but also strong support for the healthcare industry, which is the core of the societal evolution. 
Blue Sky
ASTCA
Royal Caribbean Cruises
Ensuring that the best possible medical expertise and treatments are available to all citizens 
Imagine falling terribly ill, only to be told by your local hospital that they do not have the resources to help you. SES is working to ensure no one will have to experience this in the future. With O3b MEO, healthcare is taken to the next level. The connection O3b MEO provides between doctors and hospitals is unparalleled. This allows hospitals in remote areas to provide proper training to employees, receive support from other hospitals on a global scale, and request resources when needed. SES is changing the healthcare industry one connection at a time.
Bringing new opportunities for economic development and prosperity to emerging geographies
Many regions around the world rely on tourism to boost their economies. However, these same regions do not always have access to the connection needed to engage tourists and enhance business development. O3b MEO provides this connection, allowing business to prosper in a way they never could previously. O3b MEO also connects tourists around the world, allowing people to share their favorite attractions and tell stories of their travels. Small business often depend on this word-of-mouth marketing to promote their products and services. Our connection makes this possible.
Overall, the impact on society is grand. We touched on education, healthcare, and tourism, but O3b MEO does so much more for the world. Connection has become essential, and O3b MEO is transforming communities one by one as we work towards equal access across the globe. Everyone deserves the opportunity to prosper, and SES, through O3b MEO, is providing that opportunity. We work to empower the world. We work to make an impact. #BoldandProven
Find out more about O3b MEO:
O3b mPOWER

Engineering freedom to deliver differentiated network services.