Taking VoD to viewers in densely populated areas is relatively easy. High-quality terrestrial networks in these areas facilitate access to bandwidth-heavy over-the-top (OTT) content.
More about VOD Everywhere
However, OTT services fail to address potential viewers in remote areas, where access to broadband connectivity is limited. By extending the reach of your VoD service to include all the households in your region—even those in hard to reach places—you can grow your subscriber base substantially. VoD Everywhere brings an on-demand TV experience to viewers living far from urban centres. ​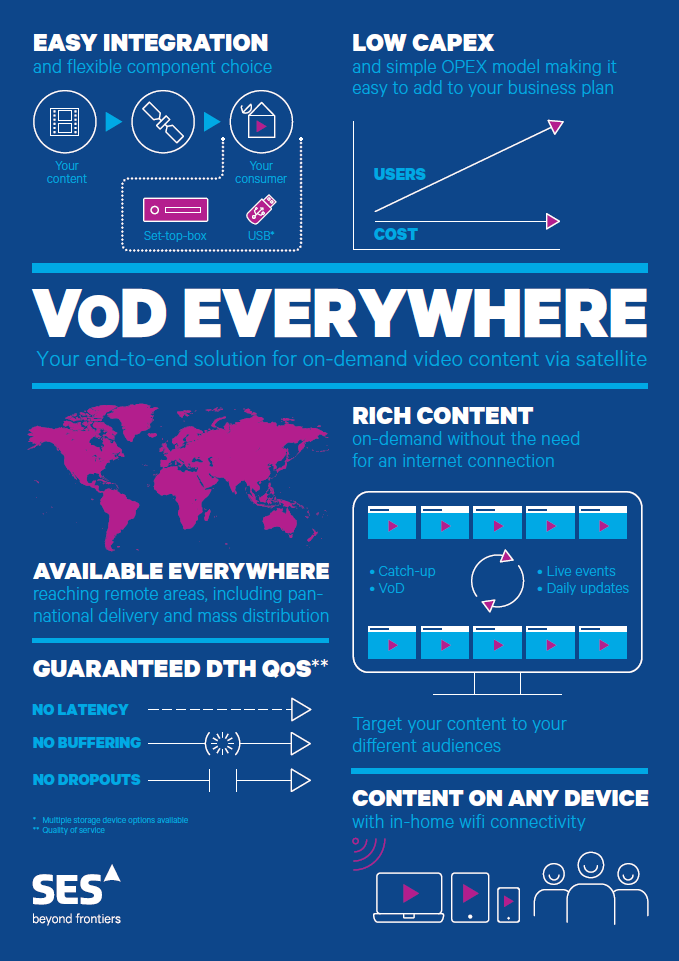 ​ Our end-to-end VoD Everywhere solution:
eliminates the problem of low or no broadband connectivity by delivering your entire on-demand and catch-up content library to a storage device attached to the set-top box
together with the customer's home Wi-Fi network, enables a multi-screen viewing experience—so the kids can watch cartoons on their tablets while the parents watch their favorite sci-fi show on the big screen in the family room
includes daily content updates which ensure viewers can always find something to watch, whether a sitcom episode or a live Premier League game.
Find out more about VOD Everywhere:
Contact us
Talk to us today to learn how to maximise your reach with VoD Everywhere.
Talk to us today