Reaching millions
Broadcast is by far the best method to deliver your high quality content to a large audience.
In the video industry, your success is directly proportional to the size of your audience. Our DTH solution takes care of all the technical details associated with distribution, allowing you to take high-bandwidth HD and Ultra HD  content to your audiences—no matter where they are.
More about DTH
Whether you operate on a free-to-air (FTA), free-to-view (FTV), or a subscription-driven pay-TV business model, we ensure you can reach your customers - and capitalise on revenue opportunities - from day one.
Our reach
With our global coverage, we reach more than 367 million homes via prime video neighbourhoods  in Europe, the Americas, Africa, the Middle East, and Asia-Pacific.
Market research
We measure our technical reach annually via the Satellite Monitor initiative, providing our customers with access to information about the markets in which they currently operate, or looking to in the future.
Installer training
Our Elevate Installer Training Programme  ensures that your subscribers can receive your content in their homes with no issues from day one.
Hybrid distribution
We help you extend your reach beyond DTH homes. Our satellites contribute directly to Digital Terrestrial Television (DTT) and Direct to Cable (DTC)  networks, so you can reach cable and terrestrial TV homes too. To provide your viewers with an over-the-top (OTT) viewing experience, our VoD Everywhere solution pushes a full library of on-demand and catch-up content via satellite - overcoming the challenge of low broadband internet penetration outside of densely populated areas. Additional services like content management, transcoding, archiving, channel playout, content contribution, and content monetisation help you deliver a truly superior viewing experience.
"SES has deep experience starting a Direct-to-Home TV service from zero, and they gave us everything we needed. We have full confidence in working with SES to achieve our goals."
Andrew Wang, CEO at Kiwisat
Media platforms
At SES we help you enter mature and emerging markets by taking a customer partnership approach—combining multiple SES products and services into one turnkey solution that meets your specific needs.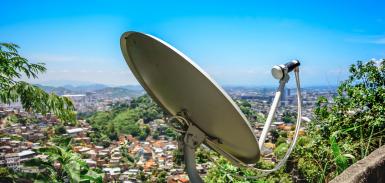 Building a win-win partnership
Find out more