SES-led EAGLE-1 Onboards TNO and Airbus to Deliver Ground Station for Quantum Key Distribution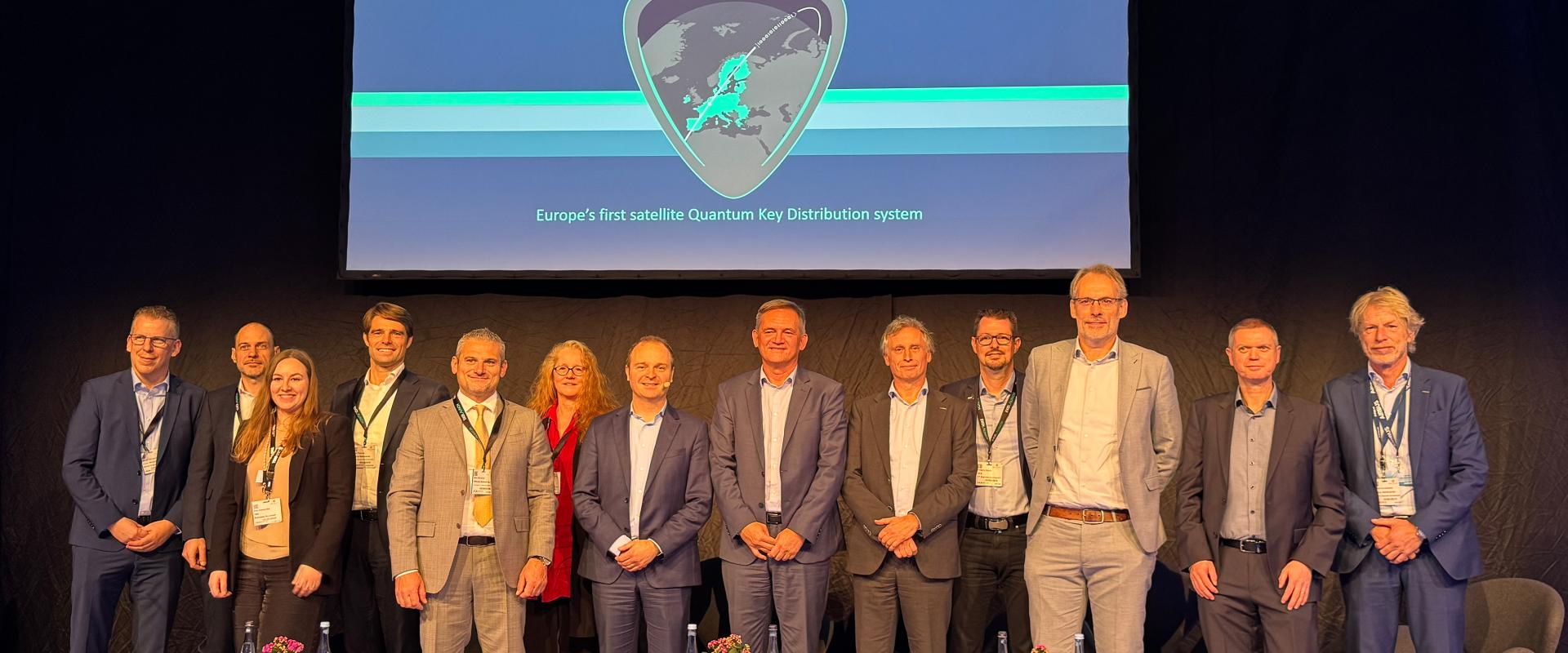 SES-led EAGLE-1 Onboards TNO and Airbus to Deliver Ground Station for Quantum Key Distribution
Europe's first space-based Quantum Key Distribution (QKD) system achieves new milestone with optical ground station developments to be delivered by EAGLE-1 consortium partners
Luxembourg / Bremen, 15 November 2023 – The SES-led consortium of European companies, responsible for development of the quantum secure space-based EAGLE-1 system and working in close collaboration with the European Space Agency (ESA), is joined by TNO and Airbus Netherlands B.V., to design and build an optical ground station for the mission. The contract was signed today by the partners at the Space Tech Expo in Bremen.
The optical ground station for EAGLE-1 represents a highly advanced and complex system which will be able to receive quantum encryption keys from the EAGLE-1 satellite, and will have at its core a system that integrates fast adaptive optics, accurate mirrors, a robust fiber coupling, a novel laser beacon system, and a stabilised telescope.
TNO and Airbus Netherlands B.V. will lead the collaboration to design and build the optical ground station, where TNO is responsible for the design, the adaptive optics and overall system engineering, and the Airbus team in the Netherlands will develop the support technologies, control platform, and implementation. The collaboration is jointly funded by the Netherlands Space Office (NSO) and NXTGEN HIGHTECH. The organisations are joined by:
• Officina Stellare (OFS) responsible for the telescope and dome design
• Celestia-STS who will be designing the optical digital modem in collaboration with TNO and TESAT
• Demcon who will deliver the design of the wave front sensor, a critical component for the adaptive optics
Co-funded by the European Space Agency (ESA) and the European Commission (EC), together with the space agencies of Germany, Luxembourg, Austria, Italy, the Netherlands, Switzerland, Belgium and the Czech Republic, and the industry, the EAGLE-1 programme will demonstrate the feasibility of quantum key distribution (QKD) technology via satellite within the EU and beyond, enabling next generation cybersecurity for the Member States. It will also provide valuable mission data for the future deployment of a secure quantum communication infrastructure for the EU (EuroQCI).
"EAGLE-1 is yet another example of how Europe can leverage its expertise in space and satellite industries and bring together partners from various parts of the continent to push the technology and innovation boundaries. With these new partners, Europe is one step closer to securing an end-to-end solution for quantum communications," said Milton Torres, Chief Technology Officer of SES.
"We're excited about this cooperation. By combining TNO's expertise in free space optics and quantum, we can contribute to the future of secure communication networks for Europe. This development will strengthen the position of Europe, the Netherlands and our partners in a global emerging value chain," said Kees Buijsrogge, Director TNO Space.
Rob Postma, Managing Director of Airbus Netherlands B.V.: "This contract marks the beginning of the development of a promising product for the laser satcom market. In parallel, we are preparing the next steps in industrialising the ground station for the European quantum communication infrastructure."
For further information please contact:
Suzanne Ong
External Communications, SES
Tel. +352 710 725 500
[email protected]
Rein Croll
Press Office, TNO
Tel. +31 (0) 61 171 87 84
[email protected]
Hella van Leeuwen
Airbus Netherlands B.V.
Tel. +31 (0)6 3700 2864
[email protected]
About SES
SES has a bold vision to deliver amazing experiences everywhere on earth by distributing the highest quality video content and providing seamless connectivity around the world. As the leader in global content connectivity solutions, SES operates the world's only multi-orbit constellation of satellites with the unique combination of global coverage and high performance, including the commercially-proven, low-latency Medium Earth Orbit O3b system. By leveraging a vast and intelligent, cloud-enabled network, SES is able to deliver high-quality connectivity solutions anywhere on land, at sea or in the air, and is a trusted partner to the world's leading telecommunications companies, mobile network operators, governments, connectivity and cloud service providers, broadcasters, video platform operators and content owners. SES's video network carries over 6,400 channels and has an unparalleled reach of 369 million households, delivering managed media services for both linear and non-linear content. The company is listed on Paris and Luxembourg stock exchanges (Ticker: SESG). Further information is available at: www.ses.com.
About TNO
The Netherlands Organization for Applied Scientific Research (TNO) is an independent research organization. We connect people and knowledge to create innovations that boost the sustainable competitive strength of industry and well-being of society. Now and in the future. Together with our partners, we focus on the societal challenges of a safe, healthy, sustainable, and digital society. This is our mission, and it is what drives us, the over 3.500 professionals at TNO, in our work every day.
TNO Space & Scientific Instrumentation has more than 50 years of knowledge and experience in developing and building optical space instrumentation for civil and military applications. In particular, TNO has developed significant expertise in FSO systems for satellite communications for ground, air and space segments. TNO's activities focus on stimulating economic growth in the Netherlands and Europe.