Maximising your investment in live sports with OU Flex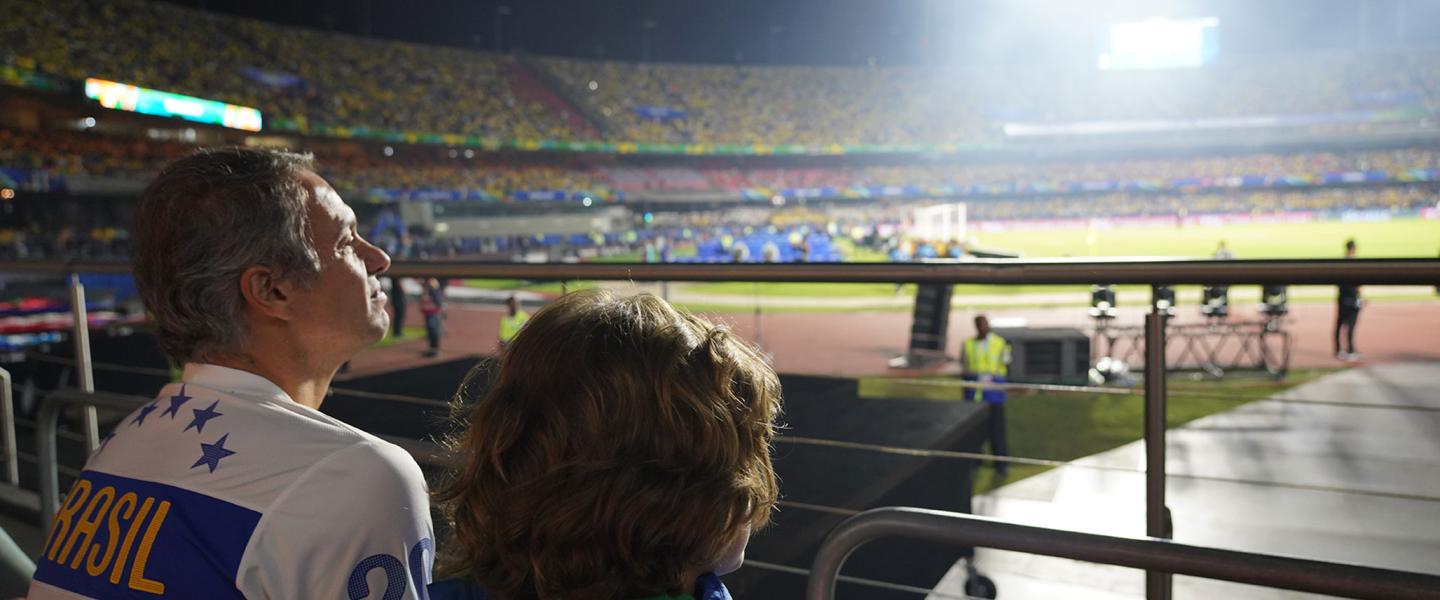 Maximising your investment in live sports with OU Flex
A discussion with Andreas Breuer, Senior Solutions Engineer at SES
Dedicated football fans want to feel like they are at the game when they watch live broadcasts—whether on their television screen, laptop, or mobile device. To meet their fans' expectations, broadcasters need to deliver superior quality and highly reliable game coverage. In 2019, Copa America was hosted in Brazil for the first time in 30 years. Faced with the challenges of overwhelmed terrestrial networks, broadcasters needed a flexible connectivity solution they could rely on to meet their bandwidth-heavy needs.
We spoke to Andreas Breuer, about how OU Flex exceeded broadcaster expectations to deliver spectacular live football viewing to audiences across Brazil.
What challenges unique to covering live sports was OU Flex designed to accommodate?
Offering high-quality live sports is one way for broadcasters to differentiate themselves from their competitors, but it's also one of the most expensive types of content to produce. It also requires lot of time and resources, and if you make a mistake, it can put your reputation at risk. If, for example, you were covering a live news event and missed a cue, you could always shoot from another location, and still capture the story. But if you were live broadcasting a football match and your camera operators missed a goal, there's no way to repeat that moment.
More than ever, we're seeing clear links between poor live broadcast quality and subscriber churn—if customers aren't happy with your service, they'll just cancel it altogether. So, TV bundles with best-in-class live sports have a better chance of retaining subscribers long-term. OU Flex was designed to enable broadcasters to provide the quality and reliability that their customers now expect—no matter where a game takes place.
What kind of undertaking was Copa America 2019, compared with other projects SES and Casablanca have worked together on? Was OU Flex designed with use cases like Copa America in mind?
OU Flex was definitely designed to address situations like Copa America. The beauty of OU Flex is that it's completely scalable—meaning that it's able to meet any bandwidth requirements during huge events, like the Olympic Games or Copa America. On the other hand, it works for events taking place in remote locations without a mobile infrastructure—for example, during the 2019 European Volleyball Confederation's snow volleyball tournament, which was live broadcast from the Austrian Alps.
Were all broadcasters requesting dedicated IP connectivity to accommodate live streaming, social monitoring, and file exchange? What was their overall experience with the IP services?
More and more broadcasters decided to opt into the IP offering after we walked them through the benefits of the service. They were already investing a lot of money in Copa America, so they needed to reach as many viewers as possible throughout the tournament, in order to maximise their return on investment. Viewers today expect to be able to consume content how they want—whether that's through traditional linear channels, online platforms, or social media—which OU Flex made possible.
The other key benefit to broadcasters is not having to rely on local networks over the course of an event. Imagine if you and your crew are setting up for a football match with your Outside Broadcast (OB) van, and then realise that your integrated services digital network (ISDN) landline intercom has been cut off. Suddenly, you can't communicate with your home studio, or respond to their cues throughout the game. That's just one example of how a seemingly small technical issue can cause huge problems during a live broadcast. That's why it's so important for your team to have connectivity they can fully depend on.
What are broadcasters' primary concerns about what can go wrong while covering events like Copa America? How did you ease their fears?
If you're a broadcaster investing in an event as big as Copa America, it's only natural to be anxious about running into technical issues at some point. When you're their service partner, you may end up with people who are experts in traditional linear television who've been in the business for 20 to 30 years, as well as people who are mostly focused on online video. Their worlds are different, which can sometimes cause miscommunication between the groups.
We were able to put the broadcasters we worked with at ease by leveraging our partnership with Casablanca Online—they are the market leader, and thoroughly understand broadcasting challenges in Brazil. Our team at SES provided the expertise needed to ensure the technicians broadcasting the live games could confidently manage operations and deliver the content to multiple platforms.
What were the biggest challenges or most important considerations for ensuring that the live broadcast wouldn't be affected by pre-existing telecommunications problems local to Brazil?
It's very important to remember that ultimately cellular networks and local IP landlines are built for public consumers, not professional broadcasters. If you have a stadium packed with 70,000 people, and a thousand of them are simultaneously trying to upload pictures to Instagram, network congestion is unavoidable. A number of network support solutions have emerged on the market, but none of them were designed to meet the specific needs of professional broadcasters. That's where we stepped in with OU Flex—it's customised to meet the bandwidth-heavy needs of IP-enabled live broadcasting, which means that broadcasters don't have to worry about cellular network performance.
How many technicians need to be at a game to support all the broadcasters covering an event?
Not one. Once a customer is equipped with the OU Flex modem, it's literally a plug and play system. Compared to needing hundreds of technicians doing things like rigging, de-rigging, editing, and audio mixing on-site, OU Flex is a huge time and cost saver—since the live video feed goes back to the home studio in real-time.
Has the popularity of Copa America 2019 played a role in shifting how Latin American households expect to experience football long-term?
It may have impacted the level of quality that people will expect when they watch popular sports events live. Traditionally, families may watch an event like Copa America at home, in front of their TV sets. But if they don't experience the same high image quality that they see while watching games through an online platform, they'll likely be disappointed. Fans will also want to continue to be able to access these kinds of events when they're on the go—say on their daily commute.
Can you describe the customer experience for an event like Copa America 2019 when using SES's earlier solutions?
For the end consumer, the experience was very similar. What changed for the broadcaster was how much time and resources went into each game. Traditionally, they'd have to set up SNG trucks, feed the signal to the home studio, convert the video format, and deliver it to their online platforms. It's labour and cost-intensive, and always carries a risk of technical issues. With OU Flex, you remove all the steps in between.
One thing we saw at Copa America was how important is it to make your customers feel comfortable when asking them to do things a different way. It was our job to ensure that they felt fully supported and confident in us, in order to take advantage of an easier, more agile way of meeting their requirements and delivering outstanding content to their customers.