SES-14 Arrives at Kourou for January Launch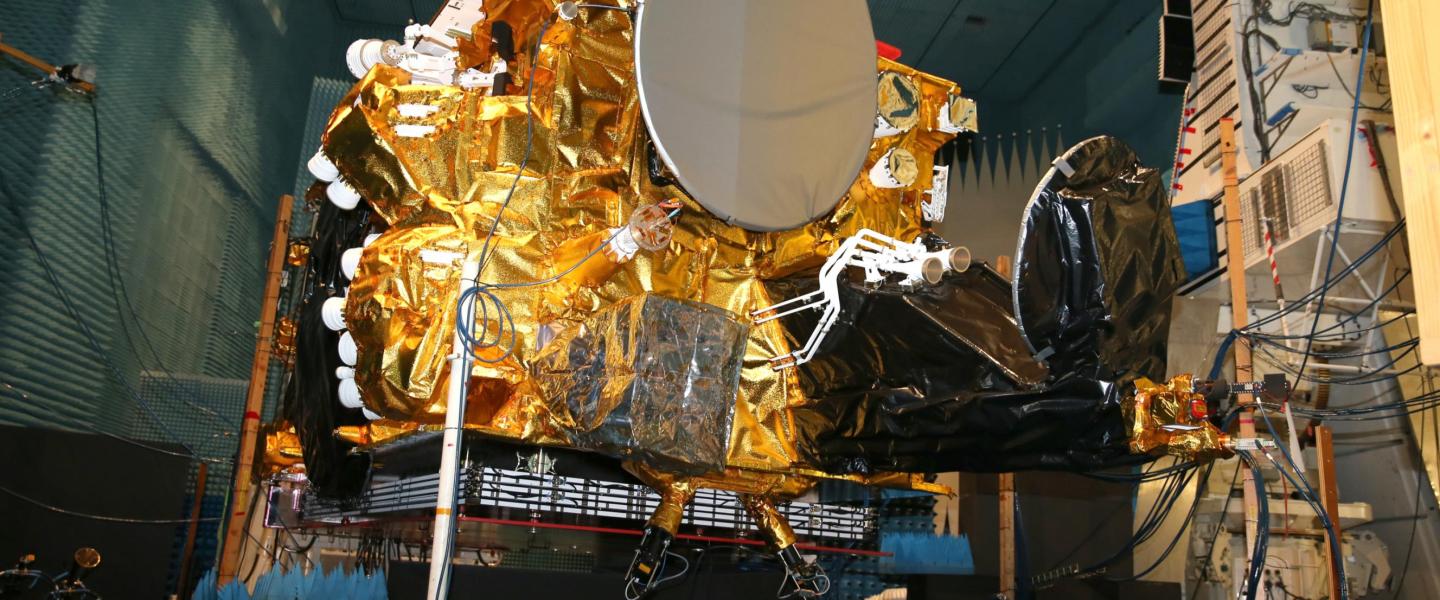 SES-14 Arrives at Kourou for January Launch
SES-14 will capture growth opportunities in thriving video, maritime and aeronautical markets across the Americas and the North Atlantic region
Luxembourg, 22 December 2017 -- SES-14 has arrived safely at the Guiana Space Centre in Kourou, French Guiana, in preparation for launch by an Ariane 5 vehicle in January 2018.
SES-14, which will be positioned at 47.5 degrees West, will serve Latin America, the Caribbean, North America and the North Atlantic region with C- and Ku-band wide beam coverage and Ku-band high throughput spot beam coverage. SES received a license to operate at this Brazilian orbital location as a result of a spectrum auction in 2014.
SES-14's C-band wide beams are designed to expand the reach of SES's second cable neighbourhood in Latin America, while its Ku-band high throughput spot beams will serve the dynamic aeronautical market and other traffic-intensive applications such as maritime, cellular backhaul and broadband services. The Ku-band wide beams will also serve growing direct-to-home and VSAT services in the Americas and the North Atlantic. SES-14 will replace and augment services currently provided on NSS-806.
The spacecraft also carries a NASA-funded hosted payload. The payload's Global-scale Observations of the Limb and Disk (GOLD) mission is designed to deepen scientists' understanding of the nearest reaches of space. The hosted payload will provide unprecedented imaging of the Earth's upper atmosphere from geostationary orbit, and will be the first mission with a cadence fast enough to study the daily weather of the thermosphere-ionosphere rather than its long-term climate.
SES-14 was built by Airbus Defence and Space and is an electric satellite. It will rely fully on electric propulsion and will be equipped with an electric plasma propulsion system for orbit raising and in-orbit manoeuvres. The new spacecraft also features a Digital Transparent Processor (DTP), which increases payload flexibility and will provide customised bandwidth solutions to SES's customers.
Martin Halliwell, Chief Technology Officer at SES, said, "We are extremely excited about launching SES-14. It's an all-electric satellite comprising wide beams and high throughput beams and featuring a DTP -- the first of its kind in our fleet -- all of which will provide our customers with enhanced flexibility and fully customisable solutions. Not only will SES-14 be meeting the needs of the growing video markets in Latin America, its high throughput capabilities will empower maritime and aeronautical service providers to deliver high-performance connectivity in the Americas. We are also proud to be the first commercial partner to host a NASA scientific mission of this kind."
For further information please contact:
Markus Payer
Corporate Communications & PR
Tel. +352 710 725 500
[email protected]
About SES
SES is the world-leading satellite operator and the first to deliver a differentiated and scalable GEO-MEO offering worldwide, with more than 50 satellites in Geostationary Earth Orbit (GEO) and 12 in Medium Earth Orbit (MEO). SES focuses on value-added, end-to-end solutions in two key business units: SES Video and SES Networks. The company provides satellite communications services to broadcasters, content and internet service providers, mobile and fixed network operators, governments and institutions. SES's portfolio includes ASTRA, O3b and MX1, a leading media service provider that offers a full suite of innovative digital video and media services. SES is listed on the Euronext Paris and Luxembourg Stock Exchange (ticker: SESG). Further information available at: www.ses.com