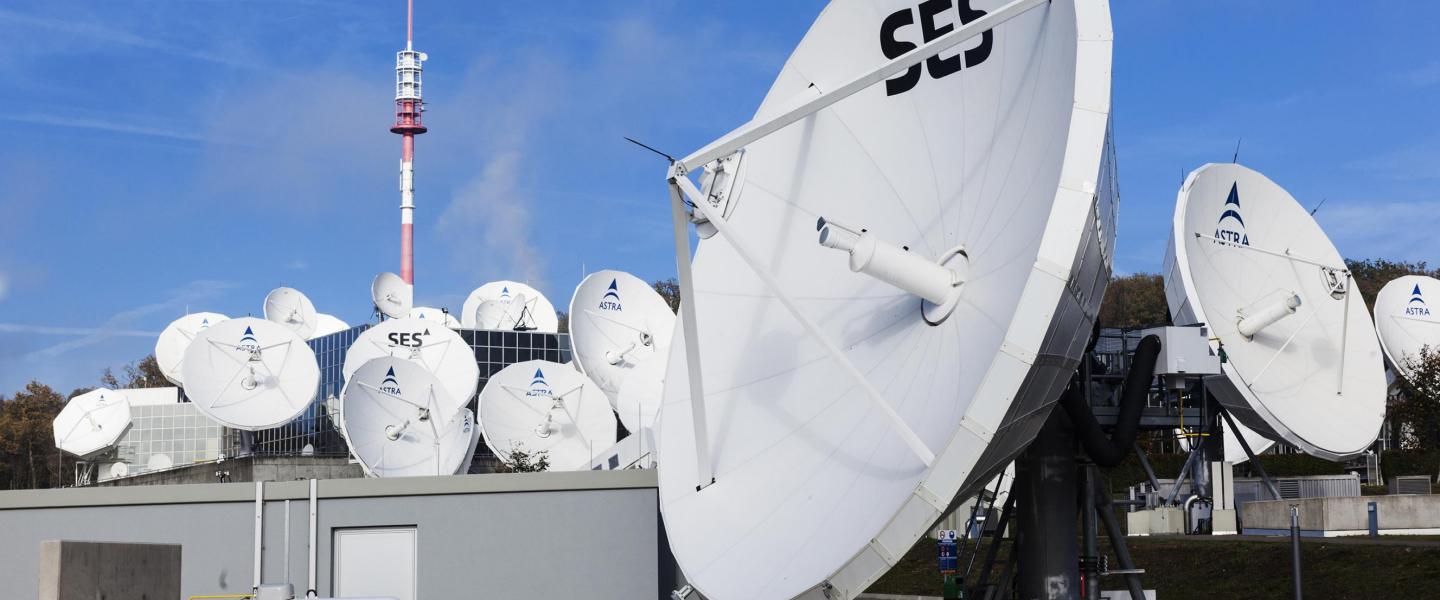 "A strong year of execution, a clear path to profitable growth and a commitment to shareholder return"
Luxembourg, 25 February 2021 -- SES S.A. announces financial results for the year ended 31 December 2020.
Third successive year delivering EBITDA outlook despite challenging COVID-19 environment in 2020
• Growth engine Networks revenue +5% YOY, or +27% since 2017, and Video revenue of €1,108 million in line with expectations
• Adjusted EBITDA of €1,152 million delivered within pre-COVID-19 financial outlook and at high end of mid-year outlook
• Strong net cash generated from operations of €1,049 million representing 97% of reported EBITDA
Commitment to disciplined financial policy and shareholder returns
• Solid cash flow generation driving €505 million YOY debt reduction and lowest leverage ratio (of 2.97 times) over the past 5 years
• Proposed 2020 dividend of €0.40 per A-share consistent with commitment to maintain a minimum base dividend of €0.40
• On track to realise $4 billion pre-tax from US C-band clearing with end-2021 milestone triggering the first $1 billion in accelerated clearing payments to be fully used for deleveraging
Resilient 2021 outlook reflecting current market with substantial growth investments supporting Revenue, Adjusted EBITDA and FCF growth from 2023
• Over 80% of 2021 group revenue outlook of €1,760-1,820 million already under contract. Continued focus on operational excellence, reducing cost and discretionary spending supporting 2021 Adjusted EBITDA outlook (€1,060-1,100 million)
• SES-17 and O3b mPOWER, with gross backlog up 40% since Q3 2020 to $740 million, to launch in 2021, driving an acceleration of growth in Networks from 2022 onwards and sustained profitable revenue and Adjusted EBITDA growth for SES from 2023
• CapEx reduced by €390 million over 2020-2024 compared with previous forecast, lowering growth investment peak in 2021-2022 and followed by substantially lower average annual CapEx of €375 million (2023-2025)
Steve Collar, CEO of SES, commented: "2020 was a strong year for SES. The combination of considerable commercial execution and laser focus on controlling discretionary spending ensured that, despite the COVID-19 environment, we protected the bottom line with Adjusted EBITDA in line with our pre-COVID-19 outlook and at the top end of our mid-year outlook. We successfully executed our Simplify & Amplify programme delivering OpEx savings of €50 million from 2022 onwards, while Net Debt and leverage is at a 5-year low on the back of strong cash generation.
2020 was a landmark year for our US C-band initiative, starting with the FCC's final Report and Order and ending with the record-breaking spectrum auction, crystallising SES' opportunity to earn $4 billion in accelerated relocation payments. The clearing is on track and we expect to meet the December 2021 and December 2023 deadlines.
We secured more than €1.3 billion in customer agreements in the year including an important long-term commitment with Canal+ covering multiple orbital positions; contract extensions with public and commercial broadcasters across our prime video neighbourhoods; new MEO-GEO-based solutions for the US Government; new Telco and MNO connectivity solutions in Latin America and Asia; and, in return for supporting customers whose businesses are especially affected by COVID-19, secured additional backlog in Cruise and Aero. Our recently announced renewal and extension with Sky means that, to date, we have added more than €440 million in contract backlog at our core video neighbourhoods since the end of Q3 2020. 2020 was a year like no other for our employees and customers alike. We moved swiftly and successfully into a remote office environment, protecting customer and satellite operations in the process. I could not be more grateful to SES employees for their resilience and commitment to supporting our customers.
2021 represents a year of unique and significant opportunities for SES. It will see us realise the first $1 billion from C-band repurposing and execute on a strong pipeline of commercial opportunities to further grow, driven by the increasing backlog of now $740 million for SES-17 and O3b mPOWER ahead of launch in the second half of 2021. These assets form the bedrock of our unique, multi-orbit value proposition to serve the strong and expanding demand for data across all our segments and will drive sustained, profitable growth for SES in the years ahead."
...
For further information please contact:
Richard Whiteing
Investor Relations
Tel: +352 710 725 261
[email protected]
Suzanne Ong
External Communications
Tel. +352 710 725 500
[email protected]
About SES
SES has a bold vision to deliver amazing experiences everywhere on earth by distributing the highest quality video content and providing seamless connectivity around the world. As the leader in global content connectivity solutions, SES operates the world's only multi-orbit constellation of satellites with the unique combination of global coverage and high performance, including the commercially-proven, low-latency Medium Earth Orbit O3b system. By leveraging a vast and intelligent, cloud-enabled network, SES is able to deliver high-quality connectivity solutions anywhere on land, at sea or in the air, and is a trusted partner to the world's leading telecommunications companies, mobile network operators, governments, connectivity and cloud service providers, broadcasters, video platform operators and content owners. SES's video network carries over 8,200 channels and has an unparalleled reach of 367 million households, delivering managed media services for both linear and non-linear content. The company is listed on Paris and Luxembourg stock exchanges (Ticker: SESG). Further information is available at: www.ses.com
Presentation of Results
A presentation of the results for investors and analysts will be hosted at 9.30 CET on 25 February 2021 and will be broadcast via webcast and conference call. The details for the conference call and webcast are as follows:
U.K. (Standard International Access): +44 (0) 33 0551 0200
France: +33 (0) 1 7037 7166
Germany: +49 (0) 30 3001 90612
U.S.A.: +1 212 999 6659
Confirmation code: SES
Webcast registration: https://channel.royalcast.com/landingpage/ses/20210225_1/
The presentation is available for download from https://www.ses.com/investors/financial-results and a replay will be available shortly after the conclusion of the presentation.