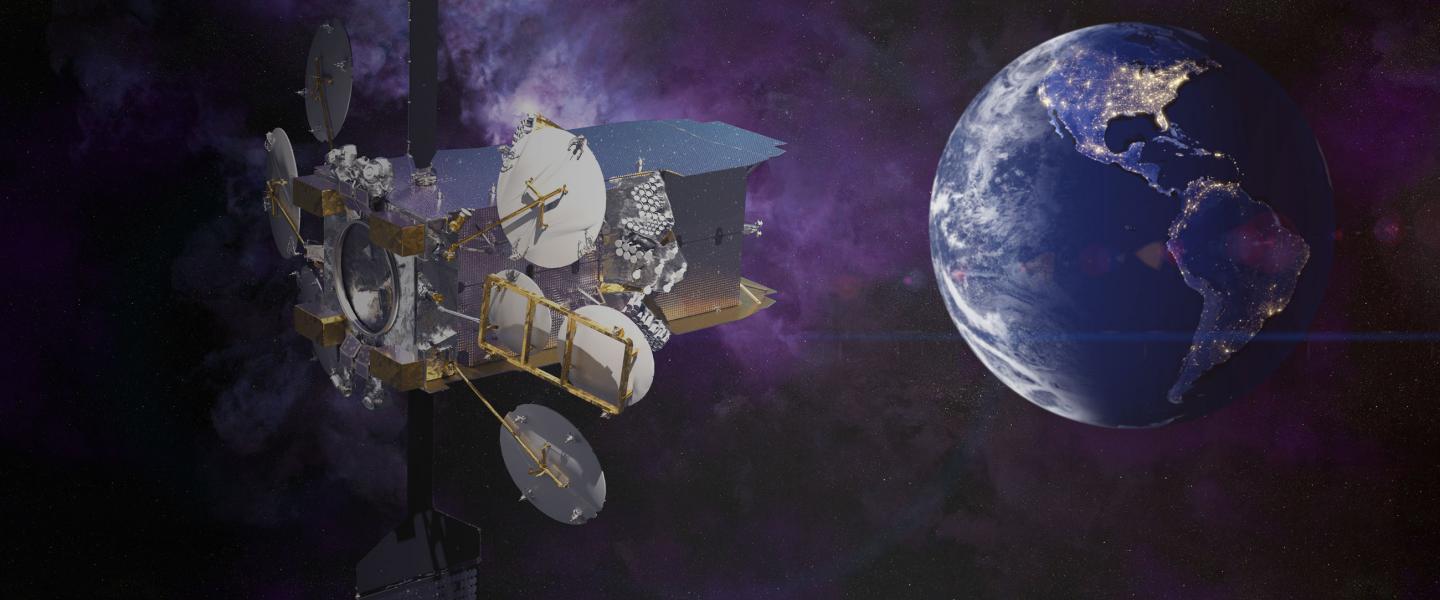 SES-17: Experience endless connectivity
SES-17 was successfully launched into space onboard an Ariane 5 launcher on 23 Oct 2021.
SES-17: Experience endless connectivity

About SES-17
Quite simply, the most advanced and versatile satellite in our fleet. SES-17 is a Ka-band High Throughput System (HTS) Geostationary Earth Orbit (GEO) satellite and the first of its kind. SES-17 has been engineered to give our customers high-speed broadband AND more flexibility, wherever they are located: at sea, in the air or on land.
SES-17 features almost 200 spot beams, the power of which can be dynamically adjusted in step with our customers' changing requirements. It is also our first satellite to have a totally digital payload, powered by an advanced digital transparent processor (DTP), enabling far greater flexibility and efficiency than previously available.
The launch of SES-17 marks the first step in the integration of our multi-orbit GEO-MEO fleet to create a truly inter-operable network. SES-17 and O3b mPOWER – our next-generation Medium Earth Orbit (MEO) constellation - both use our Adaptive Resource Control (ARC) software. The ARC has been designed specifically to leverage the flexibility of digital payloads, concentrating power in specific beams as and when needed. In addition, traffic will be seamlessly switched between SES-17 and O3b mPOWER, if a particular customer application in a certain segment demands lower latency. Cruise customers will be the first segment to take advantage of this.
Built by Thales Alenia Space and launched by Arianespace from Kourou, French Guiana on 23 October 2021, the satellite is positioned over the Americas, the Caribbean and over the Atlantic Ocean to deliver unmatched broadband connectivity through our partners.
Thales Avionics is SES-17's anchor customer and will use the satellite to deliver unrivalled connectivity for commercial aviation over North America.
Unforgettable experiences…
SES-17 has been engineered to give our customers, high-speed broadband AND more flexibility, wherever they are located: in the air, at sea or on land. Because creativity shouldn't be tethered.

...in the air
In the air, commercial airlines passengers served by Thales Avionics will provide seamless connectivity delivered by SES-17 over the Americas and the North Atlantic Ocean, while the high-performance spot beams can deliver 10 times more throughput than other SES GEO satellites.

...at sea
Likewise, the same satellite has also been designed to meet the needs of passengers and seamen on the busiest shipping routes in the North Atlantic and Caribbean. Downloading a chart, uploading a video or even online gaming; with multi-orbit capabilities enabled by ARC, bandwidth will be scaled as and when needed, seamlessly integrating with O3b mPOWER for low-latency applications.

...on land
On the ground, enterprises, cellular operators, governments and consumers alike, will benefit from our first high throughput GEO satellite operating in Ka-band. Whether it's connecting offshore platforms, offices or communities in underserved areas, this all-digital satellite will automatically manage load balancing, prioritising traffic exactly where it's needed.
Are you a space enthusiast? Here are more SES-17 facts for you!
1
SES-17 is the most advanced and largest GEO satellite ever procured by SES and ever built by Thales Alenia Space (TAS). It will weigh over six metric tons at launch, with a payload power of 17kW at the beginning of its 15-year design life.
2
It will be the first GEO satellite to use ARC, an industry-first software system for automated allocation and optimisation of capacity. ARC leverages the full flexibility of totally digital payloads, autonomously adapting space and ground resources on the fly to meet customer needs.
3
It will have nearly 200 user beams connected up to its 16 gateways. These beams can be connected to any other beam at any time.
4
In the event of rain fade at one of 16 SES-17 gateways, ARC will and can move traffic to another gateway to ensure that Service Level Agreements (SLAs) are met.
5
When launched it will have the most advanced Digital Transparent Processor (DTP) of any orbiting satellite. It will keep that distinction until the launch of O3b mPOWER.
6
The DTP combined with flex Traveling Wave Tubes (TWTs) enables SES-17 to form practically unlimited number of communication routes.
7
SES-17 is the first commercial satellite to incorporate a high efficiency Mechanically Pumped Loop (MPL) thermal control. This innovative way of conducting heat out of the spacecraft is the result of 20 years research by TAS and the European Space Agency (ESA).
8
The Thales Alenia Space TVAC chamber is one of the largest Vacuum chambers in Europe. But that wasn't enough for our spacecraft.
9
The solar arrays are the largest and most powerful arrays ever manufactured by TAS. SES-17 will be the first satellite to fly the large version of these panels.
Keep up-to-date with developments surrounding SES-17
2021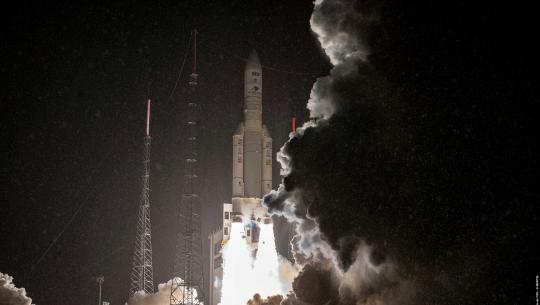 Successful launch
OCTOBER - SES-17 was successfully launched into space onboard an Ariane 5 launcher operated by Arianespace from the Europe's Spaceport in Kourou, French Guiana at 11:10 pm local time (02:10 am UTC).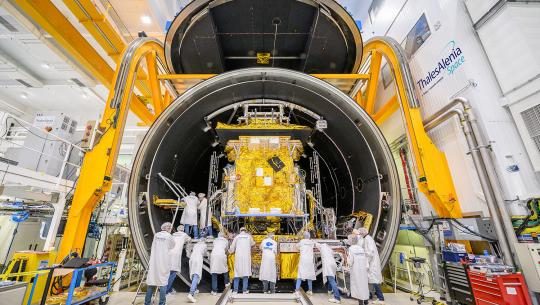 Arrival at launch site
SEPTEMBER - SES-17 has arrived to Arianespace's Guiana Space Centre in Kourou, French Guiana.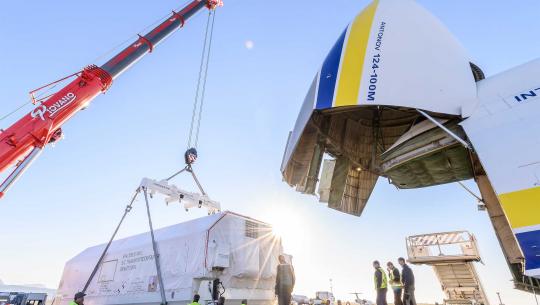 Shipped to location
SEPTEMBER - SES-17 has been shipped from Thales Alenia Space facility in Cannes, France.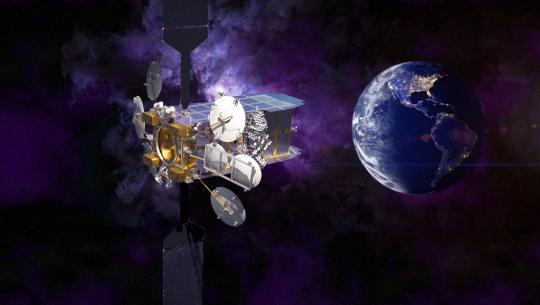 Scheduled to launch
SEPTEMBER - SES-17 is scheduled to be launched by Arianespace, using an Ariane 5 vehicle on 22 October 2021.
Read the press release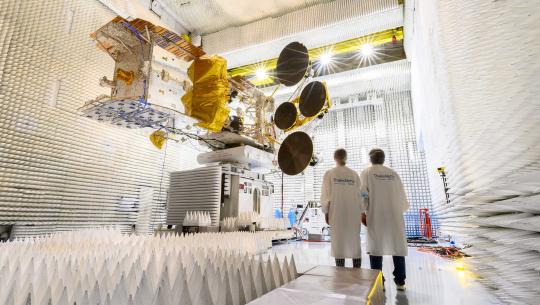 Compact Antenna Test Range
AUGUST - The antennas are tested in an anechoic chamber, which simulates the environment in outer space. This test not only measures the performance of the antennas themselves, it also ensures that there will be no interference from any of the many other components and systems.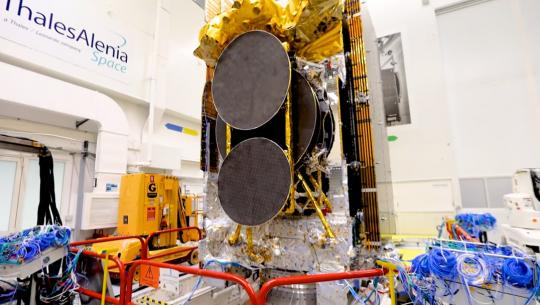 Satellite Vibration Test
JULY - Satellite Vibration Test. During launch the satellite will be subject to extreme vibration and high levels of acoustic noise, both of which could potentially damage or impair components. It is therefore essential that the satellite undergoes similar vibration and acoustic testing prior to launch. The vibration test simulates every type of vibration that the SES-17 may encounter on its journey to its orbital location.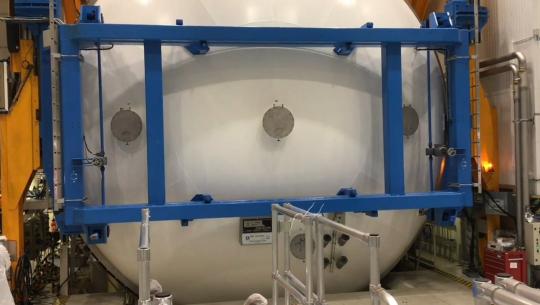 Thermal Vacuum test completed
APRIL - SES-17 left the TVAC chamber where it successfully completed all testing.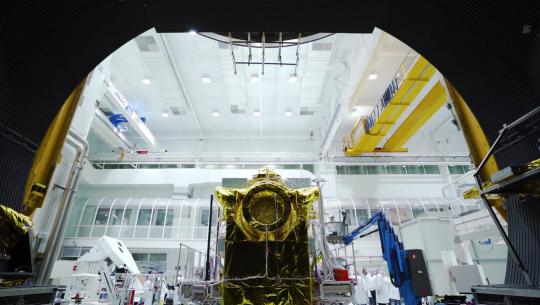 Thermal Vacuum test commenced
FEBRUARY - During this phase the satellite is in a vacuum and subjected to extremes of temperature such as may be encountered during its lifetime in space. The thermal vacuum chamber (TVAC) is one of the largest in Europe, but to make SES-17 fit, part of the door had to be carved out.
2020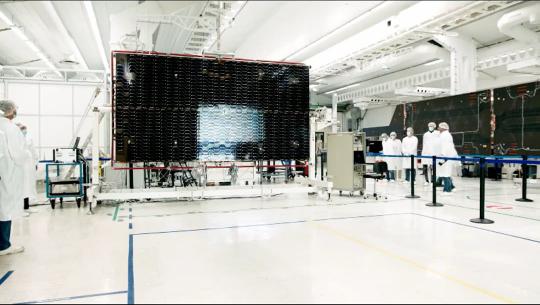 First solar array deployment test completed
SEPTEMBER - The solar arrays are only a couple of centimetres thick but will need to deal with extreme temperatures varying between +140°C and -200°C. Furled for launch, deploying the solar arrays after separation is a delicate operation that relies on a series of pulleys, hinges, cables and springs all working in perfect synchronisation.
2017
Arianespace to launch SES-17
Weighing over six metric tons, SES-17 will be one of the 10 largest satellites ever launched by Arianespace. It will also be the third all-electric satellite that Arianespace has launched for SES.
Read the press release
2016
SES-17, a Ka-Band HTS ordered from TAS
The most powerful, advanced and flexible GEO satellite in our fleet will provide data services over the Americas, Caribbean Sea and Atlantic Ocean.
Read the press release
Thales Avionics signed as anchor customer
SES-17 will provide connectivity services tailor-made for commercial aviation over the Americas to FlytLIVE by Thales. Passengers will be able to experience high-speed WiFi in the air as they do at home.
Read the press release
Download our factsheet to find out how SES-17, our upcoming very high-throughput satellite, brings the most advanced, versatile, and powerful capabilities to address the demand for high-speed connectivity across businesses and communities in Americas.