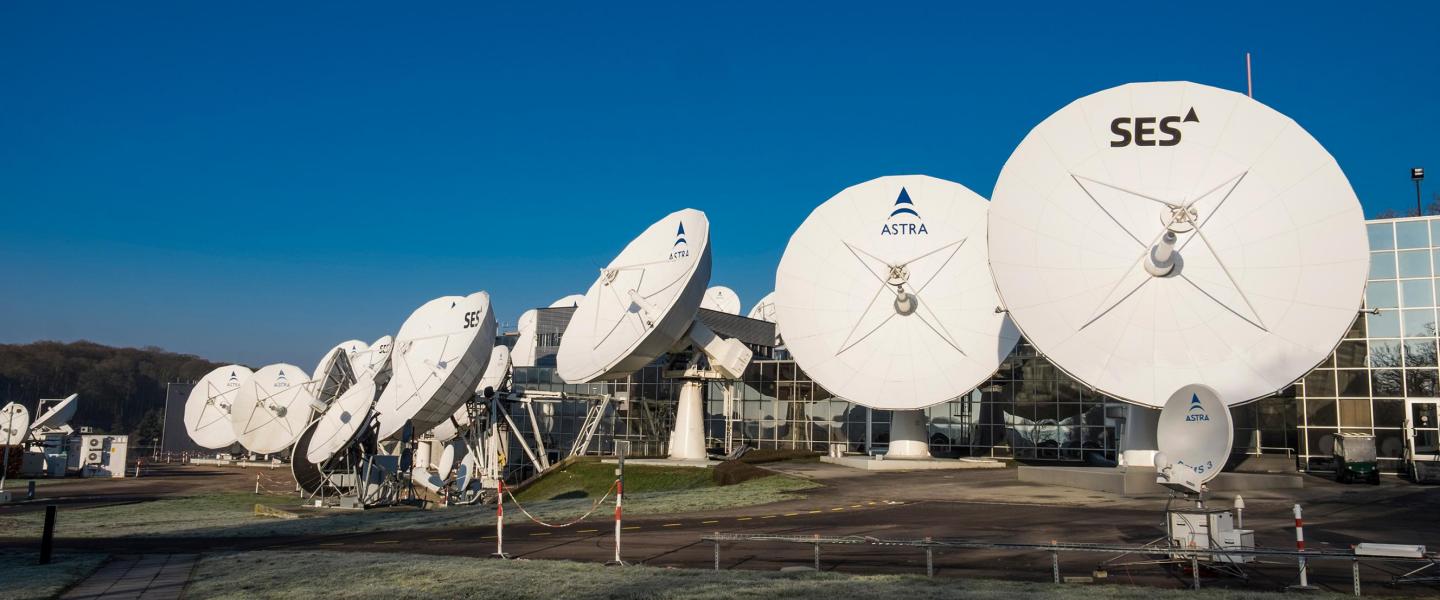 Luxembourg, 5 November 2020 -- SES S.A. announced financial results for the nine months ended 30 September 2020.
Solid performance with continued strong underlying growth across Networks
• Networks revenue +7.5% year-on-year(1,2); Q3 2020 Video revenue stable quarter-on-quarter(1,2)
• Adjusted EBITDA(3) EUR 883 million representing 62.6% margin with recurring operating expenses reduced 3.7% year-on-year
On track to deliver on FY 2020 financial outlook
• Over 97% of group revenue outlook (EUR 1,860-1,900 million(4)) already contracted
• 'Exceptional' COVID-19 cost mitigations of around EUR 50 million underpin Adjusted EBITDA(3) outlook (EUR 1,120-1,160 million(4))
Strong progress across four key initiatives that will drive substantial long-term value
• On track to clear U.S. C-band by the stated deadlines and realise the full USD 4 billion of accelerated relocation payments
• Simplify & Amplify initiatives implemented unlocking EUR 40-50 million of annual EBITDA optimisations from 2021 onwards; having concluded its investigation, the SES Board has decided not to pursue a separation of Networks within SES at this time
• Building the multi-orbit 'Network of the Future' through launch and interoperability of SES-17 and O3b mPOWER. Positioned to capture growth resulting from the projected three-fold increase in addressable market(5); USD 0.5 billion of contract backlog secured across the programmes with commercial traction increasing as launch approaches
• Foundational and expanded partnership with Microsoft and Azure Orbital at the heart of 'cloud-first' strategy to transform service delivery, expand service offerings and enhance customer experience

Steve Collar, CEO of SES, commented: "Our solid performance continued into the third quarter, despite ongoing COVID-19 headwinds, with sustained growth across Networks and stable revenue quarter-on-quarter in our Video business. We were delighted to announce a substantial extension of our relationship with Canal+ across three orbital locations and valued at over EUR 230 million, as well as a meaningful extension of our strategic partnership with Microsoft as an Azure Orbital connectivity partner and satellite partner for Azure Modular Data Centres. We took measures early in the development of the COVID-19 pandemic to protect the bottom line and the benefits of these cost-saving measures are reflected in our resilient Adjusted EBITDA performance. Execution remains the priority with the business well placed to deliver on our full year outlook.
We are executing strongly on the four transformational initiatives which, together with ongoing execution in the core of the business, will deliver substantial value for our shareholders. I am particularly pleased with the progress being made towards repurposing U.S. C-band with the transition plan fully on track, the FCC auction due to start next month and deadline for realising the first relocation payment now only 13 months away. We have fully implemented measures to focus the business, simplify operations and unlock EUR 40-50 million of annualised EBITDA savings from 2021. We have chosen not to pursue the separation of Networks within SES at this time in favour of driving strong operational focus within our Video and Networks businesses.
We are already strongly differentiated in Networks and, with the launches of SES-17 and O3b mPOWER less than a year away, we are continuing to deliver on our vision for cloud-enabled, multi-orbit, seamless, automated and flexible network services. We have already signed USD 500 million in contract backlog for SES-17 and O3b mPOWER and will report regularly on our progress as we move towards launch of our 'Network of the Future'. An important enabler for this network is our cloud-first strategy. With SES now an Azure Orbital connectivity provider, our partnership with Microsoft has extended to co-located O3b mPOWER gateways ensuring that Azure is only ever one hop away for our customers."
For further information please contact:
Richard Whiteing
Investor Relations
Tel: +352 710 725 261
[email protected]
Suzanne Ong
External Communications
Tel. +352 710 725 500
[email protected]
About SES
SES has a bold vision to deliver amazing experiences everywhere on earth by distributing the highest quality video content and providing seamless connectivity around the world. As the leader in global content connectivity solutions, SES operates the world's only multi-orbit constellation of satellites with the unique combination of global coverage and high performance, including the commercially-proven, low-latency Medium Earth Orbit O3b system. By leveraging a vast and intelligent, cloud-enabled network, SES is able to deliver high-quality connectivity solutions anywhere on land, at sea or in the air, and is a trusted partner to the world's leading telecommunications companies, mobile network operators, governments, connectivity and cloud service providers, broadcasters, video platform operators and content owners. SES's video network carries over 8,300 channels and has an unparalleled reach of 367 million households, delivering managed media services for both linear and non-linear content. The company is listed on Paris and Luxembourg stock exchanges (Ticker: SESG). Further information is available at: www.ses.com
Presentation of Results
A presentation of the results for investors and analysts will be hosted at 9.30 CET on 5 November 2020 and will be broadcast via webcast and conference call. The details for the conference call and webcast are as follows:
U.K. (Standard International Access): +44 (0) 20 3003 2666
France: +33 (0) 1 7037 7166
Germany: +49 (0) 30 3001 90612
U.S.A.: +1 212 999 6659
Confirmation code: SES
Webcast registration: https://channel.royalcast.com/webcast/ses/20201105_1/
The presentation is available for download from https://www.ses.com/investors and a replay will be available shortly after the conclusion of the presentation.