SES AND SAMSUNG MARK ULTRA HD'S FIRST – WITH LIVE BROADCAST OF LINKIN PARK CONCERT VIA SATELLITE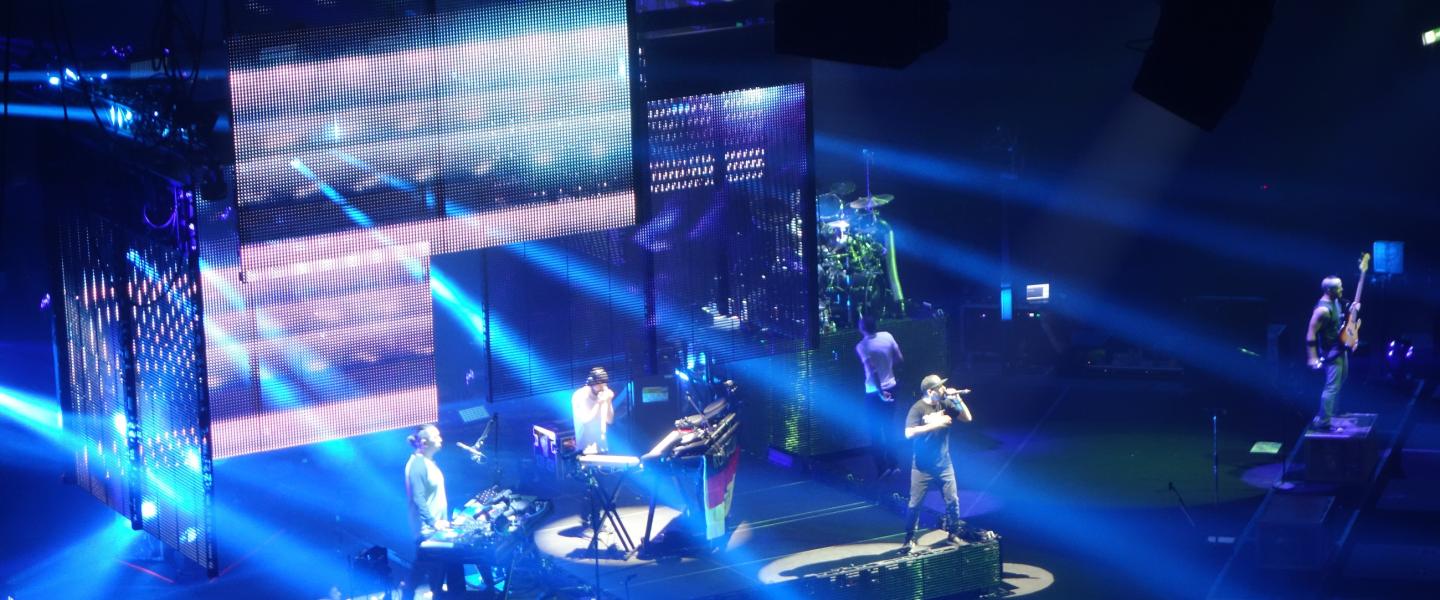 SES AND SAMSUNG MARK ULTRA HD'S FIRST – WITH LIVE BROADCAST OF LINKIN PARK CONCERT VIA SATELLITE
First live concert in the world to be broadcast at Astra 19.2 degrees East in Ultra HD (3840 x 2160 pixel) in HEVC standard, at 50 fps and a colour depth of 10 bit
Luxembourg, November 12, 2014 – SES S.A. (NYSE Euronext Paris and Luxembourg Stock Exchange: SESG), in collaboration with Samsung Electronics Co. Ltd, announced today they will be broadcasting live the American rock band Linkin Park concert in Ultra HD at the orbital position of Astra 19.2 degrees East.
The Linkin Park concert on November 19 at the O2 World Berlin will be the world's first live concert to be broadcast via satellite encoded in the HEVC standard with a resolution of 3840 x 2160 pixels, 50 frame per second and a colour depth of 10 bit. It will be available exclusively on the Astra Ultra HD demo channel. The live broadcast will begin at 9 pm CET and can be received with Samsung 2014 Ultra HD screens. SES Platform Services, a subsidiary of SES, will manage the encoding of the content.
Linkin Park is one of the most successful and popular rock bands of our time. On their current tour, the Warner Music band is presenting their hits and songs from their latest album, "The Hunting Party," with a visually stunning stage show.
"We are honoured that Samsung has chosen to work with SES to broadcast a live concert exclusively on our demo channel, as this demonstrates Samsung's faith in our satellites and our technical capabilities," said Ferdinand Kayser, Chief Commercial Officer at SES. "The successful broadcast of a live concert will mark another milestone in the development of the Ultra HD eco system and power the way for more live content to be broadcast live via satellite in the coming years."
For more information on how SES supports Ultra HD go to http://www.ses.com/ultra-hd
For further information please contact:

Markus Payer
SES Corporate Communications
Tel: +352 710 725 500
[email protected]
About SES
SES is a world-leading satellite operator with a fleet of over 50 geostationary satellites. The company provides satellite communications services to broadcasters, content and internet service providers, mobile and fixed network operators and business and governmental organisations worldwide.
SES stands for long-lasting business relationships, high-quality service and excellence in the broadcasting industry. The culturally diverse regional teams of SES are located around the globe and work closely with customers to meet their specific satellite bandwidth and service requirements.
SES (NYSE Euronext Paris and Luxembourg Stock Exchange: SESG) holds participations in Ciel in Canada and QuetzSat in Mexico, as well as a strategic participation in satellite infrastructure start-up O3b Networks.