INRED and SES Networks Expand Wi-Fi Access Across Colombia, Connect Nearly One Million People in 424 Municipalities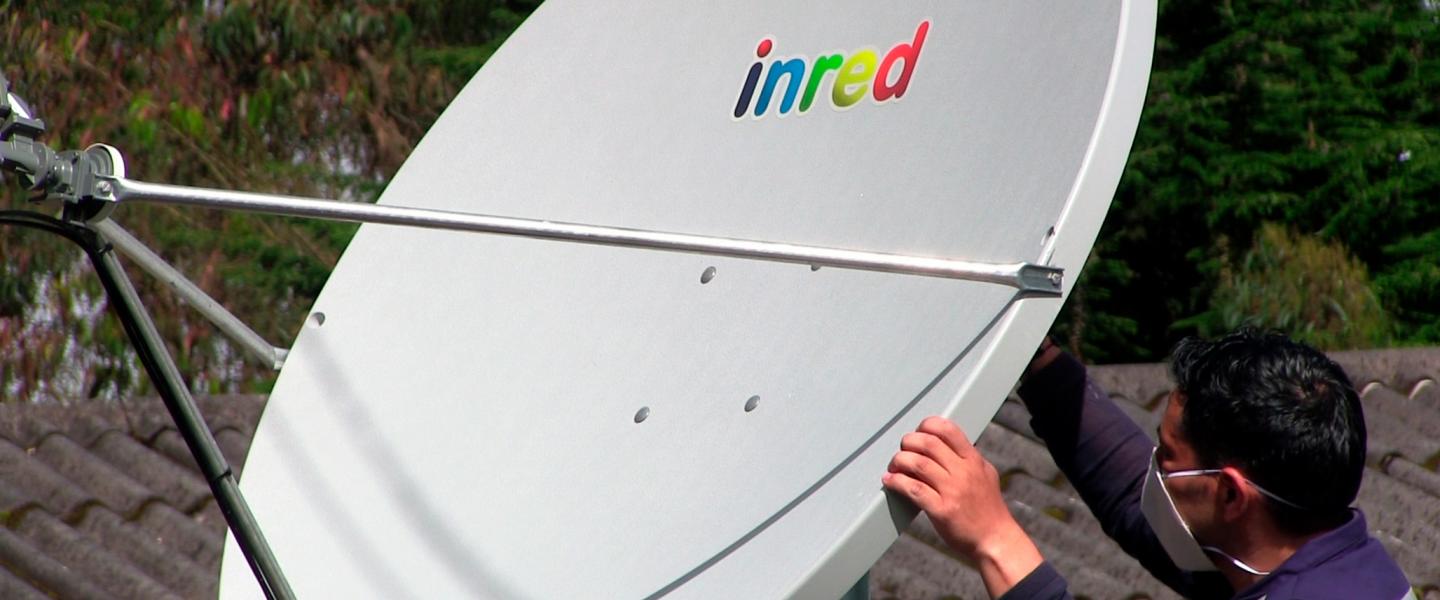 INRED and SES Networks Expand Wi-Fi Access Across Colombia, Connect Nearly One Million People in 424 Municipalities
Collaboration accelerated government initiative to connect 100% of Colombia with a second deployment of 300 additional free community Wi-Fi zones enabled by high-speed broadband over satellite
Luxembourg, 4 November 2020 – On the heels of a widely-successful deployment of 1,000 free community Wi-Fi zones connecting more than 700,000 underserved Colombians nationwide in 2019, local services provider INRED and SES Networks have completed the delivery of 300 additional broadband hotspots across rural areas to help close the country's digital divide. The additional sites were deployed in record time and were part of Colombia's Sustainable Universal Access project administered by the Colombian Ministry of Telecommunications. All 1,300 Wi-Fi zones in 424 municipalities across 20 departments are providing high-speed broadband services to nearly one million people and are enabled by SES Networks' Signature Enterprise Solutions over the SES-14 satellite, which provides full coverage over Latin America, the Caribbean and the North Atlantic, SES announced today.
INRED and SES Networks were also selected by the Colombian Government to carry out a social connectivity initiative to benefit the people of the Archipelago of San Andrés, Providencia and Santa Catalina, two Caribbean island groups northwest of mainland Colombia, where satellite-enabled connectivity is now being delivered to 12 training schools and Colombian National Navy posts.
For example, the new Wi-Fi zone installed in the village of El Consuelo has been life-changing for coffee farmer Juan Arias, whose coffee operation is located in the state of Valle del Cauca. Arias claimed the newfound connectivity has provided a new level of insight and knowledge in his field. "From my cell phone I can learn about new solutions and new ideas that will improve the quality of my product. Connectivity has had an unexpected positive impact on my earnings, since I've learned how to harvest a greater quantity of coffee beans in less time. It has changed the way I do business for the better."
"SES is proud to be part of this rewarding project that is already having such a positive impact on the lives of hundreds of thousands of Colombians," said Omar Trujillo, Americas Vice President of Fixed Data Sales of SES Networks. "Through our cooperation with INRED, even the most remote rural areas of the country will enjoy and benefit from high-speed connectivity services. Our network enables this important programme to break through geographic barriers and bring the digital future to everyone throughout Colombia."
"INRED and SES have carried out the first phases of this universal access program in record time, which opens the door to exciting new opportunities for economic growth, work, and education in what have been historically disconnected communities across Colombia," said Jhon Jairo Ureña, CEO of INRED. "By adding 300 more community Wi-Fi hotspots, more families and businesses are able to communicate, and sell their services and products. At the same time, it is gratifying to know that more children now have access to connectivity that makes remote learning during the pandemic possible."
INRED is one of Colombia's first certified partners for delivering SES Networks' Signature Solutions. By having access to SES's dedicated bandwidth, service design flexibility and teleport operations, INRED is well-equipped to help boost internet access across Colombia's most sparsely populated regions
For further information please contact:
Suzanne Ong
External Communications
Tel. +352 710 725 500
[email protected]
Gerly Ramirez
Commercial Director, INRED
Tel. +57 1 7568670
[email protected]
About SES
SES has a bold vision to deliver amazing experiences everywhere on earth by distributing the highest quality video content and providing seamless connectivity around the world. As the leader in global content connectivity solutions, SES operates the world's only multi-orbit constellation of satellites with the unique combination of global coverage and high performance, including the commercially-proven, low-latency Medium Earth Orbit O3b system. By leveraging a vast and intelligent, cloud-enabled network, SES is able to deliver high-quality connectivity solutions anywhere on land, at sea or in the air, and is a trusted partner to the world's leading telecommunications companies, mobile network operators, governments, connectivity and cloud service providers, broadcasters, video platform operators and content owners. SES's video network carries over 8,300 channels and has an unparalleled reach of 367 million households, delivering managed media services for both linear and non-linear content. The company is listed on Paris and Luxembourg stock exchanges (Ticker: SESG). Further information is available at: www.ses.com
About INRED
INRED was created in 2002 as an engineering company that has become a relevant player in the ICT sector, with know-how in integral networking services for diverse markets. INRED has established itself as one of the main solution providers for projects promoting social inclusion in Colombia. Due to the new partnership with SES, INRED has expanded their portfolio, integrating layers of value and reaching end users with 'turnkey' solutions for high performance satellite connectivity.
INRED provides satellite-enabled telecommunications services and last-mile solutions. The company offers state-of-the-art technology solutions in places where the telecommunications infrastructure is deficient or non-existent. INRED has national coverage and specialized professionals that ensure the operation and management of projects in the ICT sector are delivered under the premise of quality, commitment and passion for customer satisfaction. Further information is available at: www.inred.com.co