Rapid Response Vehicle - for Defence, Security and Humanitarian Missions
SES's new government product, Rapid Response Vehicle (RRV), is a SATCOM-enabled platform capable of providing high-speed connectivity and global communications services tailored to a broad range of commercial, civil, humanitarian and defence missions around the world. The Rapid Response Vehicle is the world's first mobile platform to offer collaborative communications technologies over multiple orbits and frequencies across SES's GEO fleet and fibre-like Ka-band delivered over its MEO constellation.
The RRV can provide connectivity for specific scenarios and applications such as high-definition video conferencing, streaming, voice, GSM backhaul, high-speed broadband, and large data file transfers in locations where infrastructure is non-existent or destroyed.
Key Features
The RRV is enabled for connectivity in Ku-band through SES's GEO fleet and in Ka-band through MEO constellation
Both antenna systems can operate in Ku-band GEO, or MEO Ka-band and GEO Ku-band simultaneously
It is equipped with MIMO (Multiple Input Multiple Output) radio technology and commercial HF and VHF radios providing additional methods of communication
Supports a suite of video, data and IP applications
With a flexible baseband architecture, the RRV configuration is fully customisable and can be tailored for virtually any mission imaginable
Examples of applications enabled by the RRV:

Intelligence Surveillance & Reconnaissance (ISR)
Tactical Persistent Surveillance/Persistant Surveillance Aerostat
Emergency.lu; other disaster response and recovery missions
Telemedicine (e.g. SATMED)
Video contributions
Related content
Infographic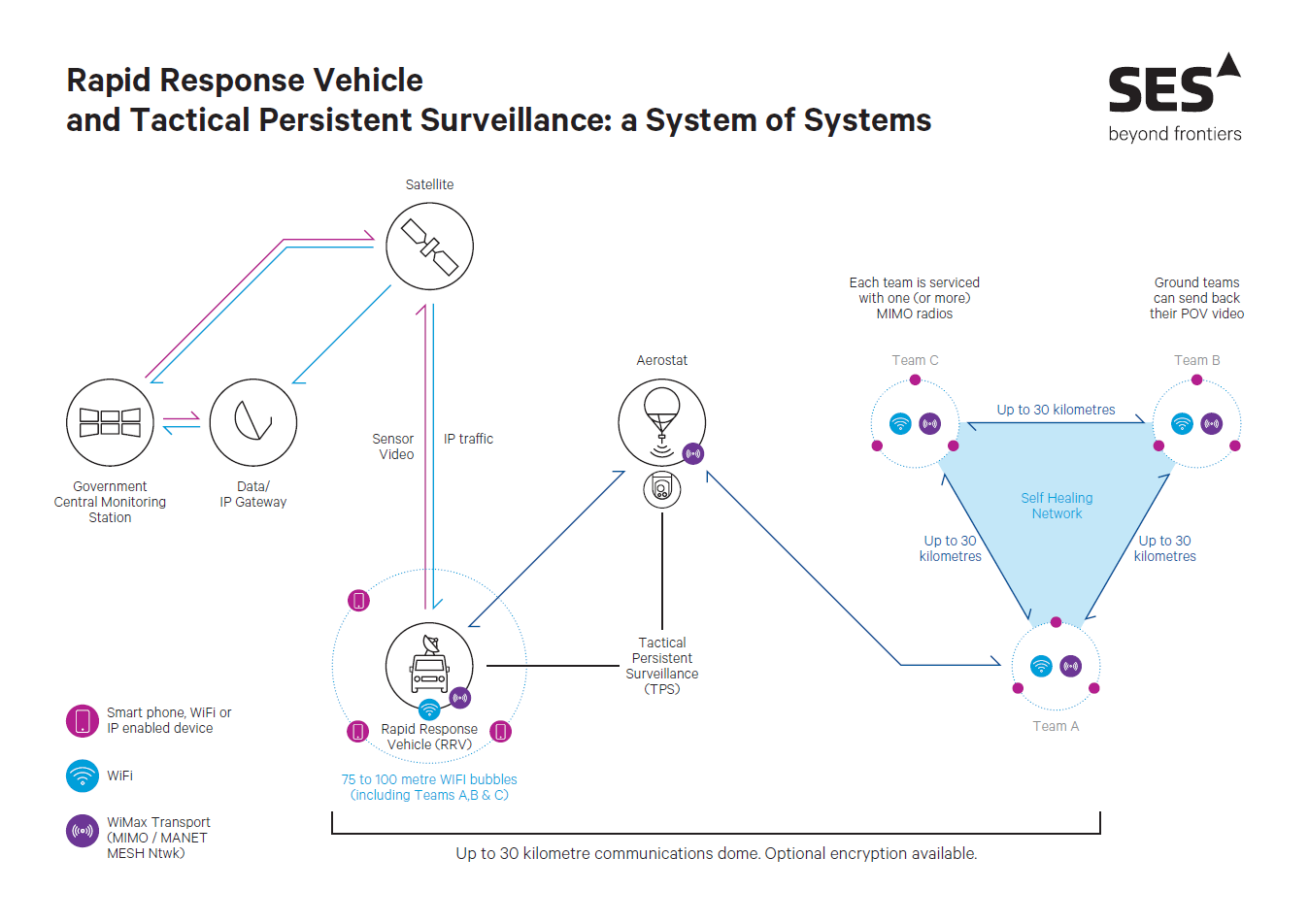 ---