New data-enabled capabilities can help small and medium sized fisheries thrive in highly competitive and regulated environments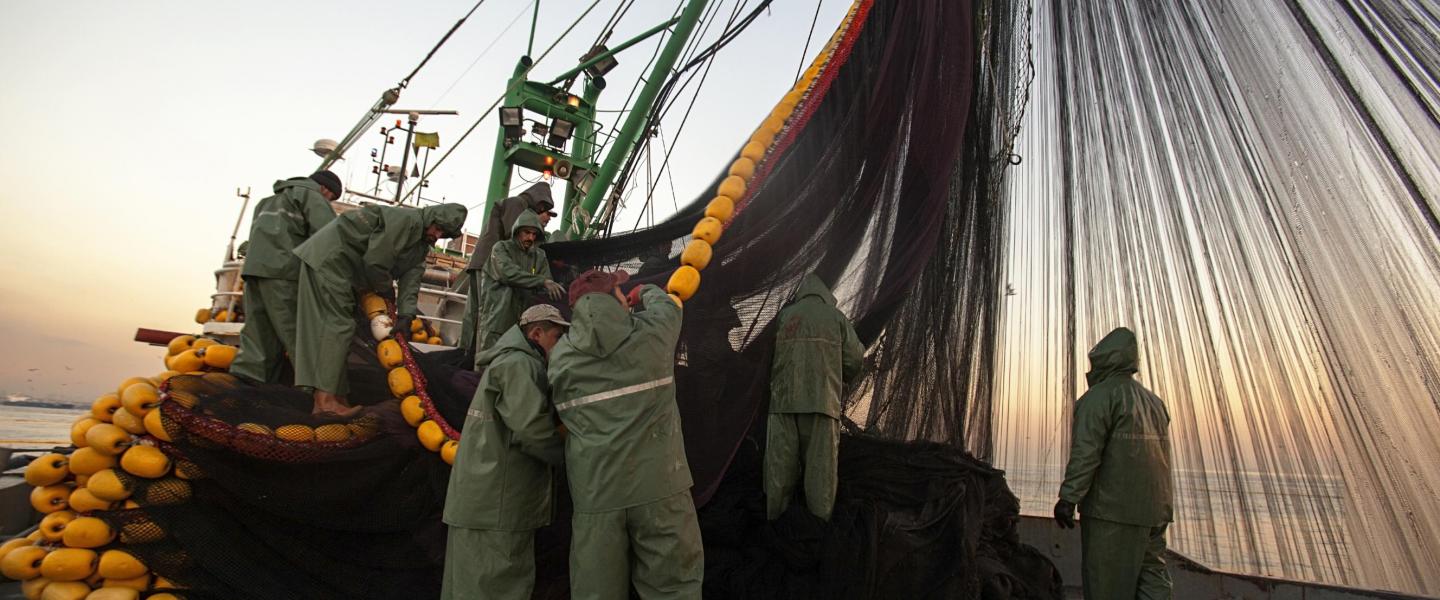 New data-enabled capabilities can help small and medium sized fisheries thrive in highly competitive and regulated environments
Tightening margins and a deluge of regulations developed to counter over-fishing are putting new pressures on small and medium fisheries. Uncomplicated, less costly satellite broadband connectivity – and the access to digital tools that it can provide - can make a real difference to success or failure
Global per-capita fish consumption passed 20kg last year to set a new record high. By comparison it averaged 9.9kg in the 1960s, while in the 1990s it was 14.4kg 1. Commercial fisheries are feeling the brunt of this demand – particularly in Asia, which produces nearly 60% of the total world's catch. In the years to come it's expected that the majority of further growth in this market will come from small and mid-sized Asian fisheries (SMEs).
This demand has raised concerns around illegal fishing and overfishing, prompting punitive responses and new regulations from countries in the region to drive more sustainable extraction in the long-term. Moves to limit overfishing in countries such as Laos, Indonesia, and Myanmar have led to the implementation of new laws in recent years - including tightening requirements around vessel monitoring systems (VMS) on fishing boats. These measures have also driven momentum around digital data collection technologies, such as real-time electronic reporting of fishing trip data; electronic monitoring equipment that captures information on fishing location, catch and discards; and geo-fencing that triggers an alert when a vessel has crossed a defined boundary.
Overfishing has also led to dwindling fish stocks have suffered from overfishing, dampening fisheries' profitability and driving a focus on improving operational efficiencies. As a result, a growing number of SMEs are evaluating emerging digital technologies as a way to reduce costs and compete more effectively with larger fisheries For example, real-time digital catch monitoring enables optimisation of the catch by continuously monitoring the contents of fisheries' nets; the addition of smart weighing allows them to send accurate landing forecasts direct to ports and the fish markets, helping them to secure a buyer before they reach home and guaranteeing consumers the freshest fish. In addition, there are significant benefits from using marine telematics. This technology enables fisheries to remotely monitor and diagnose their assets for better efficiency, and optimal condition monitoring.
But as promising as these new technologies are, connectivity limitations and inaccurate perceptions of high cost have largely kept them out of reach of the small and medium vessels that dominate the Asia-Pacific market.
To fulfil regulatory requirements invoked to combat over-fishing and to improve sustainability, many fisheries employ Automatic Identification System (AIS), VMS and L-band satellite solutions. While they may tick compliance boxes, these systems lack the bandwidth to support more sophisticated capabilities or achieve modern use cases like a VSAT system can. Historically there are three main reasons that have prevented VSAT's more widespread deployment; namely:
1. Hardware and Installation Costs
There is a longstanding perception that the cost of buying and installing maritime VSAT solutions is out of reach for smaller and medium sized operators. Moreover, there is an out-dated expectation that the size of the VSAT terminal will increase the impact and time for installation – a concern for cost-sensitive businesses that can't afford any downtime for installation.
2. Operational Complexity
These days most smaller and medium operators recognise the value of enabling broadband services on their vessels, but they also don't think that they have the resources and/or knowledge needed to monitor and manage their connectivity.
3. Cost of Service
In the current turbulent market, all prudent owners have their eyes firmly fixed on the bottom line. If they're going to install a new technology they're not interested in an upside that takes months to materialise. For this reason, the pay-per-use model associated with narrowband satellite services remains popular. However, once their bandwidth requirements start to tick up, the cost of connectivity invariably rises with it, leaving a marginal net gain at best.
What's the alternative?
As a leading provider of satellite-based maritime connectivity, SES Networks is well poised to help customers meet the data demands of a wide range of maritime applications, ensuring the same level of performance on deck as on shore.
A connected maritime solution underpinned by SES Networks' high-quality satellite broadband connectivity is ideal for small- to mid-sized operators. It combines advanced wide-beam and high-throughput satellite capabilities, high-performance ground infrastructure, and VSAT terminals optimised for the limited space on smaller vessels.
What's more, it's provided as a managed service offering, giving SMEs the same connectivity experience as larger operations at a price to suit every budget. New data-enabled capabilities managed as an end-to-end service are leveling the playing field and enabling smaller vessels to implement the technologies they need to comply with regulations and operate more efficiently.
Norway-based SME Brommeland is one of the many companies that has realised major benefits from working with SES Networks to improve its compliance. Strict Norwegian regulations demand that commercial fishing vessels are always able to reach and be reached by the government, making reliable broadband connectivity essential. To address this challenge, SES Networks worked with Brommeland and GTMaritime to deliver a managed regional connectivity service. By bundling together VSAT equipment with connectivity from SES Networks – and providing installation, maintenance, customer support and training – Brommeland is able to offer a connectivity service to customers that had never before considered VSAT satellite broadband services due to the cost and complexity.
The Catch You Want At The Price You Need
SES Networks' low-risk model removes complexity, offers a more predictable
cost structure, and provides access to next-generation technologies, including compact terminals developed specifically for use on smaller and medium fishing vessels, as well as similar sized leisure and commercial vessels.
[1] http://www.fao.org/3/a-i5555e.pdf