SES and Azure ExpressRoute
Global reach at cloud scale

Enterprises adopting intelligent cloud and intelligent edge technology need to be able to fully capitalise on the benefits – regardless of where they are located. SES has joined forces with Microsoft to bring the Azure cloud platform to any global endpoint, whether in the air, at sea or on land.

More about SES and Microsoft Azure ExpressRoute
Our role as an ExpressRoute-over-satellite launch partner means Azure customers everywhere are just one hop away from their most essential cloud services and applications.
Unrivalled connectivity for cloud computing solutions
We operate the industry's only multi-band, multi-orbit fleet, which means we afford Azure customers unrivaled flexibility to maximise performance of cloud workloads and applications. Enterprise and government sites can match their own unique mix of cloud and edge services to the right level of connectivity, whether MEO or GEO. We can deliver robust service level agreements covering availability, throughput and latency that can extend from Azure data centers or edge compute nodes to any customer endpoint.
As the first satellite operator to adopt ONAP on Azure, we are designing an agile, cloud-scale operational environment in which ExpressRoute customers can activate high-impact virtualised network functions (VNFs) quickly and easily.

Future-proofing ExpressRoute with O3b mPOWER, ONAP and SD-WAN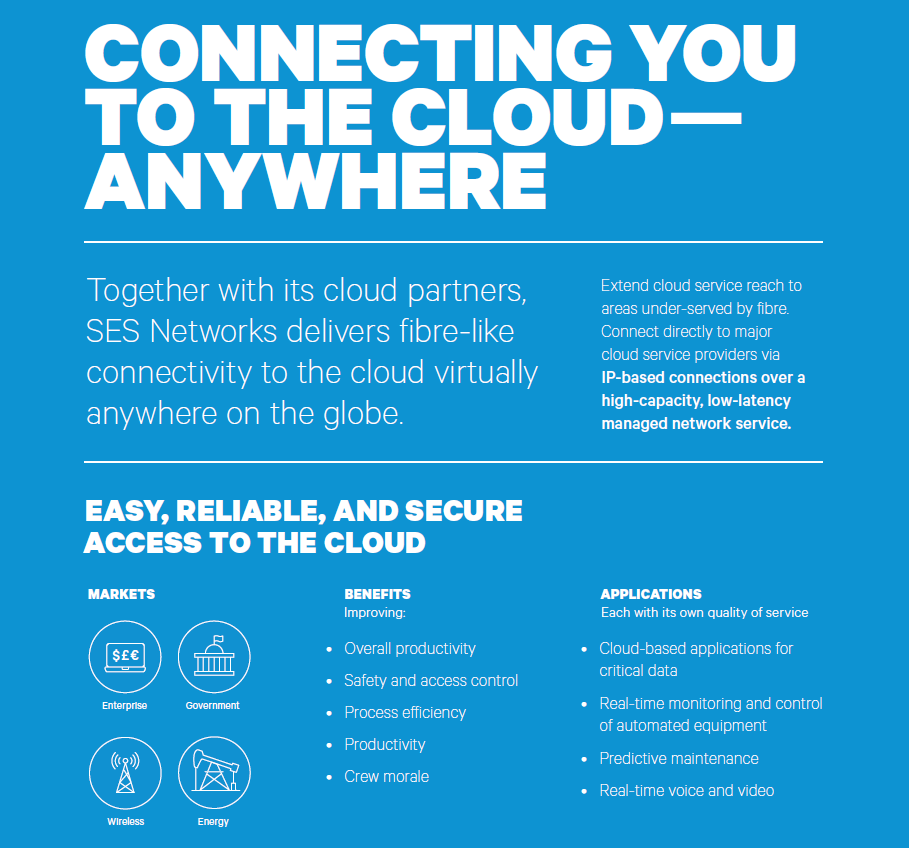 As demand for cloud and edge services grows, we are pushing the boundaries of systems and software innovation to help Azure customers maximise productivity and scale for the future.
SD-WAN-based hybrid networking provides ExpressRoute customers with improved service availability, optimised bandwidth efficiency and enhanced WAN security by intelligently routing cloud traffic over the connection best suited for application requirements
Launching in 2021, our O3b mPOWER communications system will deliver multi-gigabit, low-latency services with dynamic bandwidth allocation of forward and return path capacity, ideal for optimising ExpressRoute in remote and underserved areas
We are developing an open, standards-drive service orchestration solution based on Open Network Automation Platform (ONAP) via our partnership with Microsoft and Amdocs, which will enable us to deliver a simple, automated end-to-end ExpressRoute service
Find out more about SES and Azure ExpressRoute:
Enabling Platforms and Services
Download our Data Sheet: "Connecting Azure ExpressRoute"
Get a deeper insight to the SES and Microsoft partnership and understand how we are bringing the Azure cloud platform to any global end-point, whether in the air, at sea, or in underserved areas on land
Find out more about our global, multi-orbit reach, cloud-optimised service level agreements and automated, cloud scale operations
Discover the unmatched flexibility and scale that O3b mPOWER brings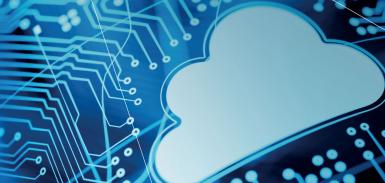 Connecting Azure ExpressRoute
Download the data sheet