High-performance cloud-connect services

For enterprises and government organisations, the steady pace of cloud and edge services adoption creates boundless opportunities to deliver value to the entire operation, including in hard-to-reach and underserved areas where cloud-optimised connectivity is still a challenge. With access to satellite-based cloud-connect services, enterprises and government agencies can drive productivity gains, reduce IT infrastructure costs, and reach new thresholds of business and operational agility.

More about Cloud
SES Cloud Direct: Dedicated, high-performance connectivity to the cloud from any global end-point
With SES Cloud Direct, we help you reach any global end-point, connect to any cloud provider, differentiate services with high-performance, and scale with your business as customers adopt more cloud and edge services. Having done the hard work to certify our services, integrate our operations, and inter-connect our network with the most vital cloud platforms worldwide, SES Cloud Direct connects your customers to critical cloud applications—reliably and at scale.
Global reach with the industry's only multi-orbit, multi-band satellite fleet
One-hop connectivity to the cloud via O3b mPOWER
High-performance, resilient services with cloud-grade service level agreements
Together with our cloud service provider partners, we deliver unmatched network coverage and cloud-optimised connectivity to you and your customers, anywhere in the world.
Find out more about Cloud:
Enabling Platforms and Services
Achieving more together 
At SES, we believe that working together with key technology providers helps us achieve more. That is the essence of the Partner Programme , and why we are certified partners with the world's leading cloud service providers—Microsoft, IBM, Amazon Web Services.
Powered by our multi-orbit fleet with satellites in both GEO and MEO, our end-to-end managed services expand the footprint of cloud service providers to hard-to-reach markets with limited, unreliable, or non-existent terrestrial networks. By providing fibre-like connectivity anywhere, we enable cloud customers to grow their addressable market at the edge of their network.
Ready to achieve more together? Find out more about the SES Partner Programme today. 
Read about Microsoft Modular Data Centres and SES O3b MEO Connectivity
Learn about our live demonstration of resilient, cloud-scale connectivity from a Microsoft MDC to the Azure cloud
Get a deeper understanding of our MEO-based network solutions optimised for cloud and edge applications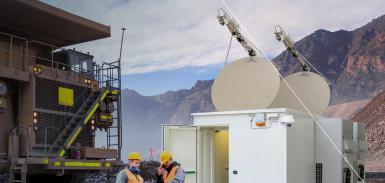 Download the Case Study