Tales from the Field: When "Mission Impossible" Meets Real Life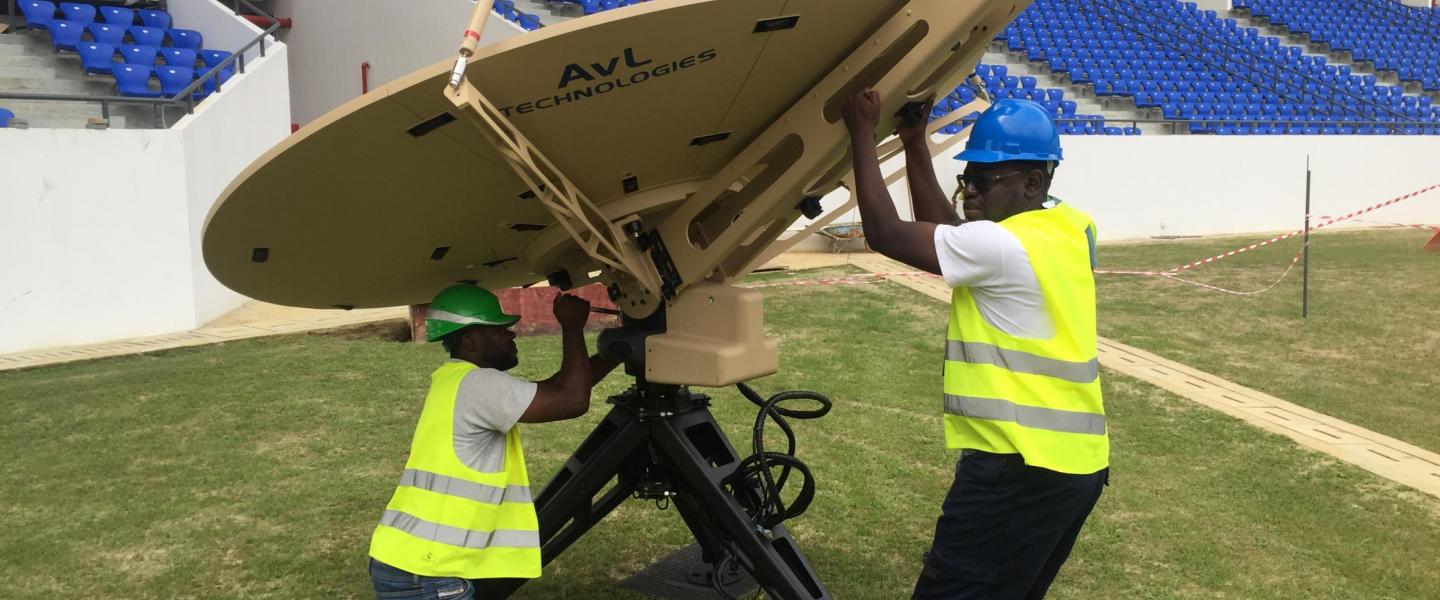 Tales from the Field: When "Mission Impossible" Meets Real Life
Action-adventure movies are typically big hits at the box office – case in point, the new "Mission Impossible: Fallout" debuted at #1 at the box office and has continued beating expectations since its release. Moviegoers love to fantasize that they themselves are alongside Tom Cruise crawling through jungles, dodging bullets or racing against time in the quest to save the day or complete a critical mission. It can be an exhilarating (and safe) way to escape from the routine of daily life.
Unless, of course, that kind of action adventure is part of your everyday life. For the members of the SES Networks Global Services team, this is the reality.
What is Global Services, you might ask? Global Services is the on-the ground team that physically prepares, ships and deploys equipment at a given customer site. The organization has four distinct, yet highly integrated parts: our field team (on-site deployment), our staging team (system preparation), our logistics team (procurement, shipment and delivery) and our partner management team (coordination of local partner organizations). In addition, we have an incredible extended team, including those who help bring the system online, such as our network operations team, and those who conduct remote trouble shooting and provide 24/7 help desk support for the life of the service.
Together, this group is an incredible force helping to achieve the seemingly impossible for our customers and their end customers.
Of course, I'm not suggesting that we are a group of Tom-Cruise-like action heroes out saving the world. But this team is venturing into some of the most remote and dangerous places on the planet to bring seamless connectivity and communications for the first time to citizens, governments and businesses… connectivity that will help change lives and create opportunities where there previously weren't any.
Think about it. Perhaps the most incredible thing about satellite is that it can reach places traditional fibre can't touch. From the middle of the Amazon to a disaster-relief mission in Puerto Rico to a war zone in South Sudan. That said, most of these locations are not optimal even for hosting the communications equipment necessary to leverage satellite. That's where our team comes in – we go in to prepare the site, install the equipment, set up the service and make sure the infrastructure is running smoothly. Sometimes that team comprises direct SES Networks employees. In other cases, it's a regional partner trained to operate with the same degree of technology expertise as our internal team, but with the local expertise that may be critical to a given deployment. And sometimes it might be a combination of both.
In any case, Global Services' mission remains the same – make sure the deployment is fast, smooth and successful… and on the first attempt. Second chances are not an option given the sophistication of the system, the complexity of the environment and the enormity of the customers' objectives. Just think about the logistics of getting the equipment where it's supposed to go, let alone deployment. Once the equipment is staged at our Washington DC facility, it's then shipped as close as possible to the deployment site. But an airport could be hours and miles of treacherous landscape away from the final destination. That could mean enlisting the help of anything from all-terrain vehicles to canoes in order to go the distance. It's not a process you can afford to tee up a second time because something goes wrong – it has to go right the first time. We want to get the customer online and reaping the benefits of their investment as quickly as possible.
All that said, once the deployment is in place, that's when the real magic happens. Training the customer, getting them up and running on our managed services, and then watching them realize the newfound freedom and opportunity to communicate in an entirely new way is what really gets us excited. I think about a recent project for a school in Colombia – thanks to satellite, those kids now enjoy connectivity that will enable e-learning and provide exposure to so many new opportunities that wouldn't have otherwise been accessible to them. It's helping them find their Heart of Opportunity.
So, no… we're not Tom Cruise, or even one of his sidekicks. But we are a team of practical, creative service professionals using satellite to make seemingly-impossible missions possible. We will stop at nothing to get the job done and help our customers and their end users connect with each other and the rest of the world – to help them unleash their limitless potential. And what better movie plot is there than that.
We'll continue to feature perspectives and stories from the Global Services team in the coming weeks and months in our "From the Field" blog series. Watch SES Networks LinkedIn, Twitter and Facebook channels for upcoming installments.