As 2016 is starting and everybody's eyes are set on the year ahead of us, I think it's a great opportunity to sum up 2015 with these words: The resolution evolution!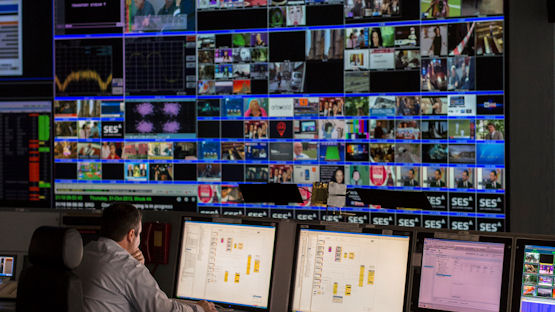 In 2015 the total number of TV channels broadcasted over the SES satellite fleet grew more than 10% to 7,268 channels. High Definition (HD) TV channels increased by approximately 20% to more than 2,200 channels and SES continued setting milestones towards Ultra High Definition TV (UHD TV) by adding several UHD channels to its channel count. 
31 million UHD TV screens sold in 2015
While SES delivers new satellites to ensure capacity, sales of UHD TV sets has reached 31 million, and broadcasters hurry up to deliver their content in Ultra HD. In 2016 the forecast is about 43 million UHD shipments which is about +39% from 2015.
Increasingly, we see consumers who go into the stores to buy flat screens come out with an Ultra HD TV set because of the attractive prices and we are also seeing new UHD channels launch on SES. We are now broadcasting 19 UHD channels worldwide and it was already in September 2015 SES launched its 1st channel in Europe, so it is really happening now.
In November 2015 SES tested to broadcast Real Madrid vs. Barcelona football match in Ultra High Definition (Ultra HD). The live broadcast of a football match in Ultra High Definition marked another milestone in the introduction of this new technology and shows the readiness of the Ultra HD ecosystem.
Ultra HD driven by sports, nature and movies
The natural driver has always been sports. For example, a football match broadcasted in Ultra HD will definitely be attractive content. On the other hand, documentary films with landscapes or animals is compelling content and of course UHD movies will be a new dimension of movie experience. There are now more than 1,200 movies and series in UHD format, and it's increasing every day.
With so many UHD TV homes, it's only natural that more broadcasters want to start offering Ultra HD content. As consumers will discover the immersive kind of experience they can get with Ultra HD, they will undoubtedly be eager to see more content transmitted in that format.
Therefore it could be that the demand for UHD will be tripled this year.
This article was first published by Nils-Filip Abrahamsson, Sales Manager Nordic, Baltic and Eastern Europe at SES. : www.linkedin.com/pulse/resolution-evolution-nils-filip-abrahamsson