ELEVATE Programme: Empowering Local Business, Developing Skills and Ensuring Superior Broadcast Quality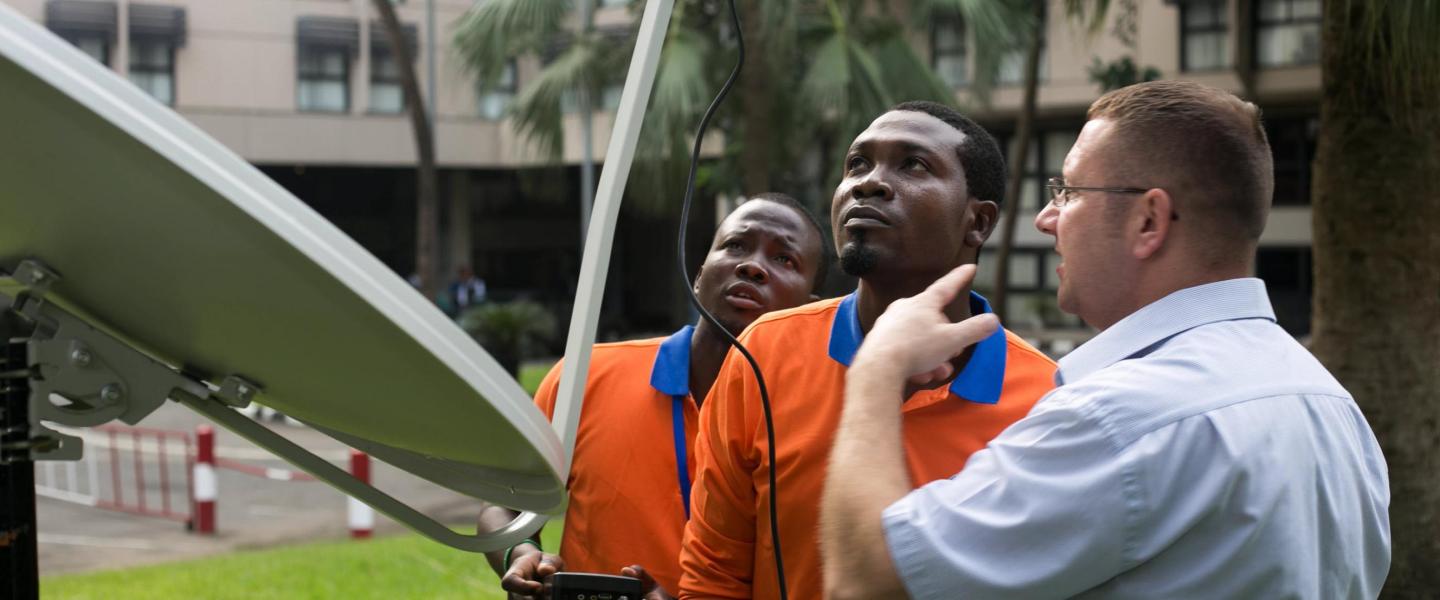 ELEVATE Programme: Empowering Local Business, Developing Skills and Ensuring Superior Broadcast Quality
Last week, SES and StarTimes, the fastest-growing digital TV operator in Africa, conducted ELEVATE training programme in Nigeria to support StarTimes' DTH growth in the country.
Born in 2012, ELEVATE is the SES Quality Assurance and Accreditation training programme for satellite dish installers across the African continent. It aims to create an engaged network to facilitate installation knowledge acquisition, benefiting new broadcasters and supporting satellite and digital TV migration.
Neil Bellingham has worked with SES as an ELEVATE trainer for the past three years. He tells us a bit more about his experience here.
Let's start with little bit of history: how was the SES Elevate programme born?
The SES Elevate programme was launched by the SES Africa Marketing team, with the objective to complement satellite and digital TV roll out in Africa with quality installations. Initially we were simply providing technical advice, but in 2013 we decided to adjust the programme and go deeper in the knowledge transmission, adding a theoretical aspect to the practical and technical knowledge we transmitted.
We kicked off the new programme with a training session in Durban, South Africa, and was part of a roadshow across the country we organized for SES's customer OVHD. Since then the training has been rolled out across the continent, namely Democratic Republic of Congo (DRC), Cameroon, Nigeria, Senegal, Côte d'Ivoire, Uganda, Kenya, Zambia, Malawi, Tanzania and Niger. The SES ELEVATE team has so far trained over 5,000 installers.
Can you walk us through the training programme?
On the first day, we mainly focus on theory: we introduce them to practical concerns regarding health and safety, we teach them how to manage customer care and how to interact with a customer, and we go through the basics about satellite TV and installation, for example how the LNB works, and how a satellite transmits a signal. On the second day, we run a marketing workshop, which gives the students key takeaways such as to how to build a business plan and how to run their business successfully. Finally, we take the students outside for a practical exercise: they have to install a DTH antenna, connect it to a set-top-box, obtain a signal from the satellite, interact with a customer, and explain to them how to set-up the set-top-box.
At the end of the training, students receive Satfinders, basic tool kits, marketing tools (Business card templates, brochure templates etc.) and a certificate.
What are the key benefits of the programme?
I remember once in Malawi I asked a student how he would do an installation, and he answered that he would simply use a hammer and a nail, and nail the dish to your roof! After two days of training, students walk away with the ability to install a satellite dish properly, but also with knowledge that enables them to run their own business, and do it well. We give certification that will open up job opportunities, and a set of skills that empowers them.
What do you like about delivering these trainings?
The students always leave the training with a smile on their face because they have achieved something. The best moment in any training session is when a student successfully obtains a signal from the satellite. You can see the intense satisfaction on their face! I'm proud of this job because we are transmitting such valuable knowledge to them.
I also enjoy the "Train the Trainer" programme, where we teach some installers to become a trainer themselves. It's fantastic to enable these installers to gain even more knowledge, and teach them how to stand in a room full of students and transmit that knowledge. By getting these instructors onboard, we are now able to train 150 ELEVATE students a session, compared to 20 people when we first started in Durban. "Train the trainer" enables us to boost the ELEVATE training's efficiency, facilitate its roll-out quickly, and maintain the high skill level it is known for, which is essential to continue maximising television take-up via satellite.