Bringing operational ease to your video business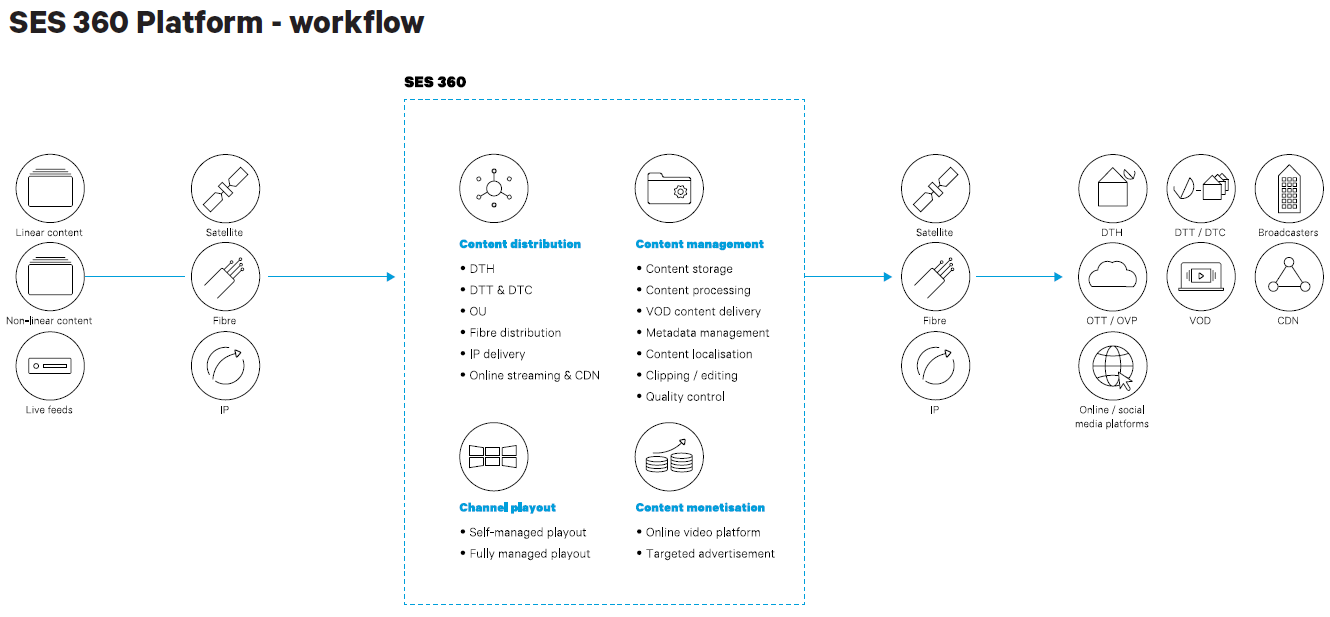 Today, viewers can access video via linear TV, video-on-demand (VoD) applications, streaming services, and social media platforms—on multiple devices and screens. However, the rise of multi-device and multi-platform viewing also creates a more complicated video delivery path—with a host of additional steps between the production and distribution phase. A single piece of content has to be archived, transcoded, tagged, clipped, packaged, localised, and more—before it can reach viewers via a platform and device of their choice. For broadcasters, content owners, sports organisations, and media companies, the challenge lies in ensuring that each of these processes is carried out in a coordinated and efficient manner. With SES 360, you can manage, deliver, and monetise your content for multiple linear and online platforms—within a unified, globally-accessible user interface.
SES 360 is a centralised web-based platform that gives you complete control of multiple complex content management and delivery workflows—within one easy-to-use platform. This means you can:
prepare content for standard definition (SD), high-definition (HD), and Ultra HD transmissions
transcode and package content for a VoD platform
play out multiple localised versions of your linear channel
create clips to be shared on social media—all from a single screen
SES 360 is a hybrid cloud and on-premises platform—allowing us to ingest large volumes of content via our media centres and make it accessible to your global teams via the cloud. The platform's open architecture model enables quick and easy integration into your existing workflows. For live sports, news, or event coverage, SES 360 provides advanced live clipping and remote editing tools. This lets you instantly share and stream content on multiple social media and third-party platforms—as the event progresses. Our 24/7 Occasional Use bookings team facilitates a faultless live event transmission—from the venue to viewers' screens.
As the video market continues to evolve, the SES 360 platform is growing too. We integrate innovative tools—like AWS Rekognition for automated AI metadata generation—into the SES 360 platform, so you can enjoy added efficiency and improved turnaround time in the content management and delivery process. We create customised solutions within SES 360 that serve your specific needs—and help you exceed customer expectations.
By combining the highly flexible, scalable, and agile SES 360 platform with our technical reach, you can ensure a superior viewing experience for your audiences across the globe—on any device, and any platform.
Case Study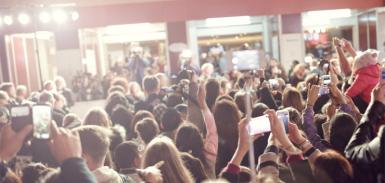 Agence France-Presse delivers live content everywhere via SES 360.
Read the Case Study
Contact us
Talk to us about how to leverage SES 360 and your customised solutions to streamline your content management and delivery process.
Talk to us today