SES Government Solutions Rapidly Deploys O3b Service in Response to Hurricane Ian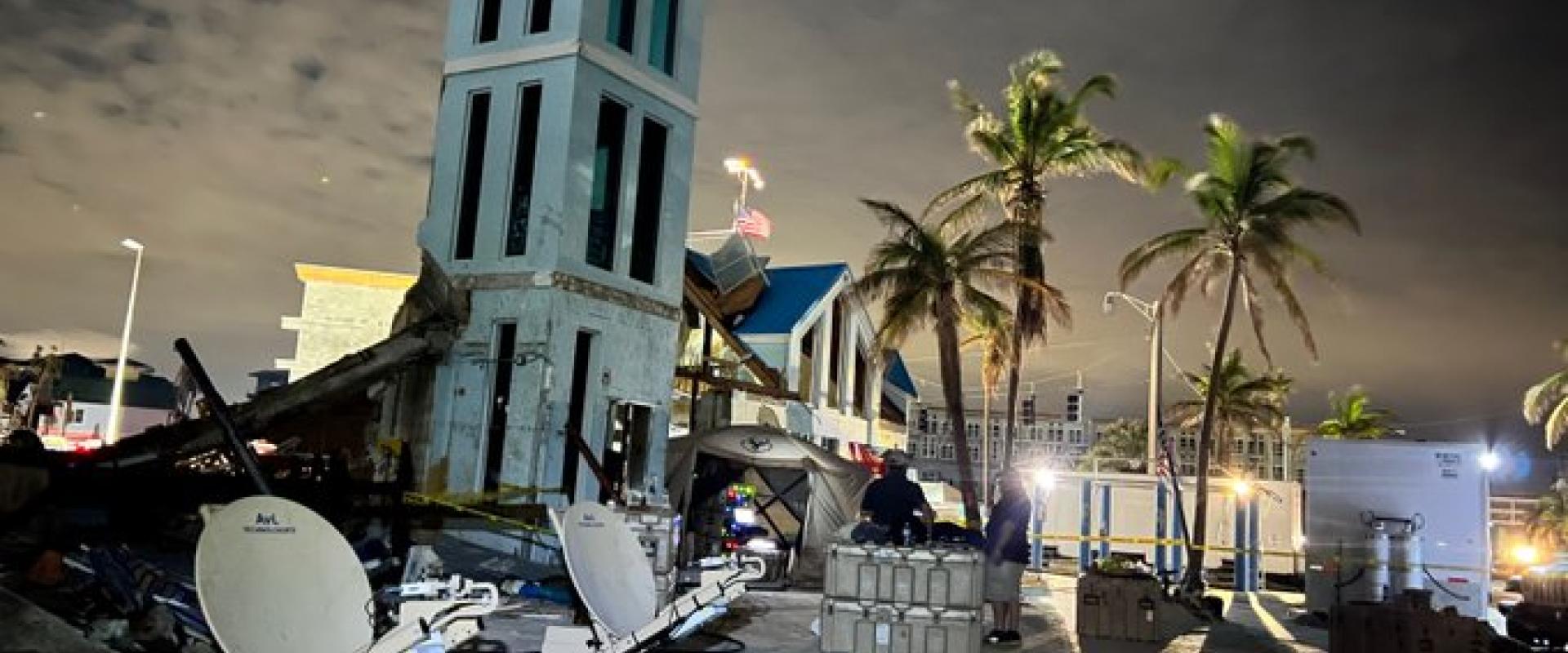 SES Government Solutions Rapidly Deploys O3b Service in Response to Hurricane Ian
A dedicated medium earth orbit satellite communications network has been established by SES Government Solutions to support disaster response relief in Southwest Florida
Reston, Va., November 1, 2022 – SES Government Solutions (SES GS), a wholly-owned subsidiary of SES, rapidly deployed high-throughput low-latency medium earth orbit (MEO) satellite service and ground terminals to restore broadband connectivity for local communities and first responders in Lee County, Florida, who were impacted by Hurricane Ian.
SES GS, alongside SES and SimbaCom, responded with the deployment of the high-performance connectivity service in support of the AWS Disaster Response program and their standby partner, Help.NGO. The interim service was provided over the affected very large territories in the hours immediately following the major devastation caused by Hurricane Ian in September.
In the wake of Hurricane Ian's landfall in Southwest Florida, SES GS and SimbaCom field teams initiated on-the-ground efforts at the request of AWS Disaster Response, deploying communications infrastructure that leverages SES's global O3b MEO satellite constellation. In the absence of reliable ground connectivity systems due to the severe impact of the hurricane, the MEO satellite-enabled solution allowed the delivery of fiber-like communications service to state agencies and distribution centers for Lee County residents and first responders.
SES GS and partners supported the AWS Disaster Response program by installing interim broadband connectivity to the following Florida community resource sites:
Florida Department of Financial Services - Insurance claim processing centers in Fort Myers and Port Charlotte
Distribution Centers - Family Initiative in Cape Coral; Community Cooperative in Lee County; and Abuse Counseling & Treatment (ACT) Center in Fort Myers
Fuel Relief Fund - Fuel distribution site providing emergency fuel for first responders and evacuees across Lee County
"The category 4 Hurricane Ian crashed into Southwest Florida with 150-mph winds, leveling communication infrastructure and terrestrial networks on its path," said SES Government Solutions President and CEO David Fields. "When natural disasters strike, MEO-enabled satellite communications service remains some of the most reliable and rapidly deployable high-performance connectivity to restore broadband links communities need, to get life back to normal. We are immensely humbled to play our part in supporting AWS Disaster Response and providing enhanced fiber-like connectivity for their recovery efforts, with dedicated SLAs for critical life-saving missions."
For further information please contact:
Jon Bennett
VP for Government Affairs, Marketing & Communications Manager
Tel. +1 703 610 0998
[email protected]
About SES Government Solutions
SES Government Solutions (SES GS) is a wholly-owned subsidiary of SES, the leader in global content connectivity solutions, and is exclusively focused on building, managing, and supporting the most advanced satellite network solutions for the US Government. SES GS leverages a proven multi-operator network integration and management capability, an extensive global terrestrial network, as well as access to SES's multi-orbit satellite fleet. It also offers US Department of Defense customers the essential tools in cybersecurity for mission-critical operations, coupled with a proven track record in governance and compliance. SES GS operates under a proxy board, enabling it to support classified projects, and it has been present in the US Government satcom market for over four decades. Further information can be found at: www.ses-gs.com
About SES
SES has a bold vision to deliver amazing experiences everywhere on earth by distributing the highest quality video content and providing seamless connectivity around the world. As the leader in global content connectivity solutions, SES operates the world's only multi-orbit constellation of satellites with the unique combination of global coverage and high performance, including the commercially-proven, low-latency Medium Earth Orbit O3b system. By leveraging a vast and intelligent, cloud-enabled network, SES is able to deliver high-quality connectivity solutions anywhere on land, at sea or in the air, and is a trusted partner to the world's leading telecommunications companies, mobile network operators, governments, connectivity and cloud service providers, broadcasters, video platform operators and content owners. SES's video network carries over ~8,000 channels and has an unparalleled reach of 366 million households, delivering managed media services for both linear and non-linear content. The company is listed on Paris and Luxembourg stock exchanges (Ticker: SESG). Further information is available at: www.ses.com