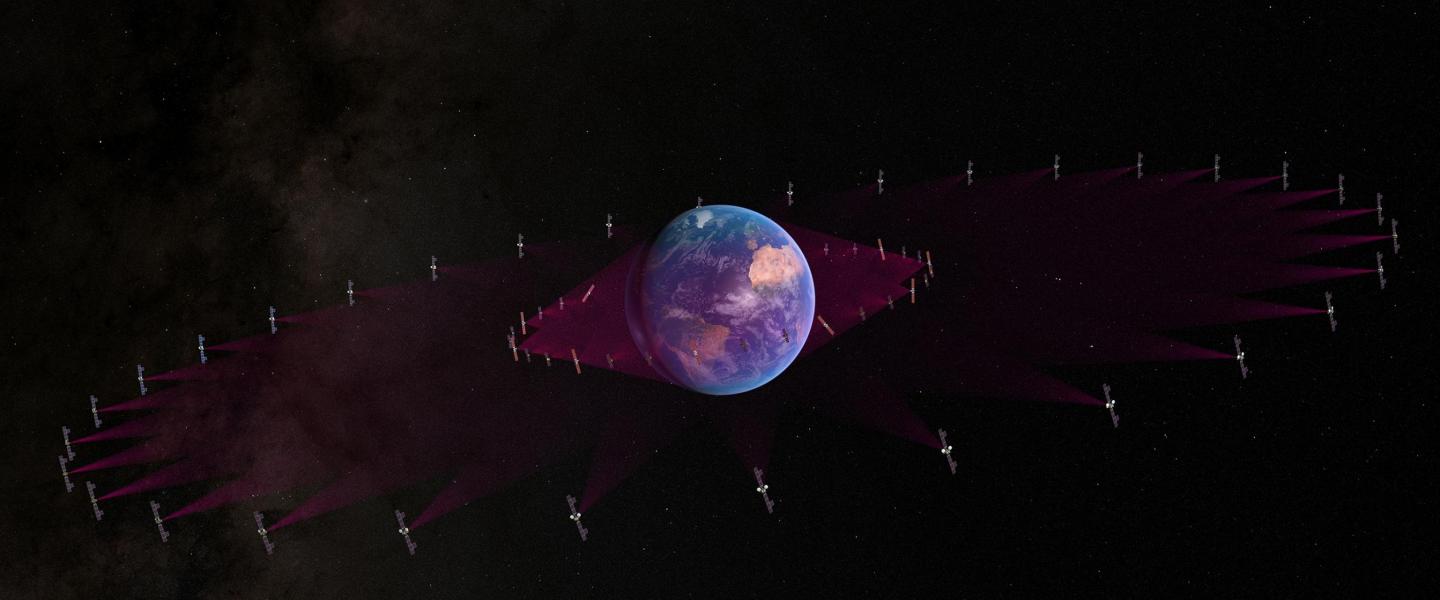 "Strong start to 2021. Launching €100 million Share Buyback programme"
Luxembourg, 6 May 2021 -- SES S.A. announces financial results for the three months ended 31 March 2021.
Strong execution delivering revenue of €436 million and Adjusted EBITDA of €268 million
• Improving trajectory in Video from -8.0% YOY in FY 2020 to -4.6% YOY in Q1 2021
• Solid Networks performance (flat YOY) in the COVID environment with strong prospects for future growth
• 7% YOY reduction in recurring Operating Expenses, reflecting S&A gains, supporting higher YOY Adjusted EBITDA margin (61%)
• Solid cash flow generation and financial discipline supporting lower YOY leverage ratio of 3.1 times at 31 March 2021
• Adjusted Net Profit up 42% YOY to €75 million
On track to deliver 2021 outlook. Growth investments and C-band proceeds supporting future growth and value creation
• Over 85% of 2021 revenue outlook (€1,760-1,820 million) already under contract
• $180 million of backlog signed in 2021 for SES-17 and O3b mPOWER with gross backlog at $740 million; timed to come to market as the world emerges from the COVID environment with highly differentiated products and solutions to capture substantial connectivity growth opportunity
• US C-band clearing on track to meet end-2021 milestone (triggering $1 billion payment) and end-2023 milestone (triggering a further $3 billion payment)
Delivering returns to shareholders
• 2020 dividend of €0.40 per A-share paid in April 2021, consistent with commitment to minimum base dividend of €0.40 going forward
• Launching €100 million share buyback programme reflecting confidence in the long-term fundamentals of the business
Steve Collar, CEO of SES, commented: "We have made a strong start to 2021 with the resilience of our Video business to the fore on the back of a number of important renewals and extensions secured at our core European neighbourhoods. Networks business performance was also solid in Q1, notwithstanding the near-term COVID environment, with new deal flow beginning to pick up. We continue our laser focus on removing cost from the business and minimising discretionary spend with a 7% year-on-year reduction in operating expenses, leading to improving EBITDA margin. In summary, our start to the year puts us firmly on track to deliver on our 2021 financial outlook which remains unchanged.
I am excited by the progress that we are making in securing customer commitments for SES-17 and O3b mPOWER ahead of launch in the second half of 2021, and the level of market interest that we are seeing across all Networks verticals. These important growth investments allow us to offer a significantly expanded set of low latency products and solutions to the market as the world emerges from the COVID environment and demand for connectivity increases exponentially. We are also on course with the clearing of C-band in the US and are continuing to pursue opportunities to create additional shareholder value from further monetisation initiatives.
The share buyback programme that we are announcing today reflects our confidence in the long-term fundamentals of the business. The current share price does not reflect the underlying value of SES and this programme represents an attractive opportunity to deploy capital for the optimal benefit of our shareholders. SES is uniquely positioned with targeted and differentiated growth investments fuelling future top line and EBITDA growth with strong cash flow enhanced by meaningfully lower capital expenditure, as well as the proceeds from our C-band initiative."
...
For further information please contact:
Richard Whiteing
Investor Relations
Tel: +352 710 725 261
[email protected]
Suzanne Ong
External Communications
Tel. +352 710 725 500
[email protected]
About SES
SES has a bold vision to deliver amazing experiences everywhere on earth by distributing the highest quality video content and providing seamless connectivity around the world. As the leader in global content connectivity solutions, SES operates the world's only multi-orbit constellation of satellites with the unique combination of global coverage and high performance, including the commercially-proven, low-latency Medium Earth Orbit O3b system. By leveraging a vast and intelligent, cloud-enabled network, SES is able to deliver high-quality connectivity solutions anywhere on land, at sea or in the air, and is a trusted partner to the world's leading telecommunications companies, mobile network operators, governments, connectivity and cloud service providers, broadcasters, video platform operators and content owners. SES's video network carries over 8,200 channels and has an unparalleled reach of 361 million households, delivering managed media services for both linear and non-linear content. The company is listed on Paris and Luxembourg stock exchanges (Ticker: SESG). Further information is available at: www.ses.com
Presentation of Results
A presentation of the results for investors and analysts will be hosted at 9.30 CEST on 6 May 2021 and will be broadcast via webcast and conference call. The details for the conference call and webcast are as follows:
U.K. (Standard International Access): +44 (0) 33 0551 0200
France: +33 (0) 1 7037 7166
Germany: +49 (0) 30 3001 90612
U.S.A.: +1 212 999 6659
Confirmation code: SES
Webcast registration: https://channel.royalcast.com/landingpage/ses/20210506_1/
The presentation is available for download from https://www.ses.com/investors/financial-results and a replay will be available shortly after the conclusion of the presentation.