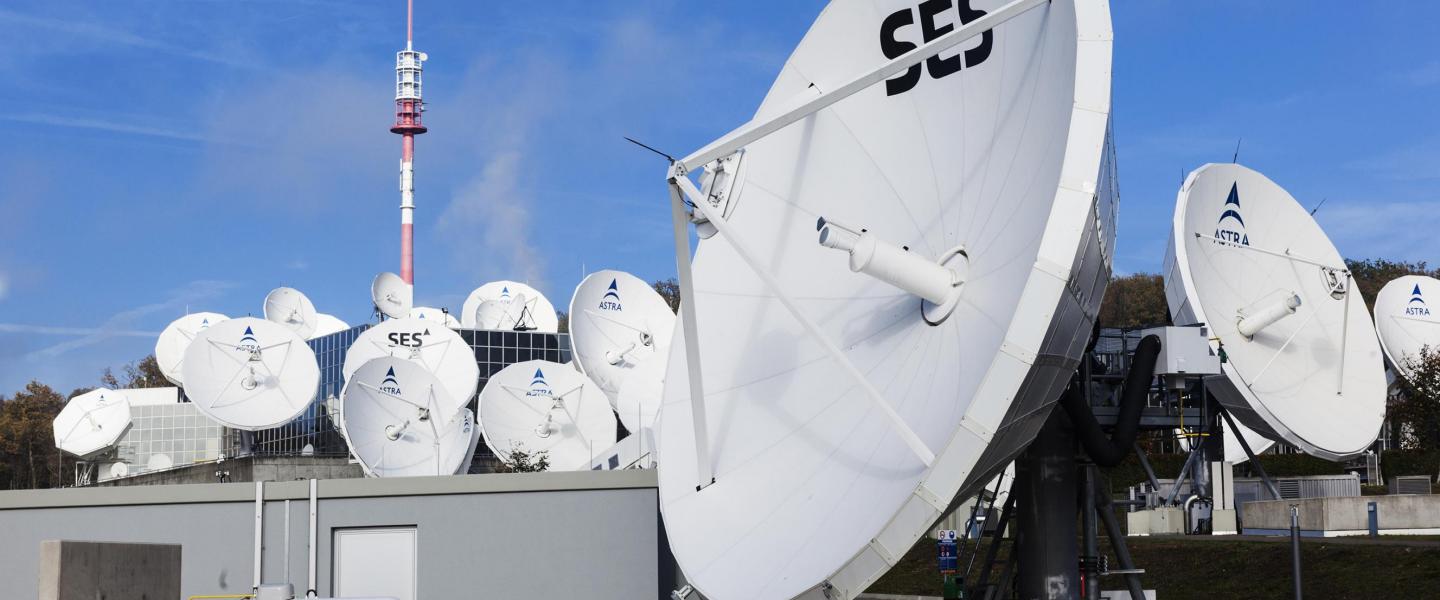 Luxembourg, 7 August 2020 -- SES S.A. announced financial results for the six months ended 30 June 2020.
Solid H1 performance in line with expectations and continued underlying growth in Networks of +7.1% year-on-year
• Revenue of EUR 947.5 million, -1.5% as reported with underlying revenue 2.4%(1,2) lower than H1 2019
• Adjusted EBITDA([3]) of EUR 582.0 million, -2.3% as reported (-3.5% at constant FX(2)) compared with H1 2019 and representing an Adjusted EBITDA(3) margin of 61.4% including a 2.2% year-on-year reduction in recurring operating expenses
Limited COVID-19 impact in H1 reflecting business resilience with measures in place to mitigate increased headwinds in H2 2020
• Updated FY 2020 group revenue outlook to EUR 1,860 - 1,900 million([4]) in view of expected COVID-19 related revenue development
• FY 2020 Adjusted EBITDA(3) outlook now EUR 1,120 - 1,160 million(4) including EUR 40 - 60 million of 'exceptional' COVID-specific cost mitigation measures implemented to protect the bottom line
Substantially increased visibility of USD 3.97 billion in accelerated relocation payments from U.S. C-Band repurposing and now fully included in SES' financial projections for the first time
• Full execution of transition plan underway following unanimous election to accelerate clearing by satellite operators with total clearing costs of USD 1.6 billion and more than USD 1.5 billion expected to be reimbursed from mid-2021
• First relocation proceeds (linked to success milestone in Q4 2021) to be utilised to strengthen balance sheet with final proceeds (linked to success milestone in Q4 2023) to be used for a mix between return to shareholders, strong balance sheet and any disciplined value-accretive investment
Networks business set to deliver long-term growth through deployment of SES-17 and an enhanced O3b mPOWER constellation
• EUR 1.8 billion of growth CapEx (2020-2024), including four additional O3b mPOWER satellites([5]), de-risking overall investment through launch resilience, enhanced launch cadence, improved constellation efficiency and meaningful expansion in coverage and throughput. Agreement with Boeing to collaborate in the development of commercially based solutions for Government customers
• EUR 550 million of CapEx deferred from 2020-2021 and total CapEx (2020-2024) flat, both as compared with March 2020 forecast
Significant progress on 'Simplify & Amplify' transformation programme
• On track to deliver EUR 40 - 50 million of Simplify & Amplify related recurring annual EBITDA optimisations from 2021 with significant steps taken in the second quarter to reduce footprint, delayer, increase efficiency and remove positions across the organisation
Strong balance sheet, strong liquidity and a disciplined financial policy
• Adjusted Net Debt to Adjusted EBITDA(3) ratio 3.3 times([6]) consistent with SES' commitment to investment grade
• Successful EUR 400 million Euro bond reduces future interest cost and ensures no significant senior debt maturities before 2023
For further information please contact:
Richard Whiteing
Investor Relations
Tel: +352 710 725 261
[email protected]
Suzanne Ong
External Communications
Tel. +352 710 725 500
[email protected]
About SES
SES has a bold vision to deliver amazing experiences everywhere on earth by distributing the highest quality video content and providing seamless connectivity around the world. As the leader in global content connectivity solutions, SES operates the world's only multi-orbit constellation of satellites with the unique combination of global coverage and high performance, including the commercially-proven, low-latency Medium Earth Orbit O3b system. By leveraging a vast and intelligent, cloud-enabled network, SES is able to deliver high-quality connectivity solutions anywhere on land, at sea or in the air, and is a trusted partner to the world's leading telecommunications companies, mobile network operators, governments, connectivity and cloud service providers, broadcasters, video platform operators and content owners. SES's video network carries over 8,300 channels and has an unparalleled reach of 367 million households, delivering managed media services for both linear and non-linear content. The company is listed on Paris and Luxembourg stock exchanges (Ticker: SESG). Further information is available at: www.ses.com
Presentation of Results
A presentation of the results for investors and analysts will be hosted at 9.30 CEST on 7 August 2020 and will be broadcast via webcast and conference call. The details for the conference call and webcast are as follows:
U.K. (Standard International Access): +44 (0) 203 003 2666
France: +33 (0) 1 799 4740
Germany: +49 (0) 40 80 90 20 747
U.S.A.: +1 212 999 66 59
Confirmation code: SES
Webcast registration: https://channel.royalcast.com/webcast/ses/20200807_1/
The presentation is available for download from https://www.ses.com/investors and a replay will be available shortly after the conclusion of the presentation.