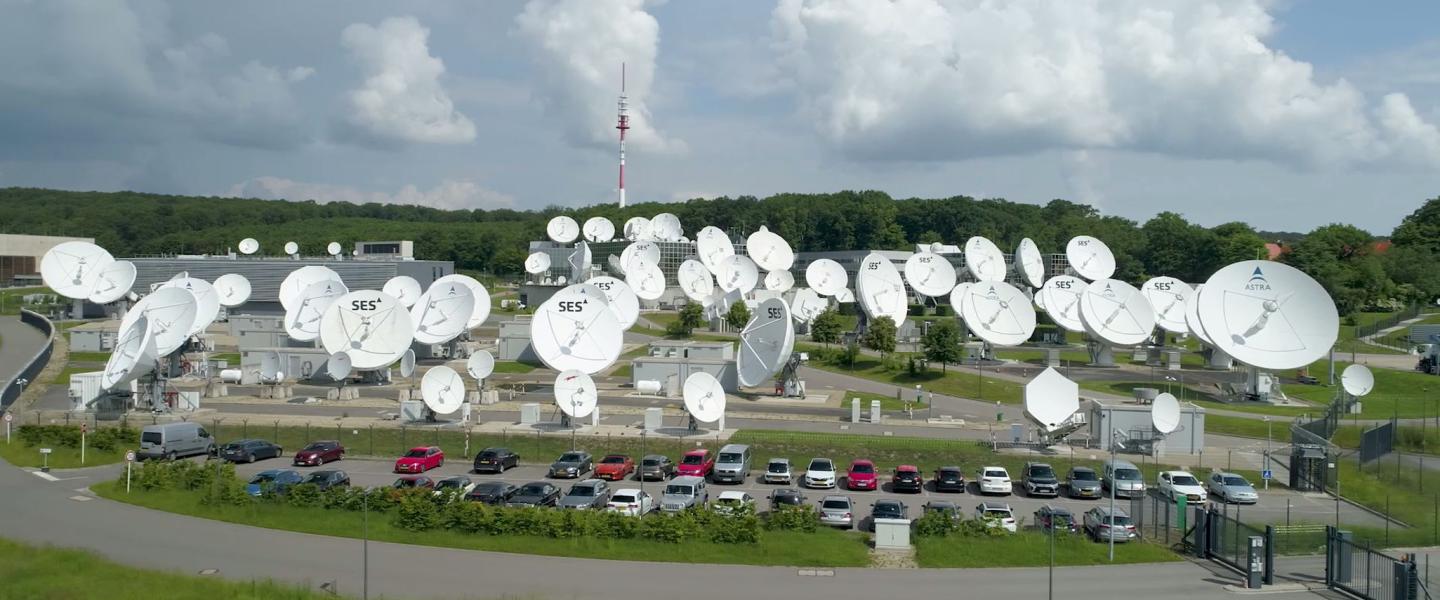 LUXEMBOURG, 27 February 2019 -- SES S.A. announced strong financial results for the year ended 31 December 2018, beating revenue outlook on the back of a standout Networks performance and posting double-digit growth in Free Cash Flow.
Steve Collar, President and CEO, commented: "2018 was a good year for SES. We have delivered top-line growth, exceeding the top end of our revenue outlook on the back of an exceptionally strong year for SES Networks. We are transforming our business internally and externally, retooling the organisation in response to the strong demand for end-to-end services, managing operational costs while expanding competencies and capabilities to drive growth. The strong focus on cash flow and cost control that started in 2018 will continue and accelerate in 2019.
It was a breakout year for our networks business with double-digit underlying revenue growth, fuelled by advances in all three major market verticals and the strongest year to date in terms of new business signed. Aeronautical was the standout segment in 2018 with the entry into service of SES-15 at the start of the year, while in cruise we consolidated our leading position with important wins with Carnival, MSC and Genting. Our U.S. Government business grew substantially with strong adoption of O3b, including the signature of a Blanket Purchase Agreement. In Global Government, we expanded our relationship with both the United Nations and European Space Agency, as well as delivering on important infrastructure projects such as our cooperation with the Government of Burkina Faso. In Fixed Data, we returned to growth in the segment that's been most impacted by the disruption in our industry, built on customer examples such as full year revenues from O3b deployment with ETECSA in Cuba, our support to the APEC summit in PNG with DataCo, the customer adoption of managed services on MEO and GEO assets with Millicom, and the growth of our business with the likes of Claro in the Amazonas region in Brazil.
SES Video, representing two-thirds of our group revenue, also delivered on its 2018 revenue outlook and scored important wins despite challenging market conditions. We signed new customers and platforms while securing important renewals in our core neighbourhoods, including with Viacom, M7, QVC and Channel 4 in Europe as well as Comcast in North America. Given our 30+ year experience as one of the first providers of Direct-to-Home (DTH) services, I am delighted that we signed multi-year agreements to launch and expand new DTH platforms in the Caribbean with Kiwisat and in Eastern Europe with Telekom Srbija. In MX1, our video services business, new deals were secured with Agence France-Press, Discovery and Cell-C, while our HD+ service in Germany expanded with the addition of an Ultra High Definition channel from RTL. We continue to carry more HD and UHD channels across our network than any other satellite service provider.
2018 also saw us make significant progress with our C-band initiative in the U.S. and our market-based proposal is well placed to facilitate a leading position for the U.S. in 5G while protecting the important broadcast and other communities that we serve.
2019 is going to be another important year for SES as look to capitalise on a strong 2018. Our focus for 2019 is to deliver exceptional service and experience to our customers, driving their success and in so doing creating value for SES."
...
For further information please contact:

Richard Whiteing Markus Payer
Investor Relations Corporate Communications
Tel: +352 710 725 261 Tel: +352 710 725 500
[email protected] [email protected]
About SES
SES is the world's leading satellite operator with over 70 satellites in two different orbits, Geostationary Orbit (GEO) and Medium Earth Orbit (MEO). It provides a diverse range of customers with global video distribution and data connectivity services through two business units: SES Video and SES Networks. SES Video reaches over 351 million TV homes, through Direct-to-Home (DTH) platforms and cable, terrestrial, and IPTV networks globally. The SES Video portfolio includes MX1, a leading media service provider offering a full suite of innovative services for both linear and digital distribution, and the ASTRA satellite system, which has the largest DTH television reach in Europe. SES Networks provides global managed data services, connecting people in a variety of sectors including telecommunications, maritime, aeronautical, and energy, as well as governments and institutions across the world. The SES Networks portfolio includes GovSat, a 50/50 public-private partnership between SES and the Luxembourg government, and O3b, the only non-geostationary system delivering fibre-like broadband services today. Further information is available at: www.ses.com