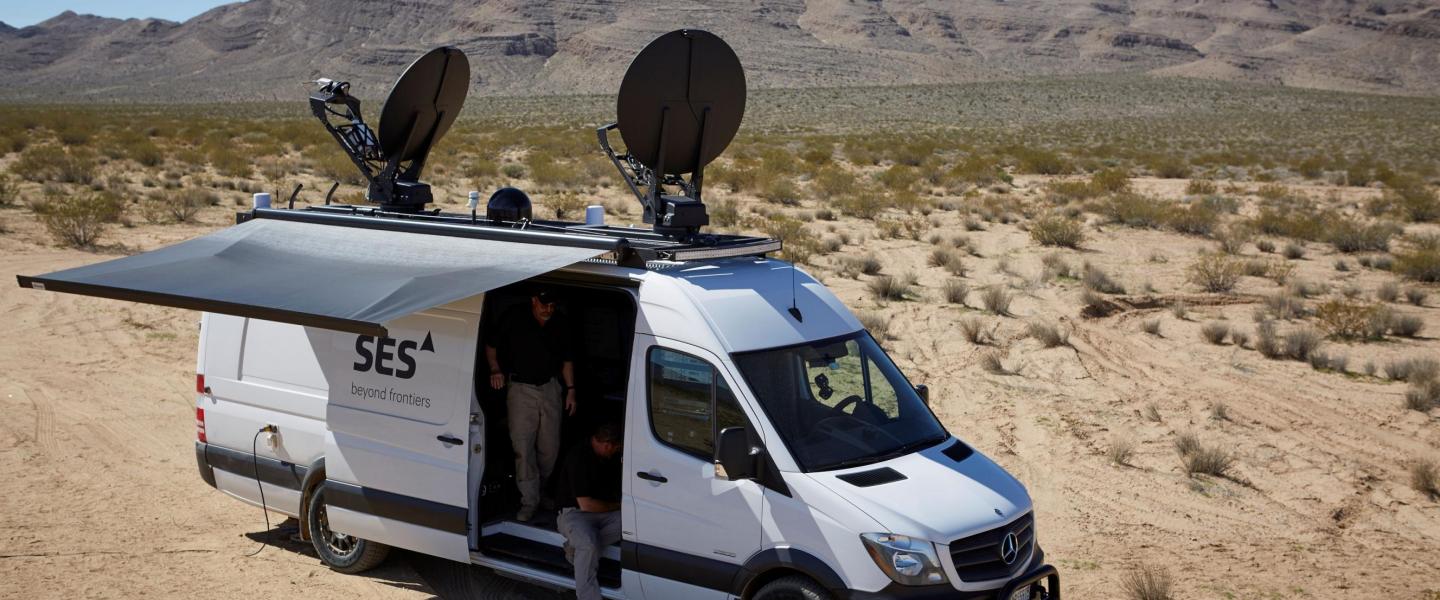 Rapid Response Vehicle (RRV)
The Rapid Response Vehicle (RRV) is a mobile SATCOM-enabled communications platform designed to accommodate a variety of applications for commercial, civil, humanitarian, defence and security missions around the world. The RRV can help restore essential communication links, support multiple end-to-end services, provide immediate coverage via stand-by capacity reserved for relief efforts. SES's combination of GEO (Geostationary Earth Orbit) widebeam satellite coverage and MEO (Medium Earth Orbit) low-latency offers seamless coverage across the globe. This multi-band, multi-orbit GEO/MEO access allows to configure tailor-made cost-efficient solutions.
The RRV can provide connectivity for specific scenarios and applications such as high-definition video surveillance streaming, mobile comms for security forces and 'blue-light' services, emergency connectivity for critical national infrastructure and drone video relay.
The solution is equipped with a variety of wirelesscapabilities, including mobile communications platform to support private 3G / 4G LTE networks and government push to talk ("PTT") frequencies, high-throughput microwave backhauled via satellite, and more.
The RRV is enabled for connectivity in commercial Ku and Ka frequency bands, as well as government X- and Mil-Ka. The vehicle can also operate in MEO Ka-band to support very high throughput operational scenarios.
Examples of applications enabled by the RRV:
Intelligence Surveillance & Reconnaissance (ISR)
Tactical Persistent Surveillance/Persistant Surveillance Aerostat
Emergency.lu; other disaster response and recovery missions
Telemedicine (e.g. SATMED)
Video contributions
For additional information about the Rapid Response Vehicle and other solutions, please visit the Newsroom