SES Full Year 2022 Results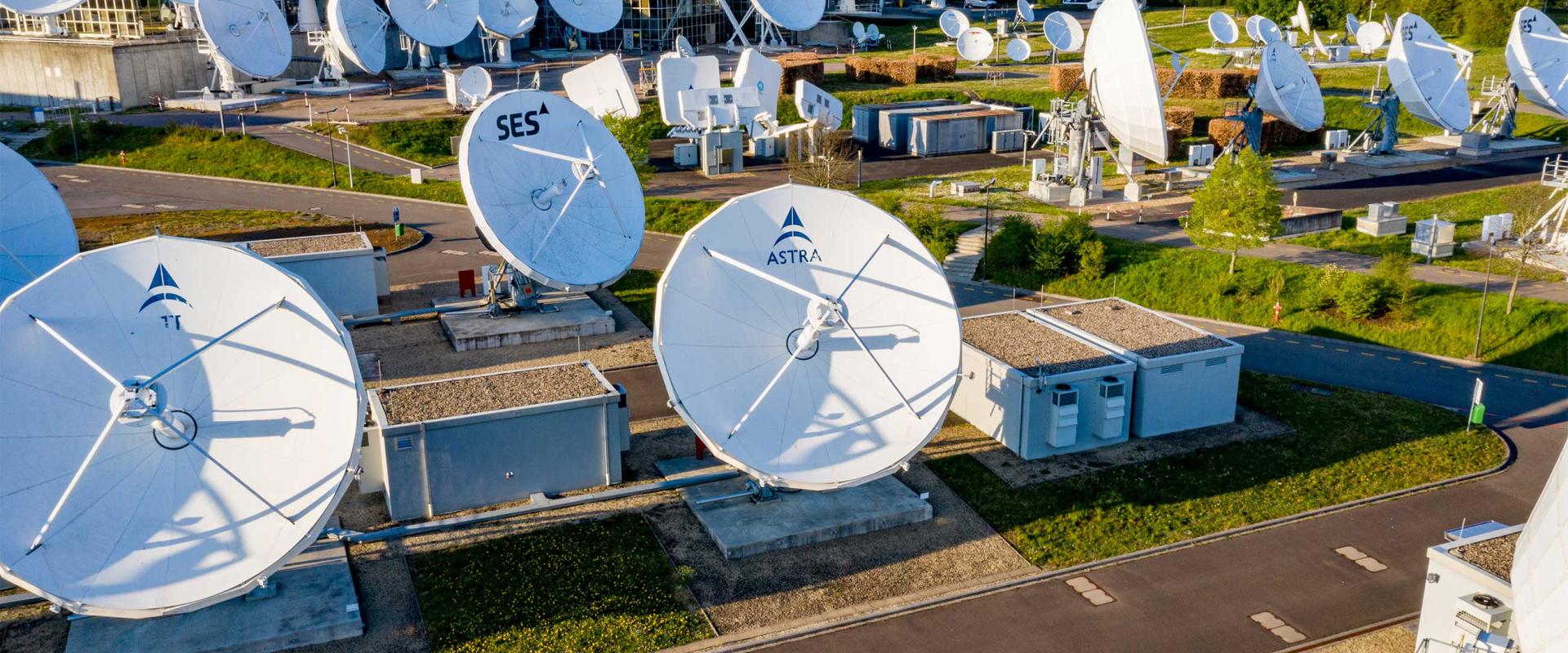 Strong year of execution, delivering on financial outlook, and closing value-accretive acquisition of DRS GES. Poised to commercially launch O3b mPOWER and secure US C-band clearing in 2023
Luxembourg, 27 February 2023 -- SES S.A. announces financial results for the twelve months ended 31 December 2022.
Financial performance reflects strong execution across the business, complemented by value-accretive DRS GES acquisition
• Revenue of €1,944 million (+9.1% YOY as reported), Adjusted EBITDA of €1,105 million (+1.3% YOY as reported) including contribution from DRS Global Enterprise Solutions (DRS GES), acquired 1 August 2022, and stronger US dollar
• Mobility driving growth in Networks (+2.0% YOY), complemented by €450 million of renewals secured in Video (-5.5% YOY)
• Leverage( ) at 3.5x with solid cash generation, additional US C-band clearing proceeds from Verizon and now beyond investment peak
Robust 2023 outlook with O3b mPOWER to drive future long-term growth
• 2023 outlook of €1,950-2,000 million in revenue and €1,010-1,050 million in Adjusted EBITDA
• SES-17 and O3b mPOWER gross backlog up +28% YOY and now standing at more than $1 billion
• First O3b mPOWER satellites launched successfully in December 2022. Two further launches in Q2 2023 with initial commercial service in late Q3 2023 and customers ramping onto the system through Q4. O3b mPOWER technology upgrading existing O3b fleet
Commitment to shareholder return. US C-band clearing fully on track to capture substantial value at the end of 2023
• Proposed 2022 dividend of €0.50 per A-share consistent with the Board's stable to progressive policy
• Lowering long-term leverage target to below 3x from 2024
• SES-20, SES-21, and SES-22 in operation with clear line of sight to Phase 2 clearing proceeds ($3 billion pre-tax)
Steve Collar, CEO of SES, commented: "I am pleased with our execution and resulting accomplishments in 2022. Revenue growth of 9% includes strong recovery in Cruise and Aviation, as well as the acquisition of DRS GES. Revenue and EBITDA were in line with our financial outlook while cash generation was enhanced by accelerated C-Band clearing for Verizon, generating $170 million in 2022.
SES-17 is in service above the Americas supporting Thales' aviation network and 17 new enterprise deals signed in 2022, while the combined backlog for SES-17 and O3b mPOWER now stands at over $1 billion for the first time. The landmark launch of our first two O3b mPOWER satellites, combined with two upcoming launches, paves the way for initial commercial launch at the end of Q3 2023, while we are already rolling out O3b mPOWER technology to existing MEO customers.
I was delighted to join Luxembourg's Minister of Defence for the announcement of the MEO Global Services programme which, following parliamentary approval, is expected to commit up to €195 million for O3b mPOWER services to support Luxembourg and its partners. This underlines O3b mPOWER's strong credentials for delivering reliable, sovereign, and secure satellite-enabled solutions, noting the European Parliament's approval of IRIS2 and we look forward to continuing productive engagement with the Commission.
Finally, 2022 was a milestone year for our US C-band initiative with three satellites launched and operational, completing the immediate need for satellites to facilitate C-Band clearing and substantially de-risking our programme. We look forward to completing the job in 2023 and earning the remaining $3 billion in accelerated clearing payments towards the end of the year."
About SES
SES has a bold vision to deliver amazing experiences everywhere on earth by distributing the highest quality video content and providing seamless connectivity around the world. As the leader in global content connectivity solutions, SES operates the world's only multi-orbit constellation of satellites with the unique combination of global coverage and high performance, including the commercially-proven, low-latency Medium Earth Orbit O3b system. By leveraging a vast and intelligent, cloud-enabled network, SES is able to deliver high-quality connectivity solutions anywhere on land, at sea or in the air, and is a trusted partner to the world's leading telecommunications companies, mobile network operators, governments, connectivity and cloud service providers, broadcasters, video platform operators and content owners. SES's video network carries ~8,000 channels and has an unparalleled reach of 369 million households, delivering managed media services for both linear and non-linear content. The company is listed on Paris and Luxembourg stock exchanges (Ticker: SESG). Further information is available at: www.ses.com
Presentation of results
A presentation of the results for investors and analysts will be hosted at 9.30 CET on 27 February 2023 and will be broadcast via webcast and conference call. The details for the conference call and webcast are as follows:
U.K. +44 (0) 33 0551 0200
France +33 (0) 1 70 37 71 66
Germany +49 (0) 30 3001 90612
U.S.A. +1 786 697 3501
Confirmation code SES
Webcast registration https://channel.royalcast.com/landingpage/ses/20230227_1/
The presentation is available for download from https://www.ses.com/investors/financial-results and a replay will be available shortly after the conclusion of the presentation.

Disclaimer
This presentation does not, in any jurisdiction, including without limitation in the U.S., constitute or form part of, and should not be construed as, any offer for sale of, or solicitation of any offer to buy, or any investment advice in connection with, any securities of SES, nor should it or any part of it form the basis of, or be relied on in connection with, any contract or commitment whatsoever.
No representation or warranty, express or implied, is or will be made by SES, its directors, officers or advisors, or any other person, as to the accuracy, completeness or fairness of the information or opinions contained in this presentation, and any reliance you place on them will be at your sole risk. Without prejudice to the foregoing, none of SES, or its directors, officers or advisors accept any liability whatsoever for any loss however arising, directly or indirectly, from use of this presentation or its contents or otherwise arising in connection therewith.
This presentation includes "forward-looking statements". All statements other than statements of historical fact included in this presentation, including without limitation those regarding SES's financial position, business strategy, plans and objectives of management for future operations (including development plans and objectives relating to SES products and services), are forward-looking statements. Such forward-looking statements involve known and unknown risks, uncertainties and other important factors that could cause the actual results, performance, or achievements of SES to be materially different from future results, performance or achievements expressed or implied by such forward-looking statements. Such forward-looking statements are based on numerous assumptions regarding SES and its subsidiaries and affiliates, present and future business strategies, and the environment in which SES will operate in the future, and such assumptions may or may not prove to be correct. These forward-looking statements speak only as at the date of this presentation. Forward-looking statements contained in this presentation regarding past trends or activities should not be taken as a representation that such trends or activities will occur or continue in the future. SES, and its directors, officers and advisors do not undertake any obligation to update or revise any forward-looking statements, whether as a result of new information, future events or otherwise.