Infront and SES Partner to Broadcast 2023 FIS Alpine World Ski Championships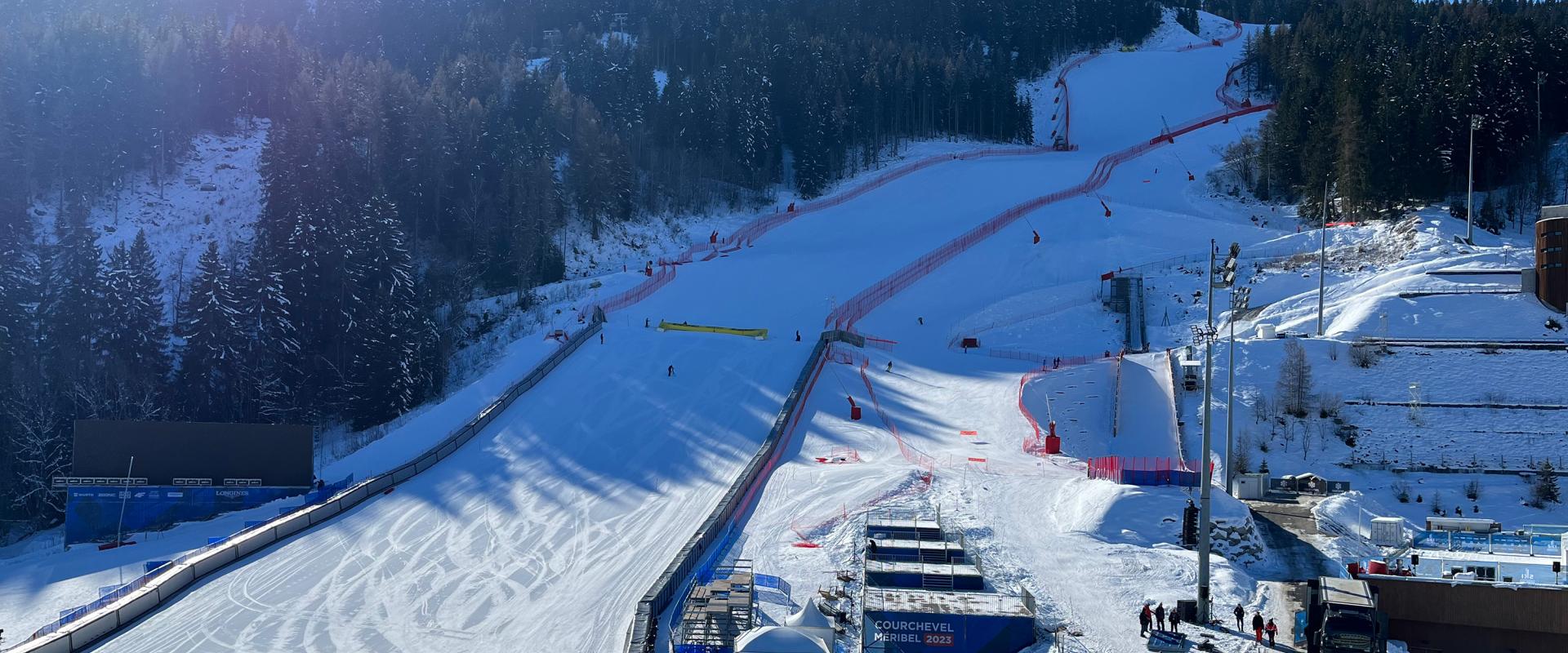 Infront and SES Partner to Broadcast 2023 FIS Alpine World Ski Championships
Dedicated satellite distribution platform used to deliver HD content to global audience
Luxembourg, 20 February 2023 – Infront and SES partnered to jointly deliver the recently-concluded ski races of the 2023 FIS Alpine World Ski Championships from the French Alps to viewers across Europe, Asia and the Americas, both companies announced today. A leading sports media and marketing company, Infront leveraged SES's dedicated sports and events distribution platform to efficiently and reliably distribute the event to global broadcasters with the highest image quality.
Occurring every two years, the FIS Alpine World Ski Championships feature the best alpine skiers competing in 13 different races watched by millions of fans around the world. Working with Infront, SES managed the live feed from the race courses across both mountain venues by transmitting four signals back to SES's Emek Ha'Ela facility for satellite distribution, with LiveU's mobile field units and IP bonding technology deployed for a back-up signal contribution.
"The FIS Alpine World Ski Championships is one of the premier events showcasing the very best skiers in the world. With our cutting-edge media production featuring multiple camera angles and race data across multiple mountains, we catered to a global audience eager to watch their favorite skiers race live," said Amikam Kranz, Vice President Media, Betting & Technology at Infront. "SES is one of our key technology partners with a video distribution platform to deliver high-quality content and reach millions of TV households, and we are delighted to be working with them."
"Fans have become more specific and passionate about the sporting events that they want to watch, regardless of their location or what time of day it is. Therefore, it is critical that our partners can deliver their sports content to fans reliably and in the highest picture quality possible," said Michele Gosetti, Head of Sales, Sports & Events at SES. "Our focus on high-quality video, backed by our satellite fleet, fibre, IP and cellular infrastructure, will enable us to continue to meet the business requirements of our partners and high-quality standards of today's consumers."
A leader in sports and events, SES broadcasts over 700 hours of premium sports each day and works with more than 500 sports and events customers. SES broadcasts a wide range of sports, from men's and women's professional football, American football, tennis, golf and cricket to cycling. These include ongoing games and matches for high-profile leagues such as the NFL, Premier League and Women's Serie A to sports with specialised interest, such as motor sports.
For further information please contact:
Suzanne Ong
External Communications
Tel. +352 710 725 500
[email protected]
About SES
SES has a bold vision to deliver amazing experiences everywhere on earth by distributing the highest quality video content and providing seamless connectivity around the world. As the leader in global content connectivity solutions, SES operates the world's only multi-orbit constellation of satellites with the unique combination of global coverage and high performance, including the commercially-proven, low-latency Medium Earth Orbit O3b system. By leveraging a vast and intelligent, cloud-enabled network, SES is able to deliver high-quality connectivity solutions anywhere on land, at sea or in the air, and is a trusted partner to the world's leading telecommunications companies, mobile network operators, governments, connectivity and cloud service providers, broadcasters, video platform operators and content owners. SES's video network carries around 8,000 channels and has an unparalleled reach of 366 million households, delivering managed media services for both linear and non-linear content. The company is listed on Paris and Luxembourg stock exchanges (Ticker: SESG). Further information is available at: www.ses.com