First Quarter 2020 Results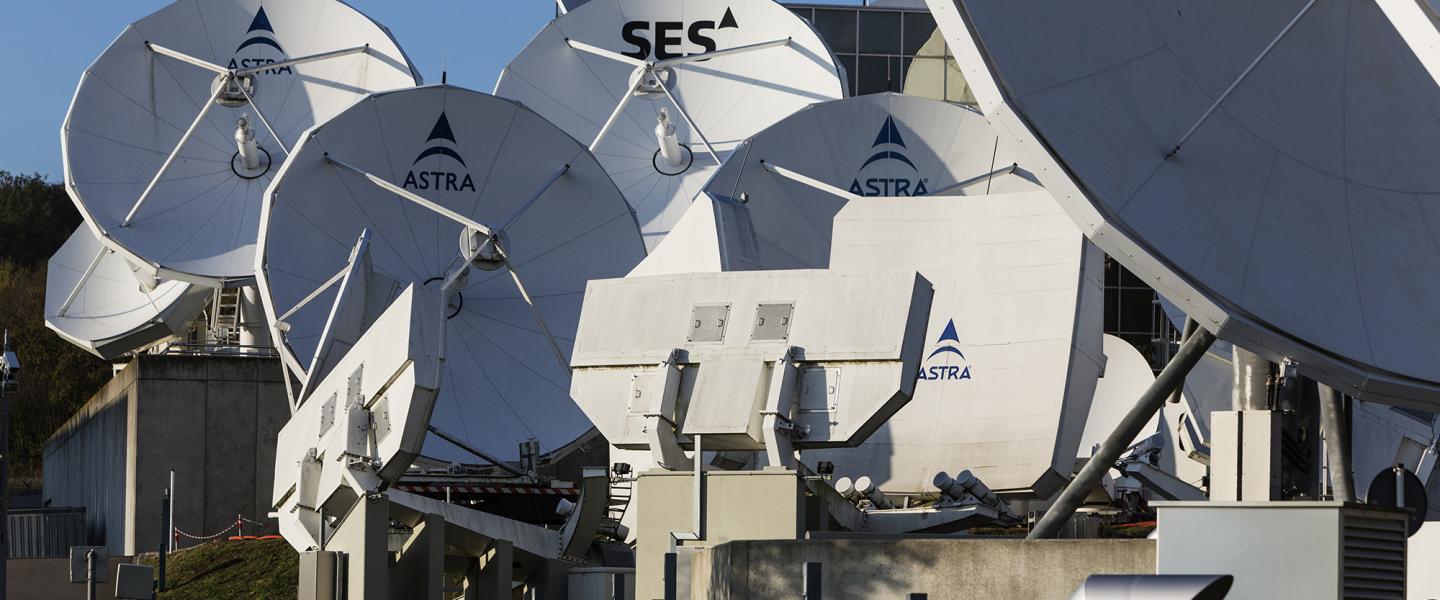 Luxembourg, 7 May 2020 - SES S.A. announced solid financial results for the first three months ended 31 March 2020 with performance in line with the company's expectations and strong underlying revenue growth in SES Networks. The business has seen limited impact to date from the COVID-19 global pandemic but given the unprecedented impact on the global economy and on certain industry segments that the company serves, SES has proactively implemented a series of measures to mitigate the headwinds to be faced in 2020.
Steve Collar, CEO, commented: "We have made a strong start to 2020 with solid first quarter financial results including a step up in underlying revenue growth in SES Networks. Our Networks business now represents more than 40% of our business overall and mobility continues to stand out with 29% growth year-on-year as we have seen the full year contributions of important customer contracts signed during 2019. Strong control over discretionary costs in the quarter contributed to a reduction in recurring operating expenses year-on-year and reflects our ongoing focus on execution.
We have a strong, resilient business with predominantly fixed, long-term contracts and 85% of our expected revenue for 2020 already secured. To date our results have been largely unaffected by COVID-19. Nevertheless, the impact of the pandemic on the global economy and on several of the business verticals that we serve is profound and it is inevitable that we will be impacted as we support our most affected customers. It is too early to provide an assessment of the revenue impact that COVID-19 environment will have on our 2020 performance. That said, we have 'gone hard and gone early' in implementing COVID-19 specific measures to mitigate impacts on EBITDA, including substantial limits on discretionary spend in the order of mid-double-digit millions for the year, and removed EUR 180 million from our capital expenditure programme over the next 4 years. We are focused on ensuring the safety of our employees around the world, maintaining business continuity, supporting our customers, and taking all steps to ensure that SES can emerge from this period in the strongest possible position. I am proud and appreciative of the incredible team at SES who have seamlessly adapted to the operational challenges presented by COVID-19 and continue to deliver critical services to our customers with the same quality and expertise as ever.
Looking beyond COVID-19, Simplify & Amplify, our strategic transformation programme, is well underway. We are executing on initiatives that will generate EUR 40-50 million annualised EBITDA optimisation in 2021 and beyond and we are making progress on the potential separation of our Video and Networks business within SES. Successful execution of this separation will provide greater visibility into our business for investors, increase operational focus and create strategic flexibility. We have set up a dedicated team to execute on the objectives of the U.S. FCC's C-Band final Report and Order, including the ability for SES to earn up to USD 3.97 billion in acceleration payments for efficiently and effectively repurposing C-Band spectrum while protecting our broadcast neighbourhoods."
...
For further information please contact:
Richard Whiteing
Investor Relations
Tel: +352 710 725 261
[email protected]
Suzanne Ong
External Communications
Tel. +352 710 725 500
[email protected]
About SES
SES has a bold vision to deliver amazing experiences everywhere on earth by distributing the highest quality video content and providing seamless connectivity around the world. As the leader in global content connectivity solutions, SES operates the world's only multi-orbit constellation of satellites with the unique combination of global coverage and high performance, including the commercially-proven, low-latency Medium Earth Orbit O3b system. By leveraging a vast and intelligent, cloud-enabled network, SES is able to deliver high-quality connectivity solutions anywhere on land, at sea or in the air, and is a trusted partner to the world's leading telecommunications companies, mobile network operators, governments, connectivity and cloud service providers, broadcasters, video platform operators and content owners. SES's video network carries over 8,300 channels and has an unparalleled reach of over 355 million households, delivering managed media services for both linear and non-linear content. The company is listed on Paris and Luxembourg stock exchanges (Ticker: SESG). Further information is available at: www.ses.com
Presentation of Results
A presentation of the results for investors and analysts will be hosted at 9.30 CEST on 7 May 2020 and will be broadcast via webcast and conference call. The details for the conference call and webcast are as follows:
U.K. (Standard International Access) +44 (0) 20 3003 2666
France +33 (0) 1 7037 7166
Germany +49 (0) 30 3001 90612
U.S.A. +1 212 999 6659
Confirmation code SES Q1
Webcast registration https://channel.royalcast.com/webcast/ses/20200507_1/

The presentation is available for download from the Investors section of the SES website (www.ses.com), and a replay will be available shortly after the conclusion of the presentation.