10 - 11 MAY 2022
Virtual Event
East Africa Com
Schedule a meeting with us at the East Africa Com virtual event – the premier event for technology, telecoms, media and broadcasting in East Africa.
The theme for this year's East Africa Com event is Championing the Power of East Africa's Tech Ecosystems to Build Digital Economies for All.
The past two years have been a period of disruptive change across the world with technology, and particularly connectivity, playing a critical role in keeping business moving. Top topics for East Africa Com 2022 will include a look at how governments are collaborating to accelerate 4IR adoption, the progress of the AfCFTA integration and how the framework presents a huge opportunity to boost trade and investment in the region.
SES is a silver sponsor at the event and will participate in a panel discussion on Wednesday, 11 May 2022 @ 10:20am (GMT+3) titled, Exploring East Africa's 2022 Connectivity Map.
We look forward to showcasing how O3b mPOWER rewrites the rules of satellite technology with unprecedented performance, scale, and flexibility. Designed to support the rocketing data needs of businesses and organisations, it unleashes connectivity to areas without terrestrial cover and provides failsafe backup for existing networks.
Meet with us at East Africa Com 2022 to learn more about SES's next generation O3b mPOWER constellation and 'The Power of MEO' operating in Medium Earth Orbit (MEO) - this revolutionary new satellite system is capable of relaying multiple gigabits per second to a single location and offers incredible flexibility in how and where you deploy your resources, giving you the power to respond swiftly and effectively to changes in network demands.
Wednesday, 11 May @ 10:20am (GMT+3)
SES panelist:
Other panelists:
Fargani Tambeayuk, Head of Connectivity Policy, Facebook
Andy Halsall, CEO, poa! Internet
Dion Jerling, Co-Founder, Connect Earth (Moderator)
Panel summary:
Subsea: Subsea cable projects bringing East African broadband up to speed, and how they are improving links to the rest of the African continent
Satellite: Satellite remains a critical piece of the region's connectivity matrix. MEO and other new constellations look set to connect more users than ever, with 5G application a key growth area. We'll examine these, alongside the benefits to hard-to-reach rural areas
Covid-19: The continued impact of the Covid-19 pandemic and the 'working from home' revolution on accelerating demand for regional interned connectivity
Affordability: Telco-led affordability schemes and the key role played by fintech in facilitating payments and microloans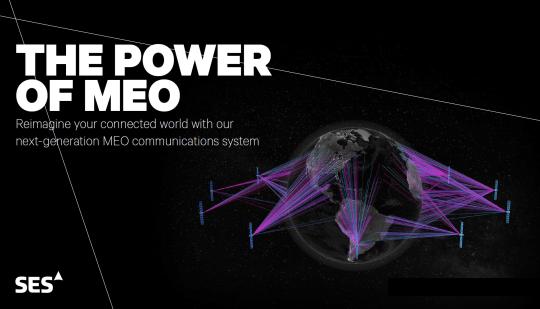 The power of MEO
Learn more about SES's next generation O3b mPOWER constellation operating in Medium Earth Orbit (MEO).
'The Power of MEO' can deliver the ubiquitous combination of global coverage, low latency and high throughput connectivity and performance on land, at sea or in the air.
Learn about MEO capabilities