The Hybrid Satellite Solution: When Combined Networks Mean Enhanced Connectivity
The Hybrid Satellite Solution: When Combined Networks Mean Enhanced Connectivity
Powered by SES capacity and Gilat's SkyEdge II-c Libra terminal equipment, SES Enterprise+ Hybrid Broadband, launched earlier this week, will enable customers to deliver cost effective broadband internet connectivity to underserved areas and improve download speeds.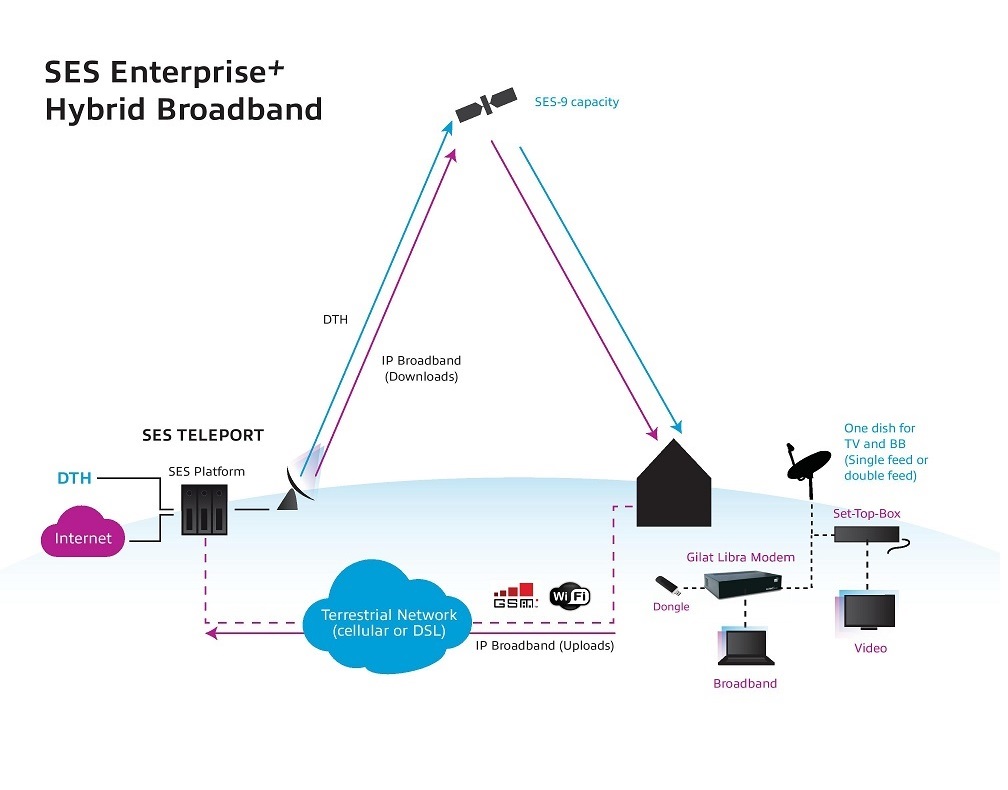 To better understand this partnership and project, we talked to Deepak Mathur, Senior Vice President, Commercial Asia-Pacific.
What does the SES Enterprise+ Hybrid Broadband solution comprise? And how is this service provided?
The product consists of a hybrid satellite/terrestrial solution integrating satellite forward capacity for high speed download and alternative return channel based on different access technologies as DSL, GPRS, 3G. The service is provided through a CPE (Gilat Libra modem) on SES's largest dedicated satellite for Asia-Pacific, SES-9, which entered commercial service on 1 June this year.
Because most internet traffic is highly asymmetrical – up to 15 times more information is downloaded by end-users than is uploaded back to the internet – the hybrid approach is designed to offload or augment a portion of the download traffic from an existing terrestrial networks over a satellite network.
Who is the target audience of SES Enterprise+ Hybrid Broadband solution, and what benefits do they gain through its use?
One of the great challenges facing governments around the world is how they should ensure equitable access to the internet for their population – whether they are in the centre of the capital city, or in a remote village – with minimal infrastructure. Clearly a satellite-based solution removes geographic barriers, but we have to find a business model where the connectivity is self-funding if it to be successful in the long run. This solution leverages the infrastructure that is already present, ie 2G or 3G cellular connectivity, with the tremendous reach of satellite.
So, for any telcos, Mobile Network Operators (MNOs), and DTH video providers, SES Enterprise+ Hybrid Broadband allows these service providers and ISPs to upgrade their network and enhance the end user experience by providing a simplified, hybrid broadband solution (receive-only satellite antenna, simple terminal equipment), leveraging the terrestrial infrastructure that already exists for the return path.
Furthermore, we can leverage the enormous DTH growth over the last decade in most Asian markets and the passive receive satellite dishes that are already in tens of millions of homes, by combining them with the Libra box to convert what is a one-way architecture into a two-way one where both video and the internet are delivered into the same DTH dish.
What are the advantages of utilizing a hybrid network over a stand-alone terrestrial or satellite solution?
A hybrid solution takes the best of both media; the ease of use and our customers' expertise with terrestrial networks, along with ubiquitous coverage and superior network performance of the satellite network. SES is constantly looking at solutions that will enhance the user experience and give our customers a competitive edge in the market while trying to address a great challenge of our generation – how to cost-effectively bridge the digital divide.
Will SES Enterprise+ Hybrid Broadband be available in Asia only, or in other regions as well?
We are launching the product first in Asia to address a number of immediate opportunities we have been developing with our customers. For example, mobile penetration in Asia is growing at an exponential rate; however, a huge part of Asia remains semi-urban and rural, and do not enjoy the benefits of a well-connected terrestrial infrastructure.
That doesn't mean this solution can't be replicated in other regions. In fact, we are already looking at similar opportunities elsewhere, especially in emerging markets, where we can utilise the expertise gained from this project to service other customers in Africa and Latin America.
With a hybrid solution like this, how will the user experience be?
When we tested the Hybrid Broadband product at our Luxembourg teleport, we were able to achieve download speeds of 20 Mbps, which is certified as high speed broadband in most countries. The throughput is more than sufficient for browsing the internet, taking online courses, and streaming HD video. In many markets where the user might be choosing between a DSL service or connecting to a contended local 3G network, the 20 Mbps provided by SES Enterprise+ Hybrid Broadband will be a significant upgrade.
Is this solution the first of its kind?
The product is built on a concept that has been already deployed with success in the European market, called Astra Connect. The innovation resides in integrating both mobile (cellular and wireless) and fixed network capabilities within a well-established satellite end-to-end platform domain. 
We are not aware of any similar solution from other satellite operators.
What is the cost savings that will be brought about by this hybrid solution?
The cost savings to the customers are multiple. The CPE's cost is significantly lower than regular 2-way VSAT, the customers can utilise their existing DTH antenna, the product operates with both FSS and BSS satellite capacity, and finally, handling the return channel via the terrestrial network leverages off-the shelf and rather inexpensive existing capabilities.