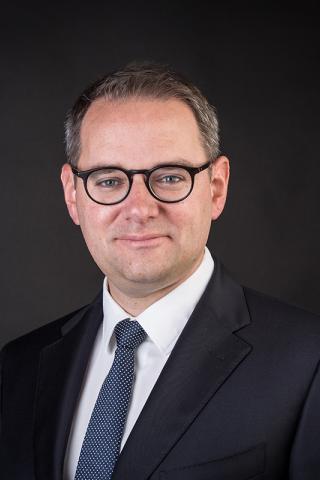 Jacques Thill
Mr Thill was co-opted as director of SES on 2 December 2021 in replacement of Mr Paul Konsbruck.
Mr Thill currently serves as First Government Advisor to the Prime Minister and Coordinator at the Luxembourg Prime Minister's Office. Since 2018 he is also the Government Delegate to the State Intelligence Service. Mr Thill joined the Luxembourg diplomatic service in 2004 and has represented Luxembourg in numerous bi- and multilateral negotiations. His diplomatic career includes postings to the Luxembourg Permanent Representation to the United Nations in New York and to the Luxembourg Embassy in Moscow, as well as to the EU High Representative for the Common Foreign and Security Policy at the Council of the European Union in Brussels. From 2009 to 2013, Mr Thill served as diplomatic advisor to the Prime Minister. In 2013, he was appointed Deputy Secretary General of the Luxembourg Government, before becoming Secretary General of the Luxembourg Government until June 2020. From 2015 until 2021, Mr. Thill has been a member of the Board of Directors of LUXGOVSAT S.A.
Mr Thill holds a Master in European and International Law from the Paris 1 Panthéon-Sorbonne University and an MA in European Political and Administrative Studies from the College of Europe in Bruges where he specialized in European Competition Law and European Foreign Policy.
Mr Thill is a member of the Nomination Committee and of the Strategic Committee of SES.
Mr Thill is a Luxembourg national. He is not an independent director because he represents an important shareholder.