SES AND CENI PARTNER TO PROVIDE SATELLITE NETWORK FOR UPCOMING ELECTIONS IN BURKINA FASO
SES AND CENI PARTNER TO PROVIDE SATELLITE NETWORK FOR UPCOMING ELECTIONS IN BURKINA FASO
LUXEMBOURG/BURKINA FASO, 27 November 2015 - SES S.A. (NYSE Euronext Paris and Luxembourg Stock Exchange: SESG), a world leading satellite operator, and Commission Électorale Nationale Indépendante (CENI), the official electoral body of Burkina Faso, today announced that they have partnered to enable secure digital transmission of the electoral results of the Burkinabe Presidential Election on 29 November from 368 locations across the country.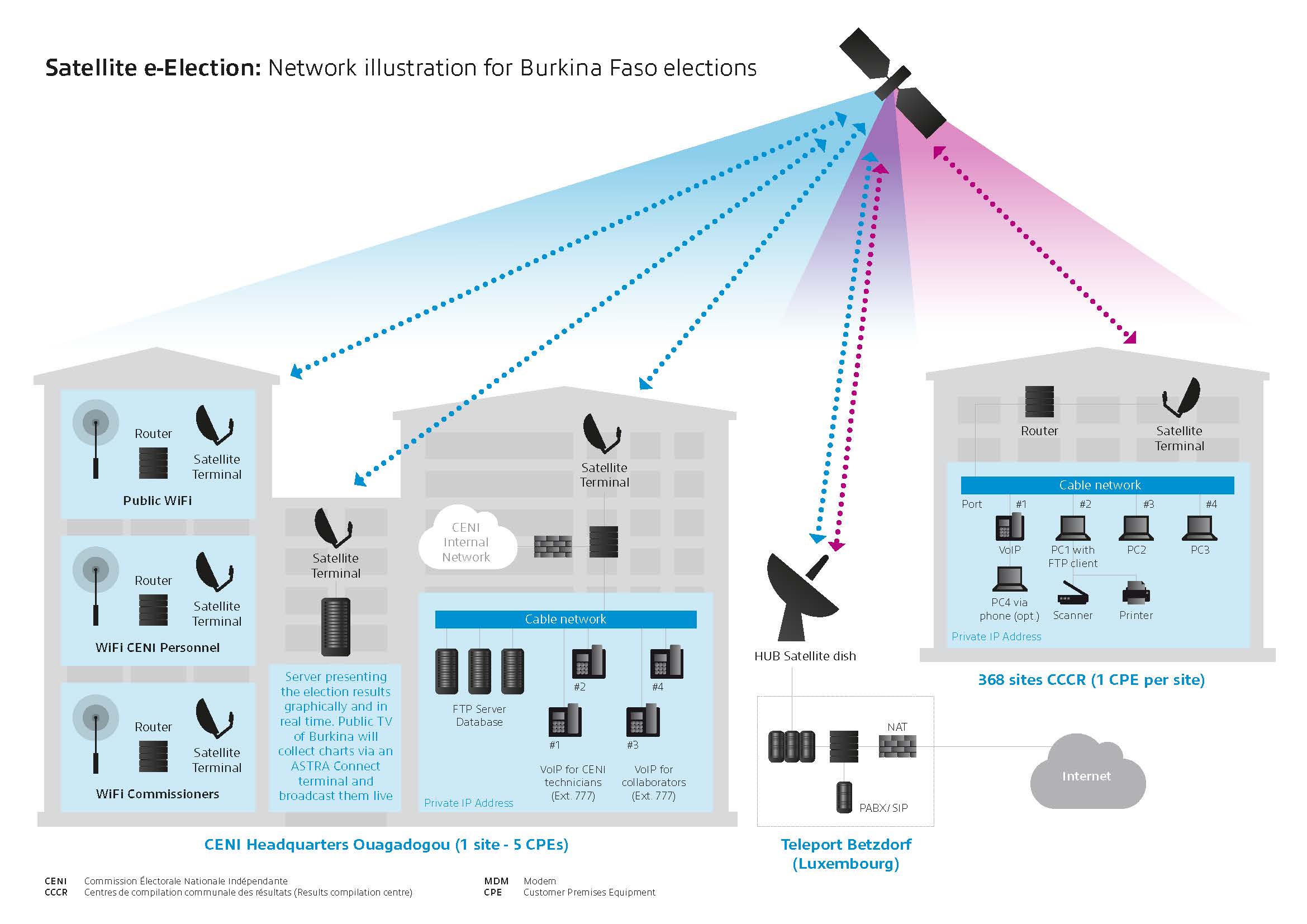 Electoral district offices across Burkina Faso will be connected to the central CENI office in the capital Ouagadougou utilising SES Techcom Services' Astra Connect VSAT terminals. SES Techcom Services is a wholly-owned subsidiary of SES.  The communications platform will use ASTRA 2G capacity at 28.2 degrees East, being managed and monitored by SES Techcom Services. In addition, Voice over IP (VoIP) telephone communication will be provided at each deployed site to enable constant contact and coordination with the headquarters in the capital.
Managing Director of SES Techcom Services Gerhard Bethscheider said, "We are extremely pleased to be partnering with CENI for the Burkinabe Presidential Election, and to see that rollout is well under way. Utilising our Astra Connect solution, voters' choices, even from isolated or remote regions, can be collated and transferred across the country, ensuring all voters' voices are heard."
Between the electoral district offices and CENI headquarters in Ouagadougou, satellite capacity will enable transportation of electoral data, allowing CENI to disseminate election results within a week of the voting date.
"SES Techcom Services' satellite broadband solution ensures a high degree of reliability in collecting voters' choices," said President of CENI Barthélemy Kéré. "Through greater transparency and improved collation of results, we are able to achieve greater political stability and further develop democracy in Burkina Faso."
For more information, please contact:
Markus Payer
Corporate Communications
Tel: +352 710 725 500
[email protected]