Full Year and Fourth Quarter 2017 Results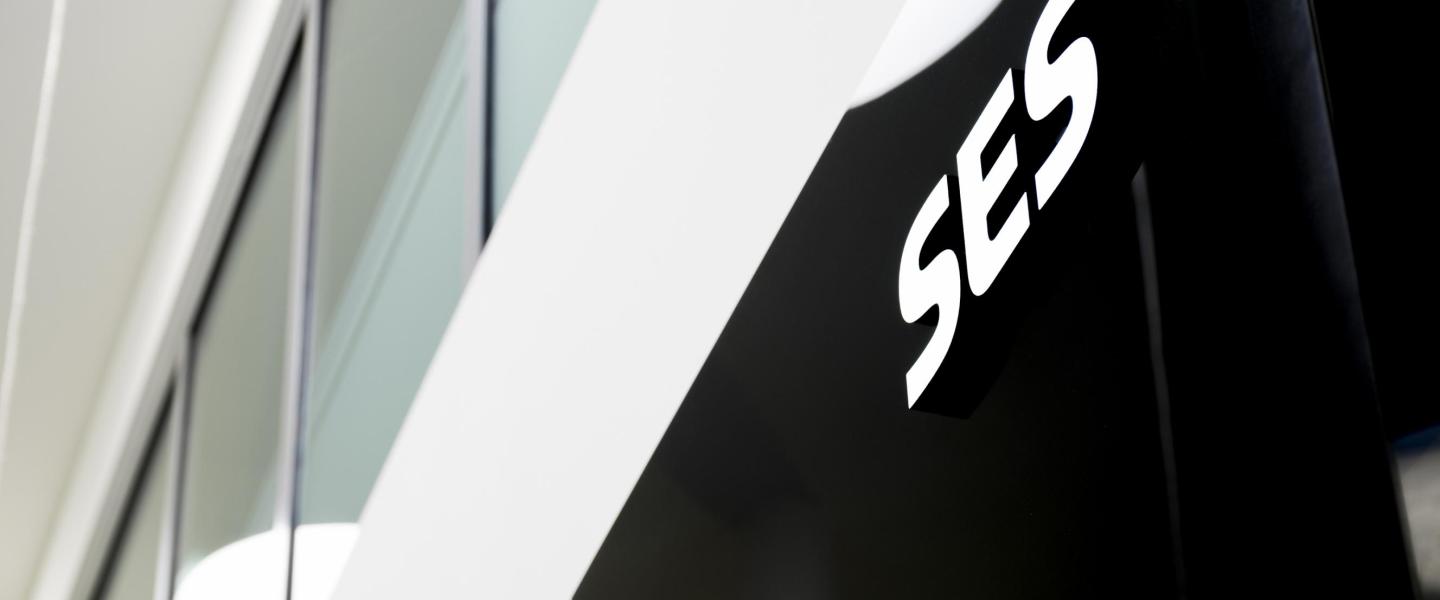 LUXEMBOURG, 23 February 2018 -- SES S.A. announced financial results for the year and three months ended 31 December 2017.
Key financial highlights
Reported revenue EUR 2,035.0 million, down 1.6% (-5.2% like-for-like(1)); SES Video -3.6%(1) and SES Networks -1.9%(1)
EBITDA margin 65.1% (2016: 70.2% as reported and 66.7% like-for-like(1))
Net profit of EUR 596.1 million (2016: EUR 962.7 million including EUR 495.2 million gain related to O3b consolidation)
Board is proposing 2017 dividend per A share of EUR 0.80 (2016: EUR 1.34)
Financial Outlook
Karim Michel Sabbagh, President and CEO, commented: "2017 has been an important year of transformation for SES. We have established two market-focused business units, SES Video and SES Networks, and are now well positioned to deliver growth in the future. Business performance was below our expectations as the market remained challenging throughout 2017, compounded by some fleet health issues."
"We are starting to see the benefits of our investment programme with three new satellites successfully launched in 2017 and another two already launched in 2018. These, along with other planned launches for 2018 and 2019, will bring much needed capacity and customer-specific capabilities to our fleet, particularly in the rapidly growing aeronautical market, that will underpin our future growth. As part of our strategic transformation, we have launched our 'Fit-for-Growth' programme that will optimise and focus the allocation of our world-class resources and increase internal efficiencies. As we continue to adapt to the new operating and financial model, and invest in our future growth, we have decided to rebase our dividend, allowing for growth in future years as our business develops."
"SES Video delivers more channels to more viewers from more premium neighbourhoods than any other operator and, with a backlog of EUR 5.3 billion, our video business is large, profitable and resilient. SES Networks is the only business capable of combining Geostationary, Medium Earth Orbit and innovative ground solutions into compelling solutions for our data-centric customers. We are committed to reinvesting cash generated by our businesses to generate long-term growth, principally focused on SES Networks. Whilst 2018 will still be a year of completing our business transformation, SES expects to deliver growth at attractive margins, as evidenced by the 2020 guidance given today."
"As it has already been announced, Padraig McCarthy and I will be stepping down as CFO and CEO of SES on 5 April 2018. Steve Collar and Andrew Browne (as President & CEO and CFO respectively) have been appointed as our successors and we wish them every success in taking SES forward."
Key business highlights
SES Video revenue of EUR 1,383.0 million in FY 2017 was down 3.6% (like-for-like), including Q4 2017 revenue of EUR 351.5 million (-3.0% like-for-like). While Video remains a competitive market environment, the business also had an unusually high impact from satellite health and launch delays, as well as some specific short-term factors at MX1 relating to the non-renewal of certain legacy contracts. In 2018, the implementation of IFRS 15 is expected to lead to a revenue reduction of around EUR 15-20 million related to HD+, with no cash impact.
SES Networks revenue was down 1.9% (like-for-like) at EUR 646.1 million, including EUR 156.1 million of revenue in Q4 2017 (-12.9% like-for-like). The Q4 2017 year-on-year (YOY) decline was primarily related to a significant transponder sale in Mobility in Q4 2016. Mobility was flat year-on-year excluding this transponder sale, with Fixed Data showing a decline of 8.4% and Government up 5.5%. SES Networks grew by 7.4% from Q3 2017 to Q4 2017 at constant FX.
SES Networks is building, resourcing and implementing unique and differentiated data solutions services which are gaining traction with customers around the world. In Q4 2017, SES Networks experienced its strongest quarter of sales, more than doubling its annualised sales volume from Q2 2017. A number of important customer services were also commissioned during Q4, generating new revenue early in 2018.
Overall, SES's backlog of committed contracts stands at EUR 7.5 billion (2016: EUR 8.1 billion as reported and EUR 7.6 billion at constant FX), flat year-on-year demonstrating that the business is successfully replacing revenue that was delivered over the course of the year. More than 80% of expected 2018 revenue is already committed.
SES's future growth is enabled by the successful launches of SES-10, SES-11 and SES-15 in 2017, and now SES-14 and SES-16 already in 2018. In the remainder of this year, SES expects to launch SES-12 and an additional four satellites for the O3b constellation which are specifically designed to maximise the MEO advantages for the target customers.
As part of its business transformation, SES is increasingly focused on managing costs to optimise efficiency and growth. In 2017, SES reduced operating expenses by EUR 4.0 million to EUR 710.8 million on a like-for-like basis. This helped support the EBITDA margin, which was 64.9% in Q4 2017 and 65.1% in full year 2017. SES is intensifying its focus on operational efficiency with the roll-out of a company-wide 'Fit-for-Growth' programme and anticipates taking a EUR 10-12 million restructuring provision in Q1 2018 to fund planned measures.
In Q4 2017, the tax line included the recognition of several non-recurring gains, the main one being the positive impact of changes in U.S. tax legislation which led to the recognition of a one-off accounting gain of EUR 94 million. Excluding this item and other one-off elements during 2017, the group's effective tax rate was 20.4% for FY 2017 (2016: 17.7% excluding the gain on deemed disposal of equity interest).
A higher cash conversion ratio of 94.5% and EUR 129.1 million reduction in investing activities (of EUR 490.4 million) led to Free Cash Flow before financing activities and acquisitions increasing by 16.2% (YOY) to EUR 760.8 million. Net debt to EBITDA ratio at year end 2017 was 3.27 times, including 50% of SES's hybrid bonds, within SES's threshold level of 3.3 times.
Looking ahead, as the businesses continue to scale up their capabilities and identify additional growth opportunities, the revenue mix and margin structure will evolve. SES has updated the guidance and provided enhanced disclosures to improve understanding of the current performance and future prospects. The outlook combines caution for 2018 as SES completes the business transformation with strengthened confidence for meaningful growth in the following two years and beyond. Given the investments that have been made, the future capital expenditure commitments, and the evolving nature of the business model, SES intends to strengthen the balance sheet.
Accordingly, the Board of Directors has proposed to rebase the dividend to a lower level of EUR 0.80 per A class share for 2017, a reduction of 40% from 2016. This rebasing is appropriate for SES and will allow a strengthening of the balance sheet whilst supporting growth opportunities and enabling a progressive dividend in the future.
For further information please contact:
Richard Whiteing
Investor Relations
Tel: +352 710 725 261
[email protected]
Markus Payer
Corporate Communications
Tel: +352 710 725 500
[email protected]
Presentation of Results:
A presentation of the results for investors and analysts will be hosted at 9.30 CET on 23 February 2018, and will be broadcast via webcast and conference call. The details for the conference call and webcast are as follows:
Belgium +32 (0)2 404 0659
France +33 (0)1 76 77 22 74
Germany +49 (0)89 20303 5709
Luxembourg +352 2786 1336
U.K. +44 (0)330 336 9105
U.S.A. +1 323 794 2551
Confirmation code: 2032980
About SES
SES is the world-leading satellite operator and the first to deliver a differentiated and scalable GEO-MEO offering worldwide, with more than 50 satellites in Geostationary Earth Orbit (GEO) and 12 in Medium Earth Orbit (MEO). SES focuses on value-added, end-to-end solutions in two key business units: SES Video and SES Networks. The company provides satellite communications services to broadcasters, content and internet service providers, mobile and fixed network operators, governments and institutions. SES's portfolio includes ASTRA, O3b and MX1, a leading media service provider that offers a full suite of innovative digital video and media services. SES is listed on the Euronext Paris and Luxembourg Stock Exchange (ticker: SESG). Further information available at: www.ses.com