Supporting recovery efforts with cloud-enabled network connectivity

Satellite networks provide reliable communication lines in the aftermath of disasters—when terrestrial networks are frequently unavailable. They enable the connectivity recovery teams and humanitarian workers need to begin restoring local operations in disaster-affected communities for days, weeks, or months at a time.
More about Crisis Recovery
Our crisis recovery solution uses advanced satellite technology to provide low-latency, high-throughput service to support the entire remote site deployment and cloud connectivity requirements of multiple first response teams and humanitarian organisations. The portable, quick-deploy service lets customers choose a flexible service package, purchase additional bandwidth as needed, and share costs with other users.
Reliable managed services delivered by our O3b Medium Earth Orbit (MEO) satellite constellation bring cloud-enabled networks all the way to the edge—even in the world's most remote locations.
You will benefit from:
Uncontended, low-latency network connectivity via our O3b MEO constellation
Deployable high-performance terminals that include installation, terminal management and maintenance, service management between terminals and data routing points, and dedicated engineering support
Scalable connectivity that ensures high performance for cloud-based applications at the edge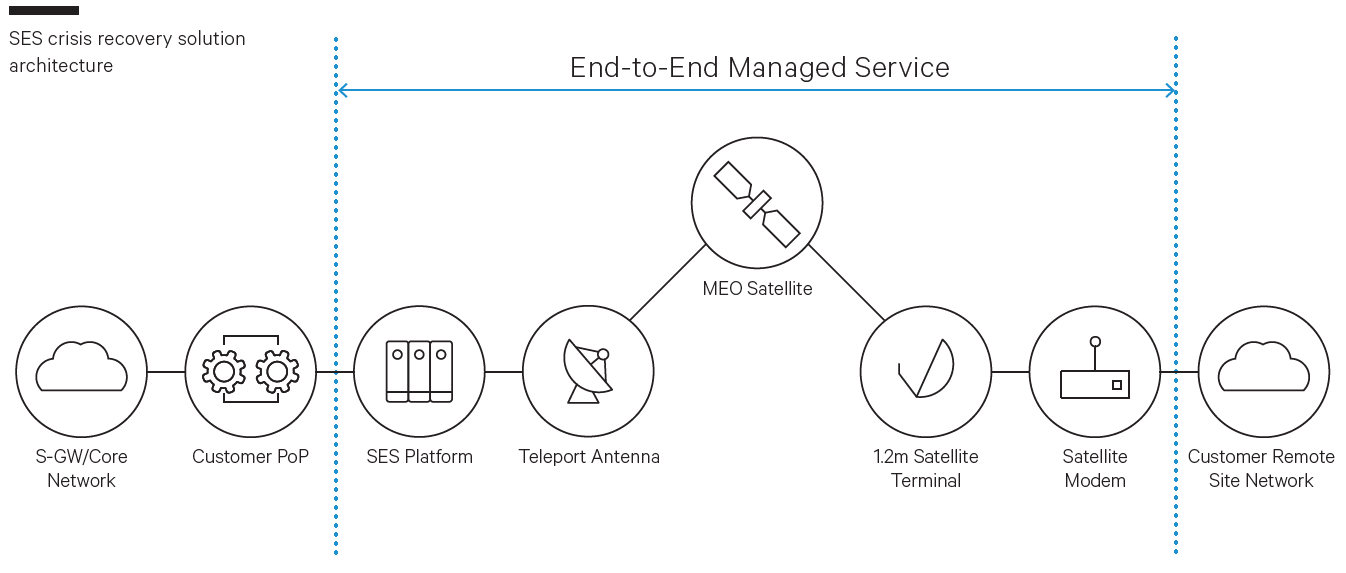 Enabling Platforms and Services
Low-latency, high-speed managed data services, with data rates up to 1Gbps.
Ascent Lifecycle Services
The industry's most extensive portfolio of lifecycle services to maximise the value of your connectivity.
Our next-generation MEO system offering multi-gigabit links with multi-terabit total system capacity.
Case study
Emergency.lu

The emergency.lu platform is designed to quickly re-establish communications in remote areas isolated by natural disasters or other emergency situations.
More about Signature HADR
Crisis Response

Satellite networks are critical to emergency communications strategies that enable governments, NGOs, and humanitarian organisations to access the network resources they need to rapidly restore communications.