Beaming Back the Wow - Satellites are Evolving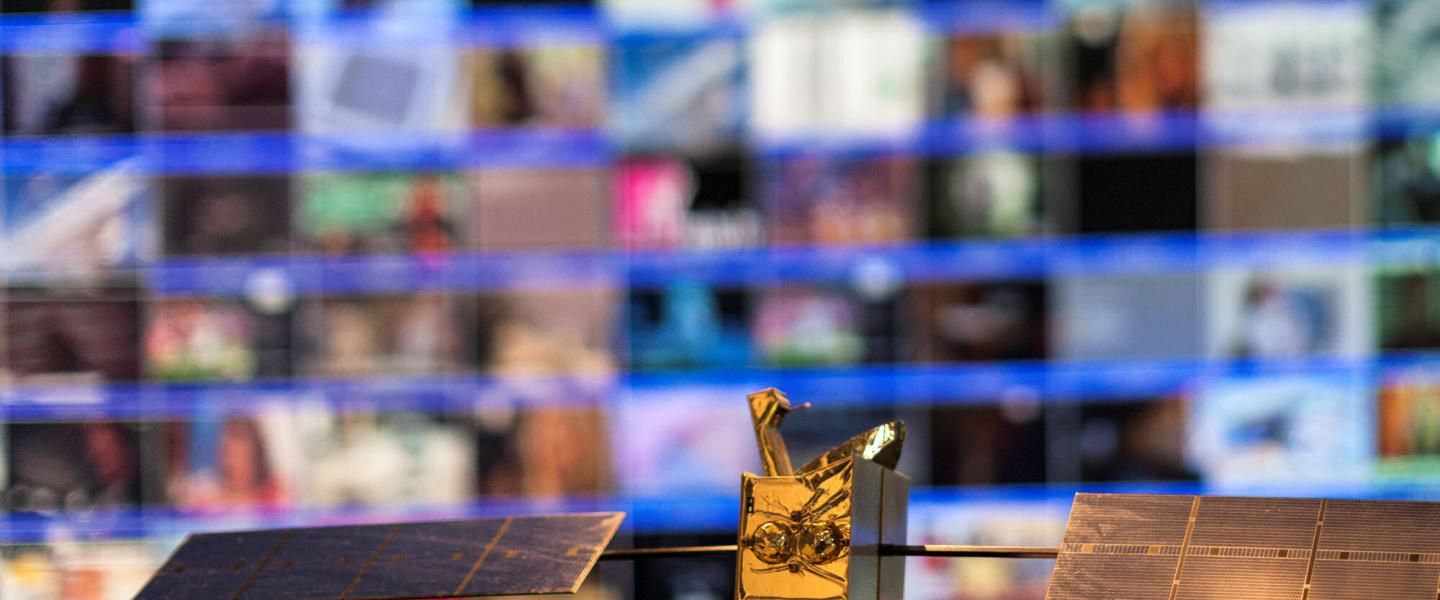 Beaming Back the Wow - Satellites are Evolving
July 23, 1962. A date that went down in history for mass satellite TV broadcasting, when the first television signal crossed the Atlantic. About 200 million viewers across the US, Europe and Japan could watch live a press conference with US President John Kennedy. This momentous event was made possible by AT&T's tiny satellite Telsar 1, giving birth to the iconic "Live via Satellite" logo that has come to encapsulate everything that is wondrous about satellite broadcasting.
The pursuit of evolving satellite technology is never-ending. From those early days, satellite technology has become an indispensable enabler of our modern lifestyle – an essential component of multichannel TV, reliable Internet and even satellite geolocation services.
Behind the scenes, satellite ubiquity extends even wider – being the backbone that complements ground networks for 24/7 communications – and the core of customised connectivity solutions used by businesses, governments, airlines, cruise ships and more.
SES is an industry player that has been pushing the boundaries of satellite DNA from the start.
Making satellite history
Operating one single satellite at a single location was never SES's idea of maximising resources. That's why SES pioneered a revolutionary technique called co-location, placing several satellites in almost the same orbital position, in close proximity so that to reception equipment on the ground they 'appear' to occupy a single orbital position.
After launching its very first satellite ASTRA 1A in 1988 at 19.2 degrees East, with just 16 transponders to carry one analogue TV channel each, SES was able to double its available capacity on the same orbital slot, when ASTRA 1B was launched nearby. This gave rise to the modern technique of expanding commercial satellite capabilities modularly, as and when demand increases. Since then, SES has expanded its fleet to over 50 satellites, and is now using co-location at ten different orbital slots.
Importantly, co-location also enabled a unique form of in-orbit redundancy. If problems occur, a back-up transponder on the same or a co-located satellite will immediately be activated as failover, guaranteeing customers the best operational security and reliability in the industry.
Flexible, Scalable, Capable
Today, SES continues on this culture of innovation as it advances the capabilities of satellites with new approaches and technology. There are two significant elements in the changing DNA of satellites.
The first is that technological shifts create markets, and not the other way round. The second is that technological evolution sparks a revolution in the services and products that are available.
These paradigm shifts mean that technology has become the launch pad for new products and markets – where new capabilities available in the sky are immediately applied on the ground, tailored to expand the capabilities of various markets in a variety of ways including:
High performance satellite constellations that are being put in place, with a strategic mix of spectrum types, and wide and spot beams
Reusable and re-deployable beams to boost capacity and bandwidth efficiencies
Capabilities for seamless maritime and aeronautical connectivity experiences
The terabit per second satellite which is now on the horizon – to push the boundaries of global connectivity to infinity
Verticals of growth
These technical innovations are pushing the boundaries of connectivity, energizing all segments of the connectivity market. SES is focusing its efforts in four verticals of varying maturity: Video, Enterprise, Mobility and Government.
Video is expected to continue delivering phenomenal growth – driven by the increased demand for Ultra-High Definition (UHD), as well as advances in compression technology such as High Efficiency Video Coding (HEVC) to reduce bandwidth consumption and improve the affordability of broadcasting UHD. The rise of hybrid satellite-terrestrial networks is also enabling the delivery of high-quality video over any device, whether for linear broadcasting or Over-the-Top (OTT) content streaming.
Businesses, on the other hand, benefit from wider broadband and cellular data coverage, and at higher speed and greater reliability. This would accelerate trends such as the Internet of Things (IoT), which requires reliable, real-time and scalable satellite communication links. Mobility too is headed towards new levels of connectivity that would fundamentally transform travel experiences in the air and at sea.
Seamless connectivity on land, sea, and in the air is not exclusive to enterprises. Governments also require the new capabilities on-board SES satellites to bring connectivity to agencies worldwide. Additionally, SES is pre-empting diverse e-government needs by developing e-inclusion initiatives with partners, such as e-health, e-learning, and e-elections.
A new constellation of wonders
It's a hyperconnected world tomorrow, and satellite use would be vast and varied.
The universal "wow" experienced by a previous generation watching satellite television will be replaced by a whole new constellation of wonders tailored for a new generation of users, including: always-on connectivity, everything on-demand and importantly, having connectivity available wherever and whenever it is needed.