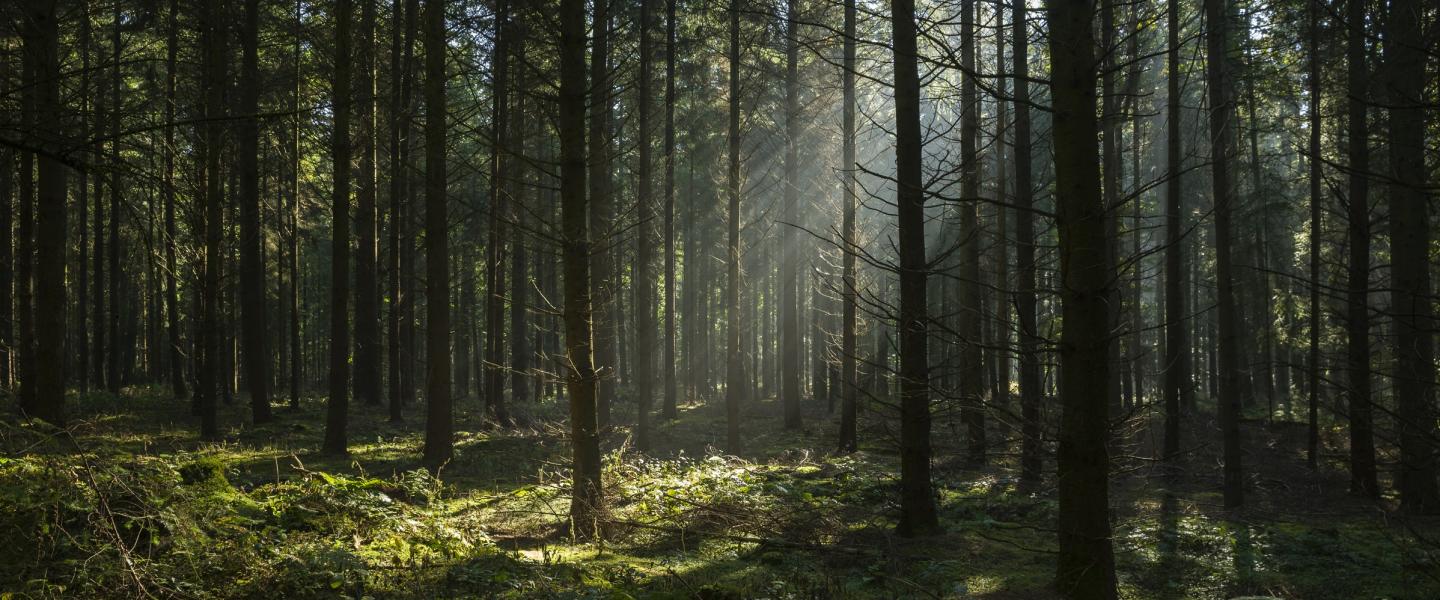 Delving into the detail of Ultra HD
Life-Like Video That Delivers Incredible Detail
In video, it's the small details that can help create a truly unique viewing experience. Viewers want to be transported right into the heart of the action - whether it's a football pitch, a Hollywood scene, or nature's most breath-taking vistas.
With Ultra High Definition (Ultra HD), you can deliver crystal-clear images with a higher range of colours, deeper contrast, faster frame rate, and greater depth of field to audiences worldwide. The result is a truly immersive experience, with life-like video that delivers incredible detail.
Innovation Alongside Our Industry Partners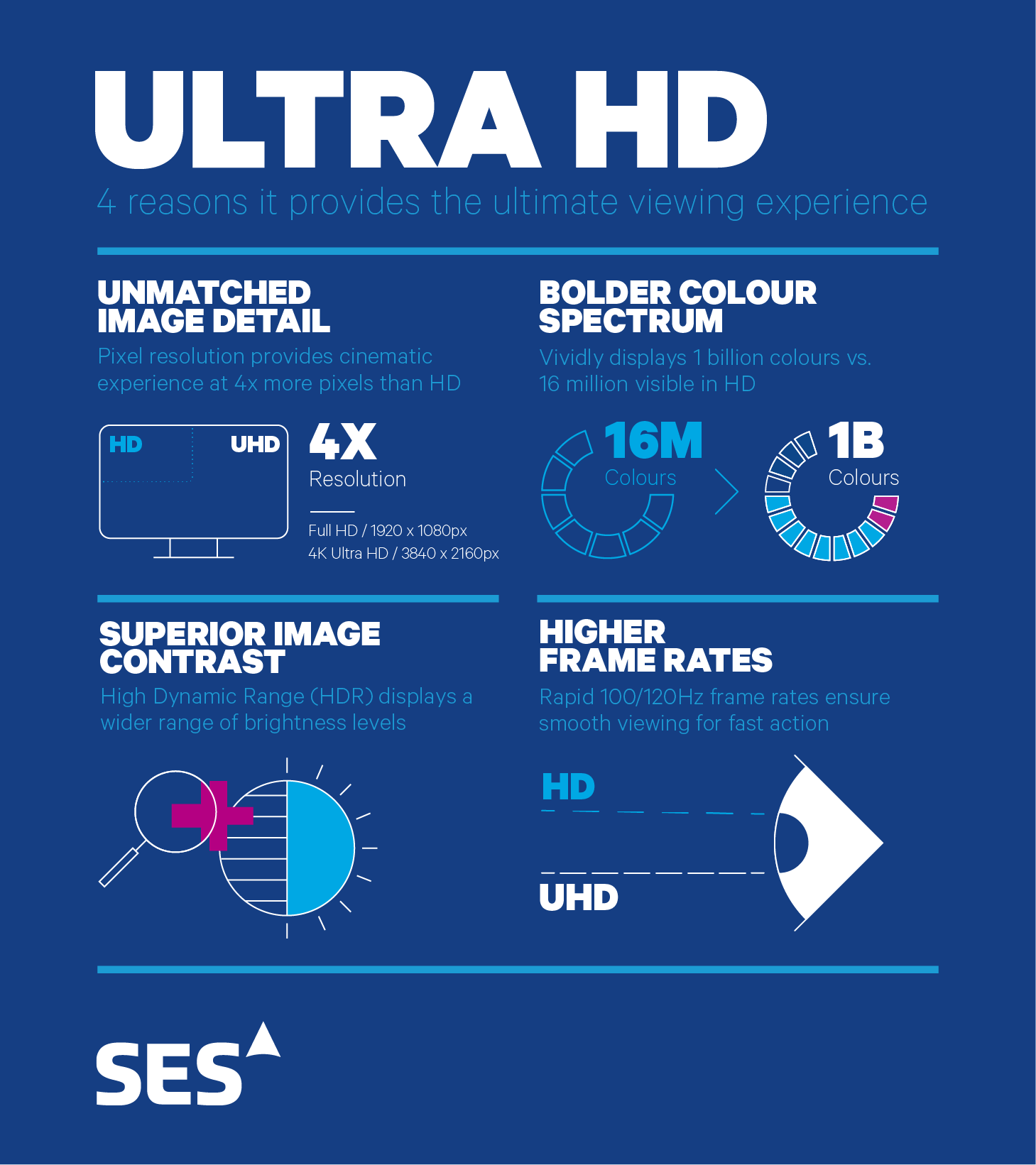 To help usher in the age of Ultra High Definition broadcasting, we are innovating alongside our industry partners. We've been at the forefront of bringing the next generation of video to viewers- from launching the first Ultra HD demo broadcast in April 2013, to rolling out the first 8K Ultra HD demo in May 2018. We collaborate with content creators, broadcasters, technologists, and TV manufacturers to stay on top of the latest technological developments and market trends. By consistently testing various technology phases, and developing end-to-end solutions for our partners, we are helping to fine-tune the Ultra High Definition broadcast experience as it grows.
Capturing the Detail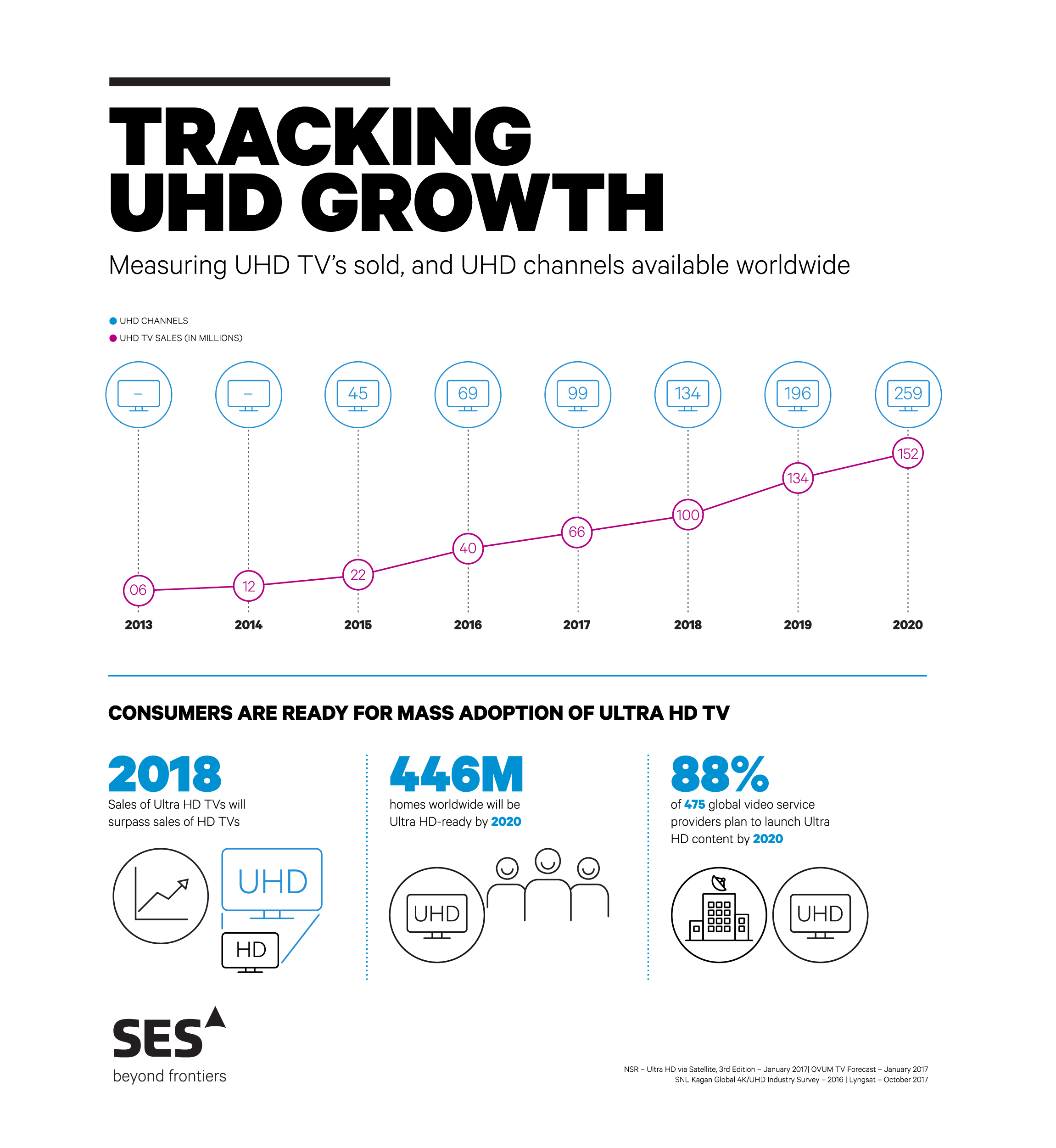 Higher resolution means a more detailed viewing experience. With four times the pixels of HDTV, Ultra High Definition broadcasting captures the true essence of a moment captured in time—by recreating colours with more accuracy and bringing distant objects into sharp focus. On Ultra HD TV sets, this added detail and clarity brings a truly immersive experience to viewers.
Ultra HD transforms the viewing experience at every level:
BT.2020, a standard created by the International Telecommunication Union (ITU), increases the number of displayable colours, while also providing finer gradients between colours
10-bit colour increases the number of shades for each primary colour from 256 to 1024, providing a total of one billion displayable colours
High Dynamic Range (HDR) increases contrast by enabling the signal to carry information about brighter pixels, right from the broadcaster to the TV screen
High Frame Rate (HFR) allows transmissions at 100 frames per second—so fast-action sports and fast camera movements can become smoother and sharper  
Delivering the Detail
Broadcasting a detailed image is quintessential to delivering a truly immersive viewer experience. Our satellites deliver detailed Ultra HD experiences to global audiences most reliably and efficiently.
Today, our satellites already:
transmit to 366 million TV homes around the world
reach 27.4 million Ultra HD–ready homes in Europe
deliver 12 demo channels over our key orbital positions
carry more than 50 Ultra HD channels worldwide
The number of Ultra HD channels globally is expected to grow to 934 by the year 2026. By 2022, almost 5.69 million households will have access to 4K Ultra HD TVs and with that to high quality 4K broadcasting. We deliver consistent bandwidth with 99.99936% reliability from our global fleet and secure ground network, ensuring we can take highly immersive Ultra HD content from anywhere to everywhere—and help you grow as the market expands.
"SES is the most cooperative partner I've ever met. Since the beginning, they've been willing to think together to solve every challenge that arises. They are innovative, and were an obvious choice for us, as they are one of the few providers that could handle a complete live playout for us."
Natalie Boot, Digital Director at INSIGHT TV
More about Ultra HD and SES
How can we help?
If you're looking for more information about our offering or need to connect with our team, don't hesitate to reach out. We are here to help.