Consumers can now view content that makes them feel like they can walk right into the middle of the action—whether it's a football pitch, a Hollywood scene, or one of nature's most breathtaking vistas. Ultra HD is now readily available to take them there—transforming video consumption into the most immersive viewing experience yet.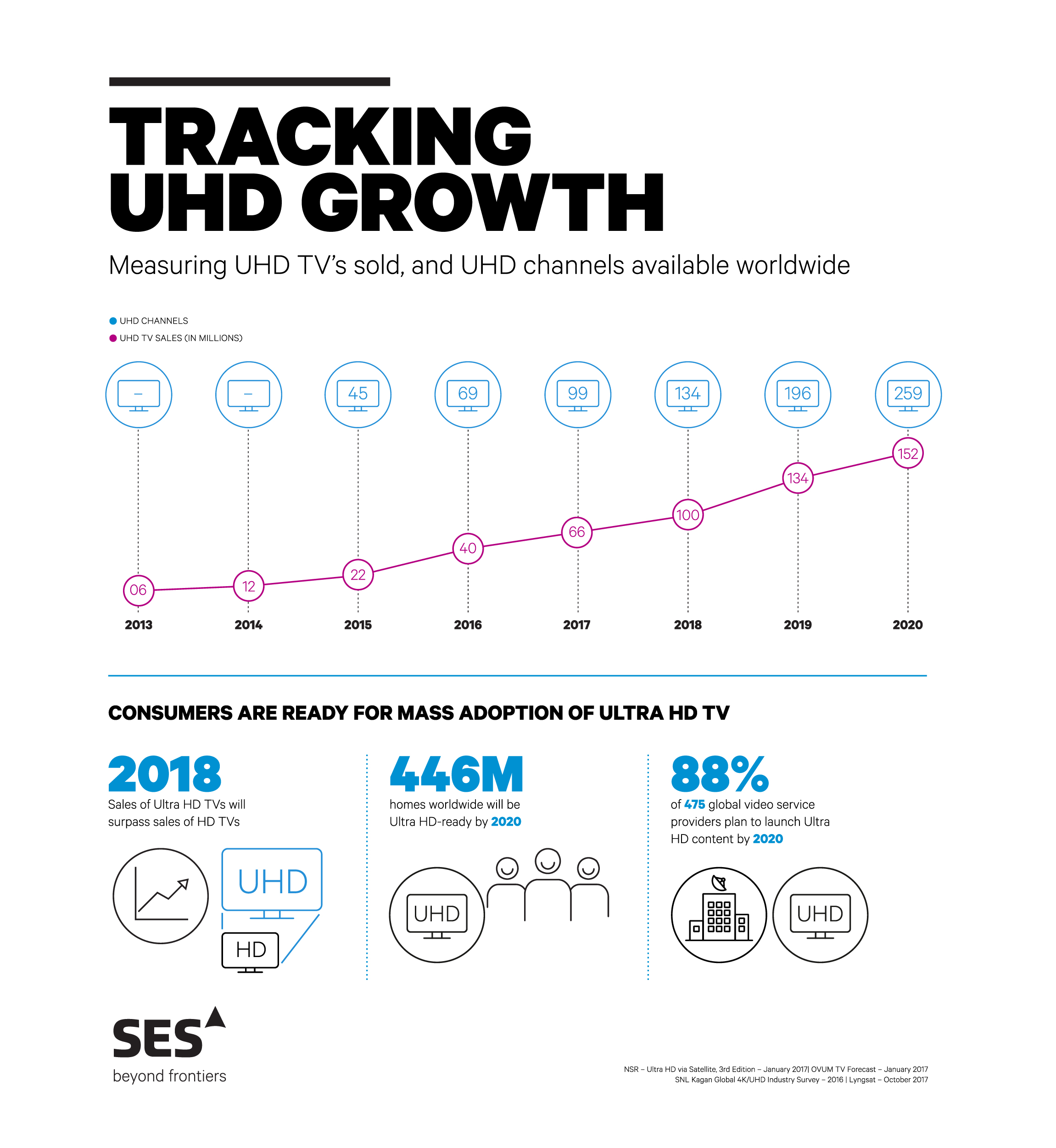 Discovering the depth of Ultra HD
Ultra HD delivers the most immersive content ever. In addition to four times the pixels of HDTV, your audiences will enjoy more colours, more contrast, and flawless action scenes on their TVs, thanks to the following features:
BT.2020, a standard created by the International Telecommunication Union (ITU), increases the number of displayable colours, while also providing finer gradients between colours
10-bit colour increases the number of shades for each primary colour from 256 to 1024, providing a total of one billion displayable colours
High Dynamic Range (HDR) increases contrast by enabling the signal to carry information about brighter pixels right from the broadcaster to the TV screen
High Frame Rates (HFR), will transmit at 100 frames per second instead of the current 50 frames per second, so fast-action sports and fast camera movements will become a lot smoother and sharper than they are today.
As TV prices continue to drop and the content on offer continues to grow, the rate of adoption will only increase—in every market around the globe. The time to start planning the launch of your Ultra HD channel is now. And that's where we can help.
Our satellites are ready for transmission
Satellite is the only infrastructure that can easily distribute both live and linear Ultra HD content to any point on the globe. With four times the resolution to significantly improve the viewing experience, Ultra HD requires much high bandwidth—even with the efficiency of the HEVC encoding standard.
Today, our satellites already
Transmit to 355 million TV homes around the world
Reach 27.4 million Ultra HD ready homes in Europe
Deliver 12 demo channels over our key orbital positions in Europe to support the adoption of the Ultra HD standard
Carry over 50 Ultra HD channels worldwide, of which 38 are commercial
Bringing your content everywhere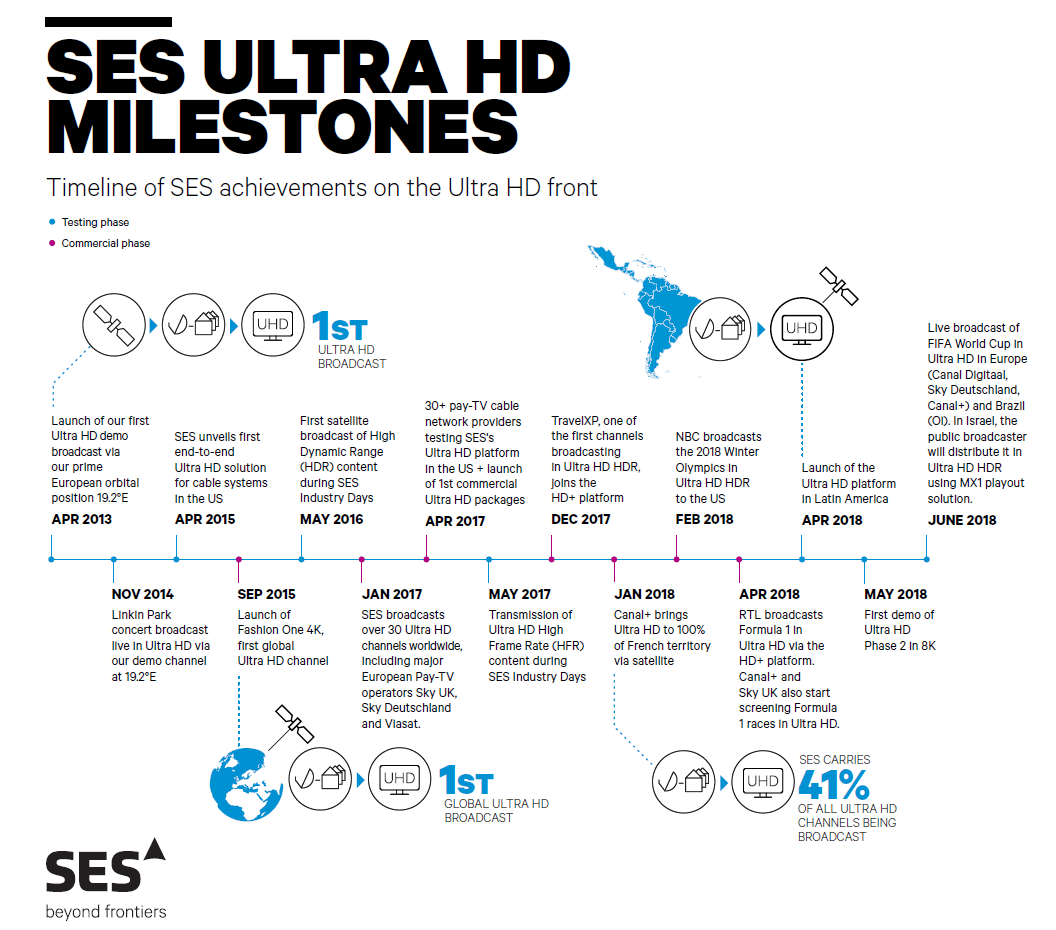 At SES, we invest in the promotion of Ultra HD technology, and we're fully engaged to take picture quality to the next level with the development of Ultra HD. We currently operate more than 50 Ultra HD live channels, of which 12 are test channels, to help pay-TV operators and broadcasters test the technology. We deliver consistent bandwidth with 99.99936% reliability from our global fleet and secure ground network, ensuring we can take your Ultra HD content from anywhere to everywhere.
Transforming your Ultra HD ambitions into a successful commercial reality takes the right partner. As pioneers in broadcasting and Ultra HD adoption, we carry the highest number of Ultra HD channels, and offer the broadest variety of Ultra HD content, including genres from fashion and sport to science and reality programming.
"SES is the most cooperative partner I've ever met. Since the beginning, they've been willing to think together to solve every challenge that arises. They are innovative, and were an obvious choice for us, as they are one of the few providers that could handle a complete live playout for us."
Natalie Boot, Digital Director at INSIGHT TV