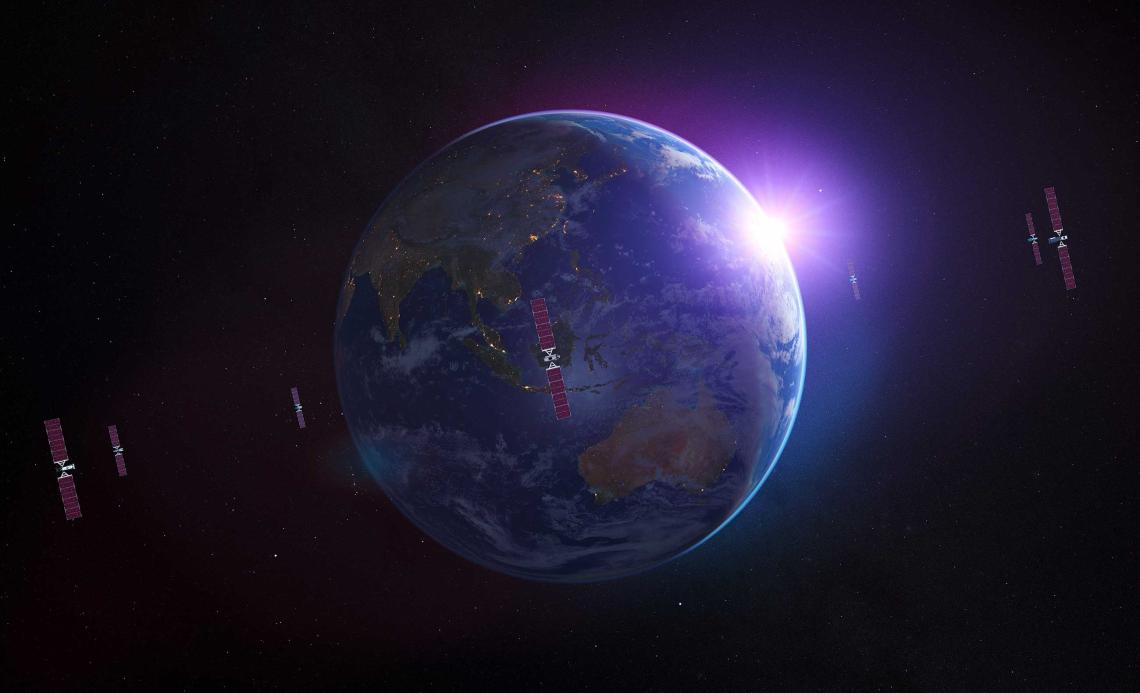 14 - 16 NOV 2023
Canberra, Australia
MilCIS 2023
Join us at the National Convention Centre, Stand F32 in the Expo Hall, for Australia's leading conference for military communications and information systems.
Enable mission success anywhere
Many governments look to commercial satellite services to meet mission-critical networking needs—at fixed sites or mobile locations on land, at sea, or in the air. Mission success increasingly relies on advanced digital technologies—including high-resolution intelligence gathering and video communications. When predictable performance matters and contention is not an option, only O3b mPOWER provides high-throughput, low-latency, resilient, and secure commercial satellite communications.
Revolutionising government operations worldwide
Visit the SES Exhibition Booth, F32, Expo Hall, to discover how you can boost resilience and meet the demand for low-latency, high-throughput connectivity with O3b mPOWER, the industry's first proven non-geostationary satellite orbit (NGSO) system—capable of delivering multi-gigabit links virtually anywhere on Earth.
With O3b mPOWER, you can have:
High performance for cloud optimised applications, enhancing government operations, large-scale networking, and the availability of big-data analytics to remote deployments.
Flexible return capacity enabling scale for Intelligence, Surveillance, and Reconnaissance (ISR) missions, supporting dynamic tracking and control of forward and return links with throughput capacity.
Support for rapid response for flexible mobile and emergency operations to meet rapidly changing requirements and offer high-capacity network services (including cloud optimised services).
Australian Defence mPOWERED: A Comprehensive Overview of SES's O3b mPOWER MEO Satellite Constellation
Date: Thursday, 16 November, 1:30 PM AEDT
Venue: The Royal Theatre at the National Convention Centre
Presentation abstract
Australia's 2023 Defence Strategic Review highlighted the need for Defence's space capabilities to be optimised for assured communications. It identified commercial space capabilities as a critical adjunct to ADF force structure, complementing and augmenting extant government-owned systems. It also called for a new approach to capability acquisition, with an emphasis on speed, near-term readiness, and 'off-the-shelf' solutions. In this presentation, we will examine the capabilities of O3b mPOWER, SES's second-generation medium earth orbit (MEO) satellite system. This system offers high-capacity, low-latency connectivity; with a focus on its strategic alignment to key Defence priorities. The presentation will also offer an up-to-date overview of the operational status of O3b mPOWER, along with a concise technical introduction to its space, ground and control segments of the system. We will explore the advantages of MEO, focusing on its resilience, throughput, and latency benefits. Most importantly, the presentation will outline key Defence applications for O3b mPOWER, ranging from enterprise connectivity to remote sites and ship-borne quality of life services to supporting secure Command and Control (C2), Integrated Air and Missile Defence (IAMD), and counter-hypersonic interdiction.
Experience the O3b mPOWER system at MilCIS
When Connectivity Is Non-Negotiable
When performance matters most, O3b mPOWER is the only choice. With industry-best throughput, unwaveringly low-latency, and unmatched service availability, O3b mPOWER is the NGSO system that puts your network's performance above all.
O3b mPOWER Visualisation App
Get a comprehensive view of how O3b mPOWER can unleash the full potential of satellite connectivity across remote locations and enable high performance operations. Experiment with SES's government-secure gateway and route your traffic through a private connection.
SES Story Explorer Experience
Check out the SES story through our engaging 3D interactive experience. Join us on this journey and navigate through our products, services, and latest technological innovations with a simple touch on the screen!
Meet with us
Schedule a meeting with our SES representatives to learn more about our government services portfolio.