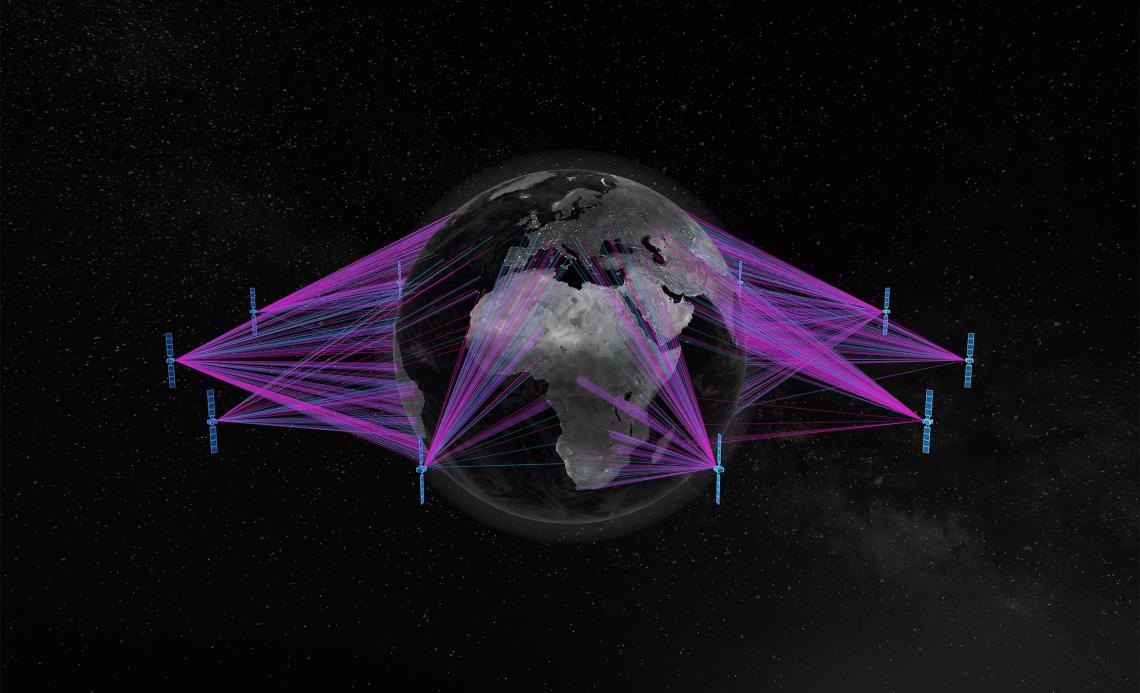 07 - 11 NOV 2022
CTICC, Cape Town
Africa Tech Festival
Schedule a meeting with us at Africa Tech Festival - the largest digital infrastructure event in Africa, focused on connecting the next billion people.
For their 25th anniversary, Africa Tech Festival returns to the CTICC in Cape Town, bringing you more content and topics shaping Africa's present and future, including their Awards Ceremony and famous Afest.
The Africa Tech Centre Stage represents the intersection of technology innovation and enterprise digital transformation. The AfricaCom stage will focus on Connectivity Infrastructure and Digital Inclusion, with an emphasis on topics such as Service Provider Technology, Mission Critical Technologies and 5G for Africa.
This year, SES is a gold sponsor and will feature on various discussions to highlight strides in Africa to foster new drivers of economic and social transformation, innovation, governance, and regional integration. Make sure to join the conversation and visit us at the SES Coffee Stand in Hall 1.
Tuesday 8 November
Wednesday 9 November
Thursday 10 November
Leveraging High Bandwidth Satellite Connectivity to Deliver Coverage to the Most Remote Areas in West Africa
12:10 - 12:35 SAST
Speaker: Abou Diallo
Freesia - Level 2, CTICC 2
Building Free to air communities in Africa - reaching the next
1 Billion people
11:50 - 12:10 SAST
Speaker: Håkan Sjödin
AfricaCom Exhibition, Hall 3

Satellite Redefined - Africa is Forging its Own Path into Space
12:15 - 12:55 SAST
Speaker: Caroline Kamaitha
1.43 - Level 1, CTICC 1

Delivering High Speed Connectivity to North Africa's Underserved Areas
12:40 - 13:05 SAST
Speaker: Bechara Baradhi
Freesia - Level 2, CTICC 2
Winning Audiences in Today's Ever Changing TV Landscape
12:50 - 13:15 SAST
Speaker: Theodore Asampong
1.41- Level 1, CTICC 1
How satellite connectivity is enabling Digital Inclusion in DRC
14:25 - 14:55 SAST
Speakers: Daniel Schapiro & Asaf Rosenheck [Gilat Telecom]
Freesia - Level 2, CTICC 2
Register for Africa Tech Festival 2022
Get ahead of industry change: A new era of secure, multi-gigabit, cloud-enabled connectivity
As today's viewers hop between screens, both big and small, broadcasters are finding life a little less simple. Audience attention is split between traditional television, streaming services and social media, and it is cheaper than ever for competitors to enter the market. With a reach of 366M+ TV households and connection to over 1 billion people, SES provides a comprehensive portfolio of end-to-end managed video solutions for broadcasters, platform operators, sports organizations, and media companies, with unparalleled reach and reliability.
This year in Cape Town, you will get to see a real O3b mPOWER terminal as we prepare to launch next-level connectivity. O3b mPOWER is the newest Medium Earth Orbit (MEO) satellite constellation in our multi-orbit ecosystem, enabling you to design a future-proof network strategy without the limitations of capacity, speed, or reach.
Think low end-to-end latency, ultra-high-throughput connections direct form any remote site to your cloud service provider or core network, bringing your teams together like never before. This is what our next-generation MEO constellation, O3b mPOWER, will bring to the world's leading industries.
Meet the SES team at Africa Tech Festival 2022 to learn more about our solutions and uncover what drives SES, the world's only multi-orbit satellite player.
Schedule a meeting with SES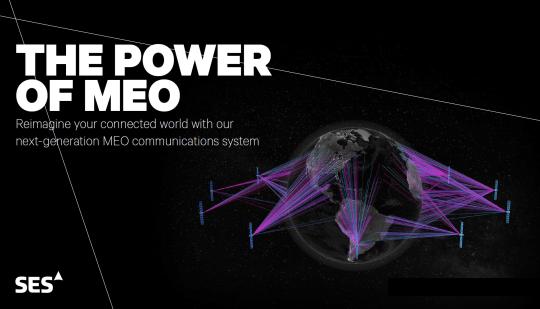 The power of MEO
Learn more about SES's next generation O3b mPOWER constellation operating in Medium Earth Orbit (MEO).
'The Power of MEO' can deliver the ubiquitous combination of global coverage, low latency and high throughput connectivity and performance on land, at sea or in the air.
Learn about MEO capabilities