Your VoD Everywhere Ebook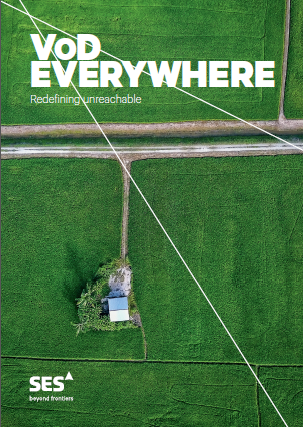 In this eBook, we take a look at what how you can develop new revenue streams by bringing on-demand content to your remote viewers.
Highlights include:
Overview of the global OTT market
How VoD Everywhere brings on-demand content to viewers in remote regions
Comparison between OTT services via internet and VoD Everywhere
Use cases that outline how you can capture new revenue streams
---
Your submitted personal data is being processed in accordance with Luxembourgish Law on the Protection of Persons with regard to the Processing of Personal Data effective as of August 2, 2002. Personal data is being treated for the purpose of e-marketing. It is processed by SES commercial department under the supervision of the data processing controller and is used only in accordance with the applicable laws and regulations. SES takes reasonable and appropriate precautions to protect your personal data in its possession from loss, misuse and unauthorized access, disclosure, alteration and destruction, and to respond to the misuse, loss or unauthorized use of such information. This data will be retained by SES for a maximum retention period allowed under the applicable law. You are entitled to access, rectify and block this data. You may exercise these rights by contacting the data processing controller at the following address:
[email protected]
. For more information, read our
privacy policy
.