Many consumers live beyond the reach of terrestrial broadband internet connections, yet they are still eager to use on-demand video services from streaming services like Netflix, or cable operators' over-the-top content.
With VoD Everywhere, we fill this growing market demand by delivering a wide variety of rich, on-demand content to these consumers without the need for an internet connection – combining best DTH, quality of service,global reach, and comprehensive service programming.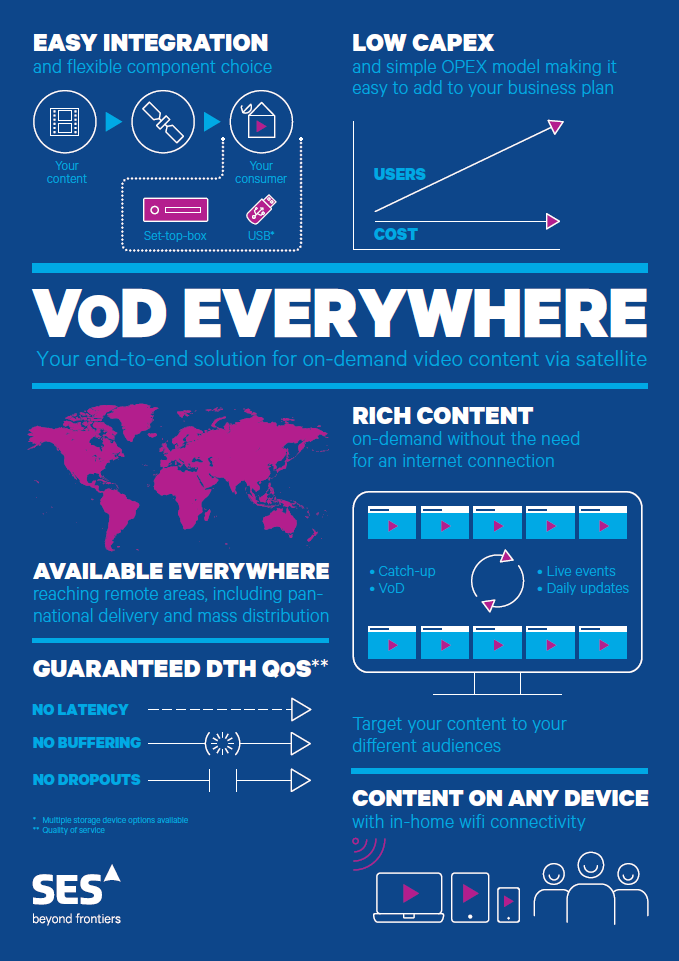 VoD Everywhere pushes a full library of on-demand and catch-up content to a Set-Top-Box at a consumer's home. The solution is designed to support daily video content updates so to keep the programming lineup narrow, relevant and appealing.
This avoids a 'Paradox of Choice,' where consumers can't find anything because the offering is too abundant. Integrating Live Event transmissions becomes simple, and selected programs are offered with start-over functionality.
All the key features of live, linear and VoD are seamlessly integrated into one user interface that is flexible enough to serve different types of usages whenever consumers are ready to watch. Optionally, a in-home wifi connectivity ensures a multiscreen experience so viewers can watch content simultaneously on mobile devices.
You will benefit from:
An end-to-end video platform with flexible component choices for customised and efficient integration
Mass distribution optimised video delivery with ubiquitous availability, for example, pan-national reach
Low upfront investment and simple OPEX model for straightforward integration into your business case

Your VoD Everywhere eBook
Find out how you can bring Video-on-Demand content to all your viewers by downloading our eBook.

Download your eBook