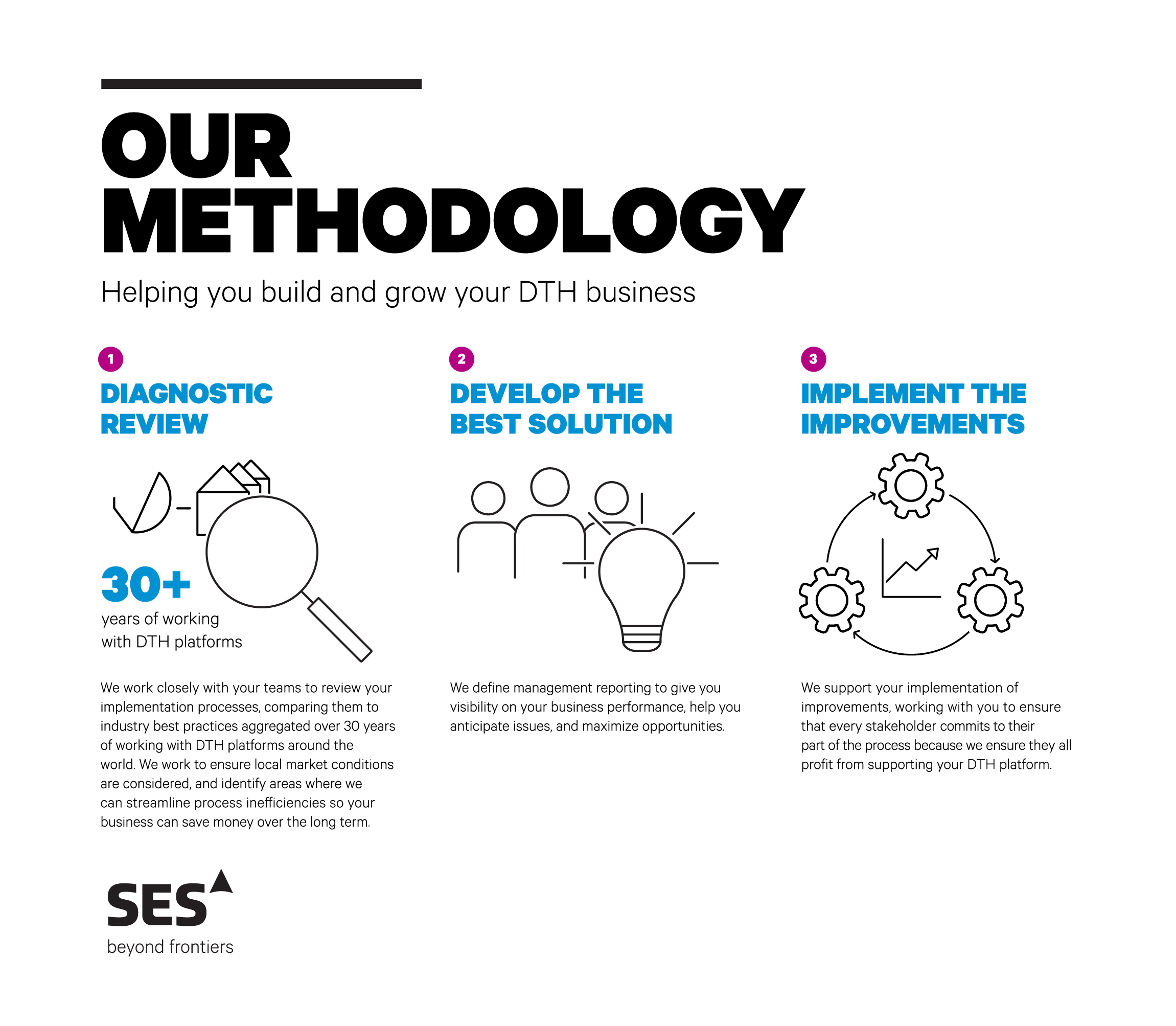 Our methodology
Our methodology is based on 30 years of experience in the broadcast business, and the knowledge that each business is unique, and there are no easy solutions. With numerous possibilities for how to model your DTH business, our first step is working closely with your teams to identify your business needs. We then develop the best possible solution to ensure your business is successful and profitable – partnering with you through the product design, selection of the right consumer equipment.
A more complete partner
Our satellites are home to more DTH platforms than any other satellite operator. Over 40 DTH platform operators trust our satellites to deliver a broad range of media content – including radio, HDTV and the world's first Ultra HD channels. Our fleet of more than 50 geostationary satellites provides connectivity to 99% of the world's population with 99.99936% reliability, serving more than 1 billion people in 325 million homes, including 127 million DTH homes. We transmit 7,500 channels, including more than 2,500 in HD and more than 30 in Ultra HD – nearly half of all channels broadcast in Ultra HD today.
We can help you organize the digital transition in your region via hybrid DTT/DTH networks, and enable multi screen viewing within consumers' homes via Sat>IP. Our satellites enable on-demand content in regions beyond the reach of terrestrial broadband connectivity with VoD Everywhere, and enable you to deliver both HD and Ultra HD services to millions of viewers from day one.
In addition to satellite capacity, our media services company, MX1, provides a full suite of managed services to ensure your content can be transmitted to audiences everywhere, in any format and on any device. Our end-to-end services include content management and aggregation, contribution services, basic DVB services including uplink, modulation and multiplexing, encryption services, CRM/SMS and activation processes, specification for end-consumers equipment, smart business modeling and marketing support activities to help you build your channel neighbourhood and technical reach.