Beyond broadcast
As more regions transition from analogue to digital TV, terrestrial networks are being pushed beyond their capacity to deliver programming. Saturated networks decrease performance for all viewers, leading to poor image quality, lost packets and buffering. Unaffected by difficult terrain or long distances from urban centres, satellite provides the same high-quality picture and broad range of content to all viewers within the footprint, without the need for heavy investment in ground infrastructure.
Direct-to-Home (DTH) satellite services enable media and telecommunications companies to bring new content to audiences across the globe. It also provides entrepreneurs the opportunity to diversify their business holdings by investing in this profitable and growing market. The DTH market currently counts 424.7 million homes worldwide, and is expected to grow by 10% to 468.4 million homes by 2020 (Source: Ampere Analysis).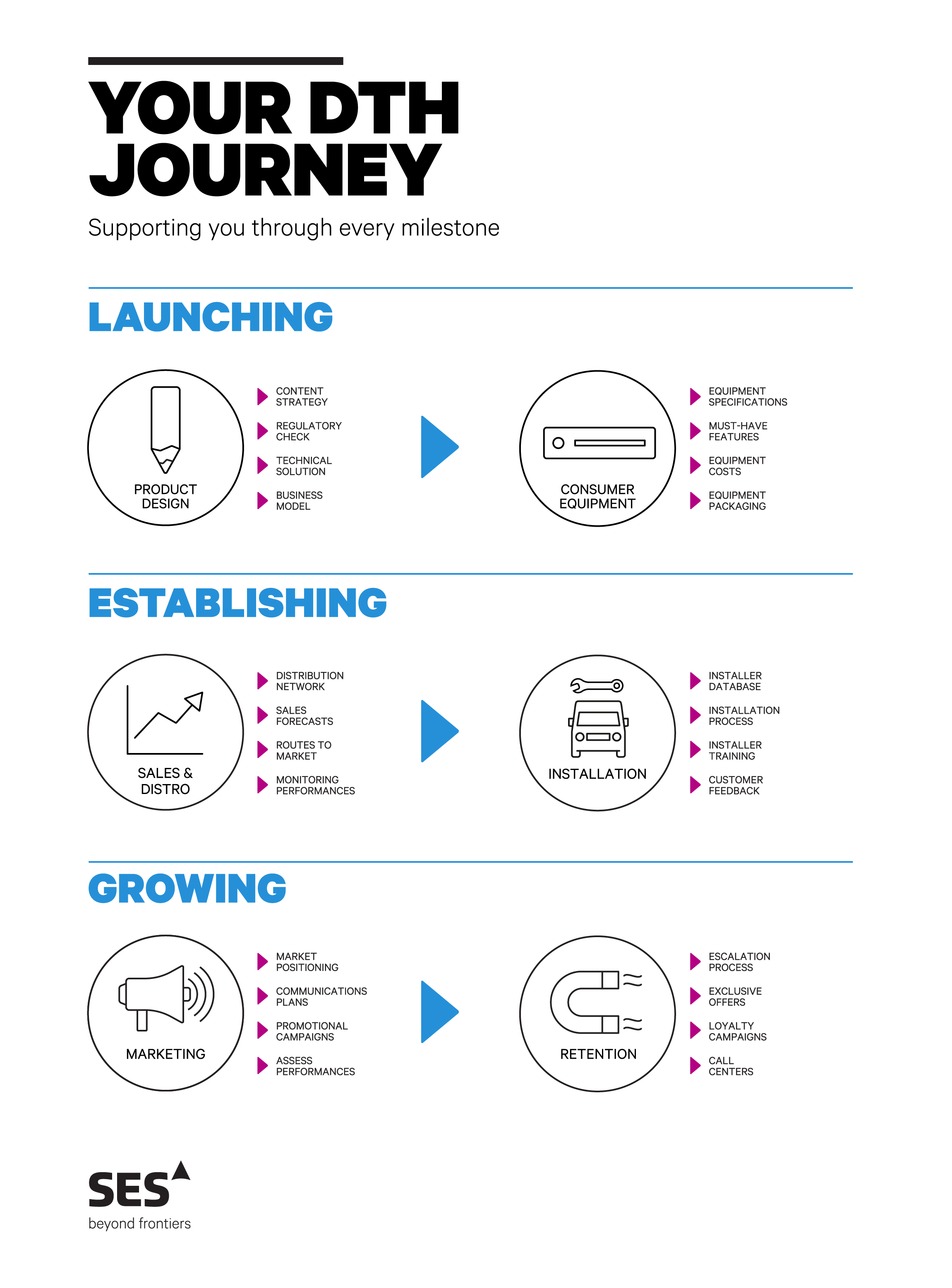 Launching your DTH platform
No matter what type of business model you operate, SES can help bring your content to the largest possible audience, in your home market and around the globe. Whether you're preparing to launch your DTH platform, establishing your business or expanding your market to broadcast to new regions around the globe, SES has the knowledge, experience and 24/7 support you need to help you realise your DTH goals.
Each business is unique and there are numerous possibilities for how to model your DTH business. For over 30 years, we have worked with major DTH platform operators globally towards developing successful models. We support your team through the entire value chain, from choosing the right business model and consequences on the link budget to consultation on specifications for Consumer Premises Equipment.
Establishing and growing your DTH business
Once the end-to-end design of your DTH platform is complete, you need sales, marketing and distribution strategies to transform prospects into customers. Our team supports you through implementing best practices in your sales, marketing and distribution strategies, training competent installers to ensure your viewers enjoy trouble-free viewing from day one, and rolling-out customer acquisition and retention strategies that will keep your viewers coming back for more. Over the last two years, via our state-of-the-art installer programme Elevate, we have successfully trained more than 8,000 installers across Africa. Once your DTH business is well-established in your home market, you still have opportunities for growth. Extend your reach by exporting your content to audiences in other regions. Our global coverage and extensive ground network ensures we can support you in bringing your content from anywhere to everywhere.
Measuring your reach
Having an accurate view of the size of your audience ensures you can maximize your ad revenues – particularly for free-to-air and free-to-view broadcasters. To ensure we have the most accurate information about the dynamic development of TV reception in your market, we conduct annual research via our Satellite Monitors. We have conducted this research for more than 20 years in Europe, establishing a benchmark in the satellite industry with data that is accredited by a number of media authorities, and is used as the basis for advertising in a number of regions. We work with well-established local market research agencies using a study methodology that ensures we meet the highest criteria for the quality of our data. Since 2015, we have extended our Satellite Monitors beyond Europe to include data on the African continent as well.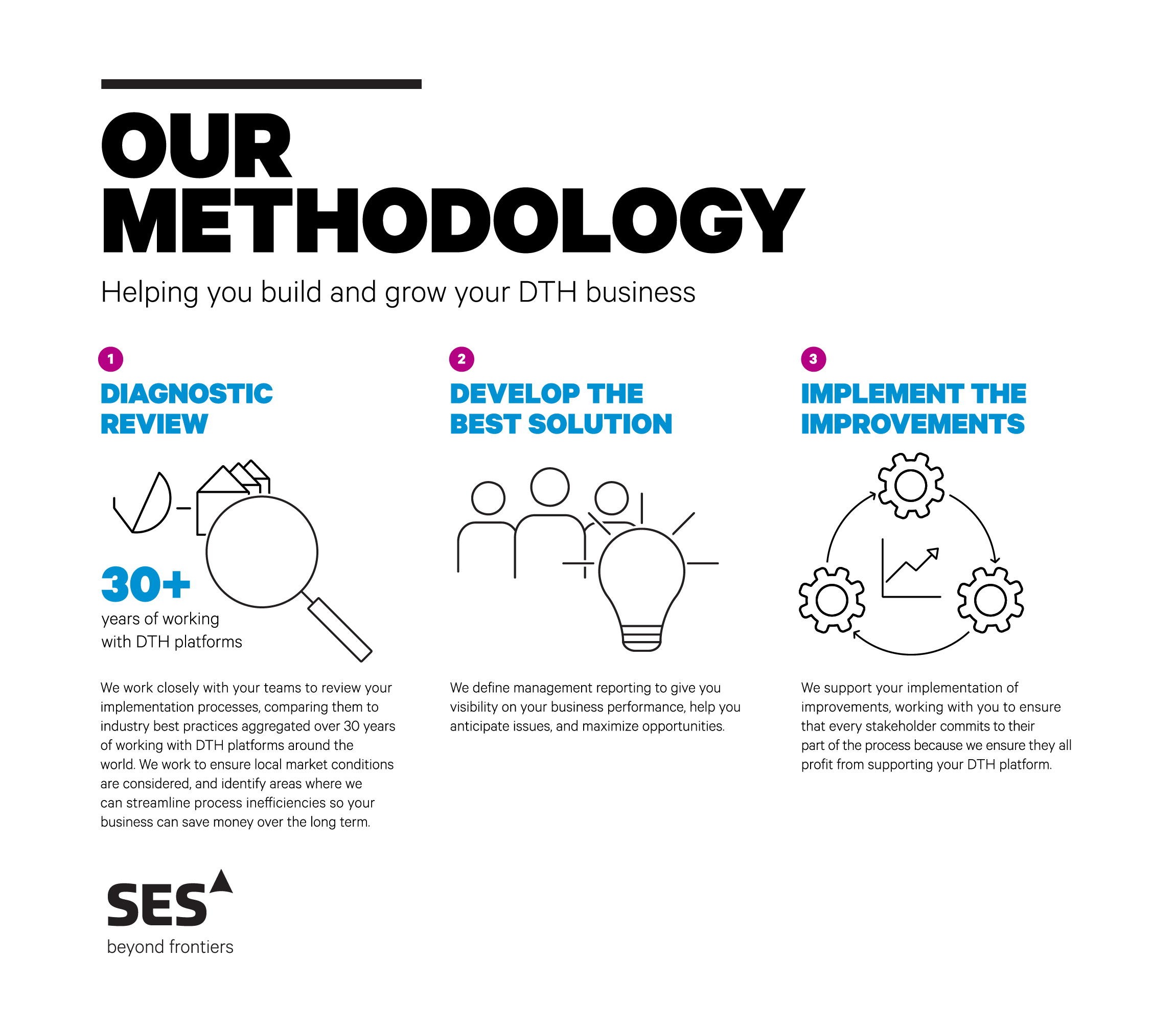 Our methodology
Our methodology is based on 30 years of experience in the broadcast business, and the knowledge that each business is unique, and there are no easy solutions. With numerous possibilities for how to model your DTH business, our first step is working closely with your teams to identify your business needs. We then develop the best possible solution to ensure your business is successful and profitable – partnering with you through the product design, selection of the right consumer equipment.
A more complete partner
Our satellites are home to more DTH platforms than any other satellite operator. Over 40 DTH platform operators trust our satellites to deliver a broad range of media content – including radio, HDTV and the world's first Ultra HD channels. Our fleet of more than 50 geostationary satellites provides connectivity to 99% of the world's population with 99.99936% reliability, serving more than 1 billion people in 325 million homes, including 127 million DTH homes. We transmit 7,500 channels, including more than 2,500 in HD and more than 30 in Ultra HD – nearly half of all channels broadcast in Ultra HD today.
We can help you organize the digital transition in your region via hybrid DTT/DTH networks, and enable multi screen viewing within consumers' homes via Sat>IP. Our satellites enable on-demand content in regions beyond the reach of terrestrial broadband connectivity with VoD Everywhere, and enable you to deliver both HD and Ultra HD services to millions of viewers from day one.
In addition to satellite capacity, our media services company, MX1, provides a full suite of managed services to ensure your content can be transmitted to audiences everywhere, in any format and on any device. Our end-to-end services include content management and aggregation, contribution services, basic DVB services including uplink, modulation and multiplexing, encryption services, CRM/SMS and activation processes, specification for end-consumers equipment, smart business modeling and marketing support activities to help you build your channel neighbourhood and technical reach.
Related content