The SES Networks Manage Service suite includes two services, Customer Terminal Management (CTM) and Colocation services.
The Customer Terminal Management service maintains a watchful eye on your O3b solution on a 24 by 7 basis, when warnings or problems occur O3b proactively troubleshoots and restores service where necessary. The Customer Terminal Management service is delivered from O3b's Network Operations Center in Manassas, Virginia, USA and is governed by strict Service Level Agreements to underpin service uptime and availability.
O3b's Colocation service enables customers to leverage O3b's Gateway facilities to host their specific telecoms equipment, for example security devices, accelerators or traffic shapers. O3b will provide the usual colocation services including installation and smart hands capabilities.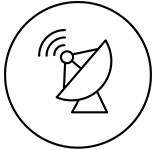 Customer terminal management
Meet your time-to-market, time-to-revenue objectives by adopting a 'right-first-time' approach.
Download the datasheet