Mobile Backhaul
Most under-served areas face challenges related to geography, infrastructure reability and low population density, making it either physically impossible or economically infeasible to provide communication services using fiber and microwave. If high-quality mobile broadband services are to reach these communities, these challenges must be solved.

How can Mobile Backhaul help you: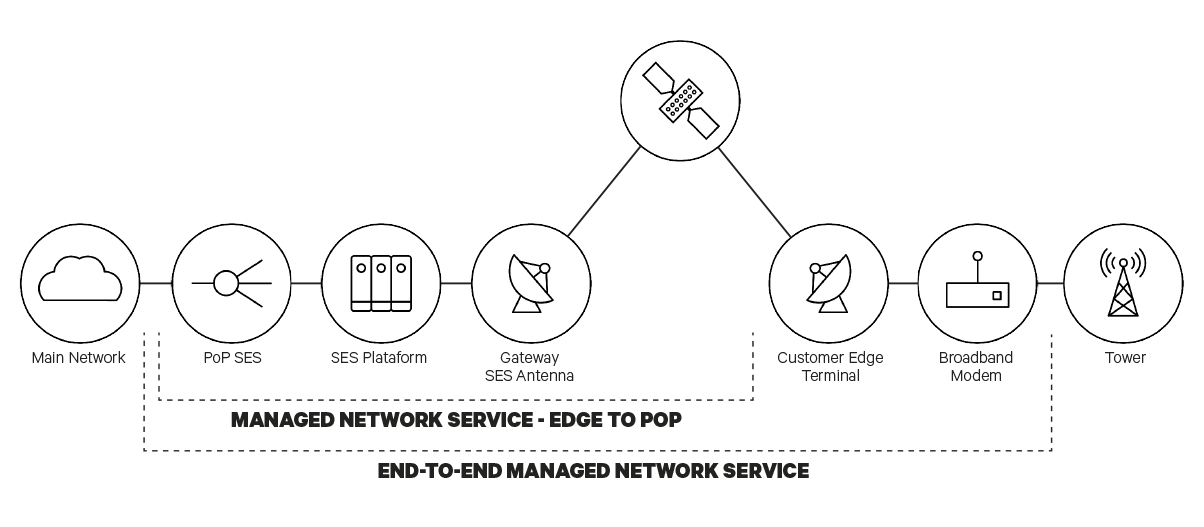 To help you expand your reach – efficiently and profitably, our team combines deep networking expertise, in-country resources, and a flexible range of managed network solutions. Our Managed Mobile Backhaul solutions combine dynamically allocated satellite capacity with optimized network infrastructure. Provided under a single robust service level agreement – SLA, our managed services reduce deployment risk and accelerate revenues for 2G, 3G, and 4G/LTE services in previously unreachable or under-served areas, plus fully support the fulfilment of universal service obligations.
What are the benefits of working with SES in your MBH deployments?
Extensive portfolio of lifecycle services
Accelerate time to revenue;
Remove the risk from network operations;
Proactively optimize network performance;
Remain focused in your core business;
A solution adapted to the specific requirements of your business
We offer flexibility in our end-to-end Managed Network Solutions;
End-to-End Managed Backhaul;
Managed Service from Satellite to Gateway;
Satellite Capacity.
Low latency Backhaul if needed
SES MEO satellite constellation uses spot beam technology to provide low latency, high throughput satellite (HTS) data rates up to 1 Gbps to a single site – with multiple, steerable beams available. Since one beam can generally provide enough bandwidth for multiple towers in a region, MEO solutions are ideally suited to backhauling large capacities of traffic from a multi-tower aggregation point.
Dynamic bandwidth allocation and scale
Our managed network services are optimised for mobile backhaul, and designed to deliver a superior quality of experience to the end user. We can also offer backhaul to hub infrastructure manufactured by the MNO, if required for regulatory or security purposes. Our service platforms are built on key capabilities:
Dynamic Bandwidth Allocation, so you can meet changing end-user demand in real time;
Spectrum Efficiency, ensuring optimal use of spectrum resources;
Advanced Traffic Optimization for improving the end-user experience.
Flexible Service Models
Flexible Capacity Pools allow the MNO to dynamically assign CIR and MIR on a per site basis based on subscriber patterns. The MNO is billed for the overall pool of capacity, resulting in a more cost-effective service model than one based on peak throughput per site.
Volume-based Billing is our other service model. Here, the MNO is assigned a committed monthly volume (CMV) with the ability to burst higher by tapping into a shared pool of bandwidth. Billed to the MNO in terabytes consumed, this results in backhaul expenses that match user consumption. The result is better alignment between operator revenue and backhaul networks costs, helping improve the backhaul business case with a lower-risk operating model.
A Trusted partner for the long term
Our commitment to the future growth of MNOs is demonstrated by our ecosystem-driven approach to applications and services delivered from the mobile edge. As we expand our partner programme to manage critical network functions at the mobile edge, we can enable new revenue opportunities from edge-hosted applications, including those based on the Internet of Things (IoT) and network functions virtualisation (NFV).
Our cost-effective solutions are tailored to meet business requirements specific to MNOs, and backed by strong and comprehensive service level agreements (SLAs). We provide:
Deep expertise delivering end-to-end managed mobile network solutions;
Unmatched flexibility to build the right solution over GEO and MEO satellite fleets;
Wide range of mobile backhaul pricing models that align costs to revenue.
About Us
SES has a strong vision to deliver incredible experiences by delivering the highest quality video content and providing optimal connectivity worldwide. As a global leader in content and connectivity solutions, SES operates the world's only multi-orbiting satellite constellation with the unique combination of global coverage and high performance, including the commercially proven, low-latency low-latency medium-earth-orbit O3b system. Leveraging a vast and intelligent cloud-enabled network, SES can offer high-quality connectivity solutions anywhere on land, sea or air, and is a trusted partner to the world's leading telecommunications companies, mobile network operators, governments, connectivity providers and cloud services, channels, video platform operators and content owners.
Contact Us
If you want to develop your business potential, learn more about SES Signature Enterprise. Contact us for more information and to discover the most advanced and reliable satellite business solution: [email protected]
---