Elevating the experience: SES-12 is a total game-changer
See how it powers new opportunities across the region
SES-12 guide details how flexibility, reach, cost-efficiency, seamless coverage and future-proof capacity will enable people and businesses across the Middle East and North Africa to connect in exciting new ways – taking a highly customer-centric approach to building new capabilities for different markets.
Watch the video to learn more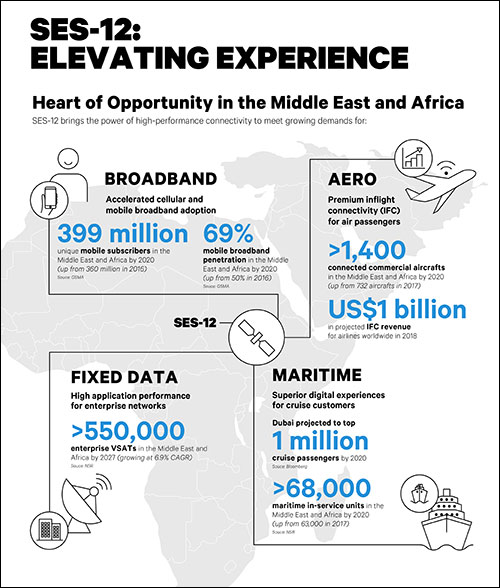 Click to enlarge
Data demands are at an all-time high in the Middle East and North Africa. For businesses that connect across both remote communities and urban areas, they need differentiated networks and technology solutions to keep up with changing connectivity requirements. New solutions such as high throughput satellites (HTS) are creating new possibilities for businesses across the region to capture new growth opportunities.
Our first hybrid satellite for the Middle East and North Africa, SES-12 features the best of GEO wide beams and HTS multi spot beams to elevate the experiences of people, businesses and communities across the region. Designed in close consultation with our customers in the Middle East and North Africa, the new satellite delivers significant advantages and more flexibility to serve the rapidly growing needs of the aeronautical, maritime and fixed data sectors.
SES-12 Capabilities at a Glance
Discover how the satellite is designed to meet diverse customer requirements in APAC.
Prime orbital position at 95

°

E, covering the Middle East and North Africa, including fast-growing markets such as India and Indonesia
Comprehensive wide beam coverage to meet diverse connectivity demands in VSAT, enterprise, and government applications
HTS multi spot beams tailored for new data-heavy applications, such as HD video streaming for airline and maritime passengers

Where others see barriers, we only see possibilities. SES-12 provides specialized, industry-focused connectivity solutions to serve diverse applications, customers and market needs—all on the same satellite.
   

 

FIXED DATA - With the Middle East and North Africa seeing exponential growth in VSAT deployments, enterprises such as banks can combine the HTS payload and wide beam coverage of SES-12 to achieve greater efficiency. Telcos also benefit from it.

     

 

MOBILITY - The HTS capabilities of SES-12 empower service providers to address soaring connectivity demands in the aviation sector in the Middle East and North Africa. The satellite is set to be a key driving force behind the unprecedented rollout of connected vessels and cruise liners across the region.

 

 

GOVERNMENT - Governments and institutions can leverage the flexibility of wide beams and HTS to tailor solutions for dynamic data requirements, ranging from government e-services to connectivity programs to bridge the digital divide.
Explore more content related to SES-12: